Do we want to be righteous… or do we want to be right? It seems, these days, that many people have difficulties taking constructive criticism. The fact is, our egos are so sensitive (so self-centered) that we want everyone to approve of us all the time, rather than accepting the kind of sacrificial love that comes from a friend who wants us to be right with God. And, oh my goodness, what turmoil wells up inside us when we are rebuked! We take it as a personal offense, rather than quietly wondering if perhaps it's really true and we should do something about it.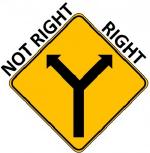 A rebuke strikes deeper into a discerning person than a hundred blows into a fool.

Proverbs 17:10 NRSV
Friends don't let friends sin. That's the simple fact about Christianity. If we are true to our faith, we understand that everything here is temporal and our focus should be on the eternal. And the eternal is concerned with pleasing God.