Do we want to be righteous… or do we want to be right? It seems, these days, that many people have difficulties taking constructive criticism. The fact is, our egos are so sensitive (so self-centered) that we want everyone to approve of us all the time, rather than accepting the kind of sacrificial love that comes from a friend who wants us to be right with God. And, oh my goodness, what turmoil wells up inside us when we are rebuked! We take it as a personal offense, rather than quietly wondering if perhaps it's really true and we should do something about it.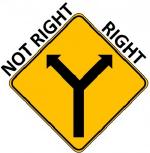 A rebuke strikes deeper into a discerning person than a hundred blows into a fool.

Proverbs 17:10 NRSV
Friends don't let friends sin. That's the simple fact about Christianity. If we are true to our faith, we understand that everything here is temporal and our focus should be on the eternal. And the eternal is concerned with pleasing God.

What's interesting is that God loves us in spite of our sin:
But God proves his love for us in that while we still were sinners Christ died for us.

Romans 5:8
NRSV God doesn't love our sin. And, in fact, our sin is the reason we are separated from His presence. But He loves us. And that's the reason that Christ died to reconcile us to Him, because He loves us. I think that we often believe we must be "perfect" in order to deserve His love. But the fact is, we have His love already. And He proved that through Christ's death. Consequently, all we have to do is be obedient, which means in part understanding that we aren't perfect, that we have a lot of work to do to become more and more like the Lord Jesus.
Being a believer is hard work and part of that work is accepting rebukes graciously. A Christian sister who sees us in sin does us a great favor when she, in love, tells us:
Brethren, if a man is overtaken in any trespass, you who are spiritual restore such a one in a spirit of gentleness, considering yourself lest you also be tempted.

Galatians 6:1 NRSV
Rebukes are done with much prayer and much love knowing that we also will be tempted and perhaps even succumb. In other words, we walk this life together, helping each other when the other falls.
And personally I'm grateful for the help!