Over the years, I have learned about boundaries and the discernment needed in determining when to stay and when to go.
"And whosoever shall not receive you, nor hear your words, when ye depart out of that house or city, shake off the dust of your feet." Matthew 10:14; Mark 6:11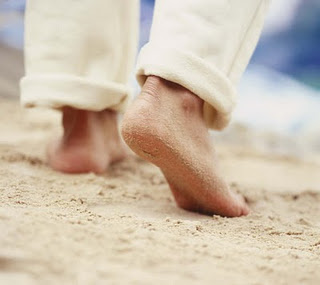 These scriptures often deal with the spreading of the Gospel. And that is certainly the case. But I also see them applying to addiction/recovery matters as well.
1. We admitted we were powerless over a substance or behavior ─ our lives had become unmanageable.
Step One challenges our "I have this under control" lie we often tell ourselves.
I have encountered this from close family members, most specifically, my mother.
I was rather late arriving to the therapy party when it came to addressing my disordered eating/image issues. I wasn't in therapy as a skeletal anorexic, an impulsive bulimic or a ravenous overeater. No. It was a matter of "years later" when I finally decided I needed to face personal issues about myself. And I did it alone.
I did it alone because, when it came to dealing with those unpleasant and difficult issues, my family was unwilling to participate in unflattering truth's revelation.
I first encountered this as an emaciated anorexic.