One day a man walked into his place of worship and to his surprise the devil was at the altar weeping bitterly. When the man asked him, "Hey, what's wrong with you?" His reply was, "Everyone blames me for everything!"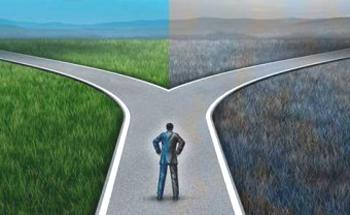 This fictional story serves to remind us how easy it is to point fingers. We, like water, seek out the easiest course to follow. You see, it's so much more convenient to blame everyone rather than to look deep into ourselves. Not until I began to honestly take inventory of my own personal life, was I able to admit to myself that I was in dire need of a total spiritual and emotional make-over.
It's a humbling experience for anyone to look into the mirror and say, "I have met the enemy and the enemy is me!"
But, like a master sailor uses the contrary wind to get him to safe harbor, we too can use our imperfections as a driving force to relearn and refocus on our true self and mission on earth. Be comforted in knowing that because of Gods amazing grace, He is able to draw a straight line using a crooked stick.
If we will fearlessly open up the chapters of our past, I think we will be surprised to see that many of our hell-on-earth experiences have been caused by the inability to make right decisions. Never forget, we are the very ones who chose alcohol and/or drugs as a solution to life's problems. (Some may say, "Alcohol, drugs? That's not my problem!" That may be true, but take a good look into the cup from which you drink, is it filled with fear, pride, unforgiveness, greed or guilt?) If your answer is yes, then we welcome you to join us as we seek for the solution.
The 3rd step in the big book of A.A. reads "We made a decision to turn our will and our lives over to the care of God as we understood Him."
The word decision means: The act of making up one's mind. When a person lacks this ability they are likened to a double minded (doubting, hesitating) man who is unstable in all his ways (James 1:8 paraphrased). One never builds a mansion on a unstable foundation, much less will a marriage built on sand (unstable people) survive the storms of life.
But wait! There is a better way. For He who has all POWER says to us,
"For I know the plans that I have for you, declares the Lord, plans for welfare and not for calamity, to give you a future and a hope." Jeremiah 29:11
But for us to enjoy the fruit of this better way we must pass through the Valley called DECISION.
Many of us have missed out on excellent opportunities in life, due to the inability to make up our own mind. You see, when we doubted and hesitated, another came and snatched up all that was dear to us. In the twinkling of an eye, family, friends, careers and even our own self respect was gone.