I recently came across a little gem about the ego and the soul.
It's quite profound. It states things like: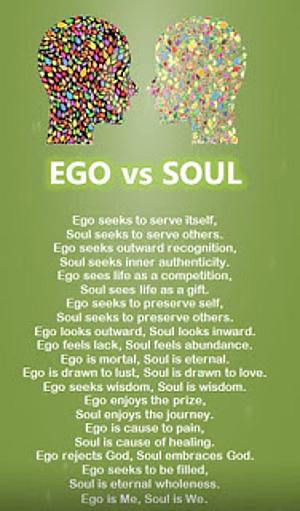 "Ego looks outward. Soul looks inward."
"Ego sees lack. Soul sees abundance."
According to one definition of the word, soul is comprised of the mind, the will and the emotions. So, it stands to reason soul would be quite vulnerable to disease. Indeed, there is a battle going on.
And, let's get real — a large part of that battle involves the toxic pride factor.
Pride goeth before destruction, and a haughty spirit before a fall. Proverbs 16:18
For all that is in the world, the lust of the flesh, and the lust of the eyes, and the pride of life, is not of the Father, but is of the world. 1 John 2:16
And that pride rubs shoulders with rebellious foolishness.
The fool hath said in his heart, "There is no God." They are corrupt, they have done abominable works, there is none that doeth good. Psalms 14:1
And yes, that goes for even us Christians.
It's not about being a good little boy or girl in the pews on Sunday. Instead, it has everything to do with the very real, very rebellious, prideful and diseased thoughts which have ensnared us in affliction. Saying "no" when we should say "yes."
As is echoed in the "Ego Versus Soul" post…
"Ego rejects God. Soul embraces God."
Again, profound.
And, while we may nod our heads in agreement with that statement, do we really examine any rebelliousness lurking in our tricky hearts?
After all, we're not above being deceived…
The heart is deceitful above all things, and desperately wicked: who can know it? Jeremiah 17:9
For, once upon a time, there was a certain rebel who let some audacious, prideful attitudes rip.
And he said unto them, "I beheld Satan as lightning fall from heaven." Luke 10:18