I practice an effective recovery tool: "H.A.L.T."
Its simple wisdom deals our response toward addiction, compulsion and disorder:
"Don't let yourself become too Hungry, Angry, Lonely or Tired."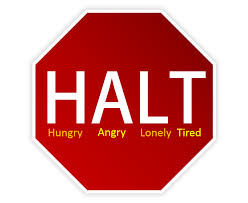 There are positive results there, just in the physical realm alone. But, if we go deeper, we also see the spiritual relevance behind that acronym. It addresses our tricky heart condition.
"For what I am doing, I do not understand…"Romans 7:15