And forgive us our debts,
As we forgive our debtors. Matthew 6:12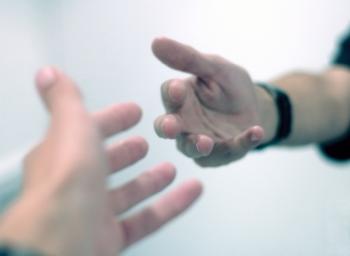 How many times do we pray this portion of what is commonly called "The Lord's Prayer" and yet fail to consider what we're asking? It is a petition, a request of God to forgive us – in the same manner and proportion in which we forgive others. Are you okay with that? Are you comfortable with receiving God's forgiveness to the same extent that you give it to others?
Before you answer, please reflect on the last time someone came to you and asked for forgiveness. What was your response? Did you graciously give what was asked… or did you deny it? Or, a more likely scenario, did you dismiss the request with a "Hey, don't worry about it; it was no big deal" comment?
The latter is far too often my first reaction. I am apparently more concerned with making the other person FEEL better than BE better — and that's NOT a good thing. In fact, that's tantamount to giving the person permission to continue in his/her sin. Our 12-step friends call that "enabling," and enabling is not love in action.
Thank God He doesn't respond that way when we go to Him to request forgiveness! The Scriptures tell us:
"If we confess our sins, He is faithful and just to forgive us our sins and to cleanse us from all unrighteousness." 1 John 1:9
To confess our sins is to agree with what God says about our actions and behavior: That we have done something wrong and that it deserves death (eternal separation from God). But because God is merciful and just, and because Jesus already paid the price to enable our sins to be forgiven, God has promised to readily extend that forgiveness and restore us to right relationship with Him.
And that's exactly the way we are to respond when someone comes to us and acknowledges that his/her behavior toward us was wrong and has damaged our relationship. True repentance and confession from someone who has offended us requires immediate and complete forgiveness and restoration of relationship on our part — not a denial of forgiveness or a dismissal of the need for it.
Of course, if the other person's request for forgiveness stirs up our own need for forgiveness, then we too should follow through and request it so the relationship can be restored. For that is God's purpose for all of us while we are here on this earth—to be involved in the "ministry of reconciliation," or restoration of relationships.
It is NEVER God's will or purpose to cause or prolong severed relationships, though occasionally healthy boundaries may be required to bring true restoration.
Few of us would deny the devastating implications of having God turn down our requests for forgiveness, but consider the repercussions of a God who would dismiss such requests with a wave of the hand and a "No big deal" response. We have a God who hears and grants our heartfelt petitions for forgiveness and restoration – and He expects us to do the same.