"… I have heard thy prayer, I have seen thy tears: behold, I will heal thee…"
2 Kings 20:5
There was once a product called "No More Tears" detangling spray I used frequently as a child. As a little girl, snarls were my reality; therefore, this product was mandatory. Mom pulled and sprayed my hair, while I'd stare at the bottle's portrait. Radiant mother was brushing radiant daughter's flowing tresses. There were no feelings of inadequacy, no complicated views of human emotions and no sore scalp. The bottle simply promised, "No More Tears."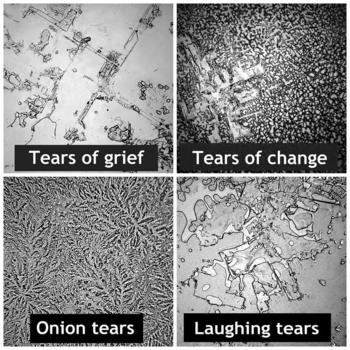 If only life could be that easy.
But, indeed, my personal experience with tears has been un-easy. Crying – unpleasant emotion of any kind – was viewed and treated negatively, as something to be avoided, covered, silenced or punished. Tears were the uncomfortable evidence all is not well; there is disease, pain and trauma here.
However, in the last fifteen years, I have come to view tears through a healthier, more meaningful lens. As we deal with our addictions, disorders and traumas, addressing what our tears represent to us, we aren't far removed from the harmful beliefs which contribute to our struggles and thwart our recoveries.
I once stumbled across a photo which compared four types of human tears: tears of grief, tears of change, tears cried from onions and tears of laughter. I was struck by their imagery; each seemed to offer a specific signature concerning life experience.
Tears of Grief:
First, we see this microscopic picture of tears of loss. It resembles a sparse wasteland. To me, the prevalence of the tears' open space appears as a lonely island surround by an ocean. The impression I get from these magnified tears is one of disconnect.
And this was exactly where I was as I was confronted by my dad's death in 2003.
"The Easy Death:"
Even as I found connection within my faith as an adult, I still did not deal with the unresolved issues I had with him. By this point, I was married, living in another state, and pursuing my writing career. I had also been in therapy. Still, the dysfunctional relationship with my dad proved to be painful and powerful.