One of the most important aspects of Prayer is Spiritual Warfare. The Bible tells us that we are in the midst of a Spiritual battle, and our advisory the devil is like a roaring lion seeking to destroy our lives. Paul says,
We do not wrestle against flesh and blood, but against the rulers of the darkness of this age, against Spiritual hosts of wickedness in the heavenly places. Ephesians 6:12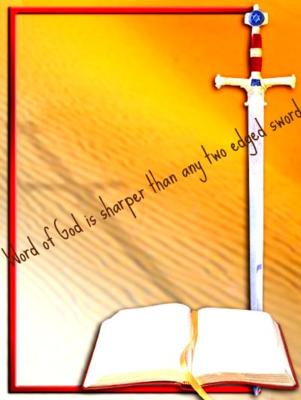 Satan and his forces of darkness are trying to destroy your life, and it is imperative that we learn to pray against these forces of darkness in order to gain victory in our lives.
*SPIRITUAL WARFARE PRAYERS*
1. I arise today with the power of the Lord God Almighty to call forth the heavenly host, the Holy angels of God, to surround and protect, and cleanse with God's Holy light
all areas vacated by the forces of evil. I ask the Holy Spirit to permeate my mind, heart, body, soul and Spirit , creating a hunger and thirst for God's Holy Word, and to fill me with the life and love of my Lord, Jesus Christ.
2. We use every verse in the Holy Bible that wars against the demonic forces. We bind and loose spirits. We tear down strongholds. We command civil war in Satan's Kingdom. We loose the Love of God, Price that Jesus Paid, Holy Spirit, Word of God, Blood of Jesus and Cross of Jesus against the forces of evil. All these things we do in the name of Jesus Christ , our Lord, Master and Savior, and for the Holy Trinity.