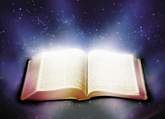 Note: all quotes are from the King James Version (KJV). If you have difficulty understanding the KJV we strongly recommend that you get a copy of a more modern language Bible such as The New Life Version Bible, New King James Version, New Revised Standard Version, Today's English Version, The Message, etc.
Step One: We admitted we were powerless over our addictions and dysfunctions and that our lives had become unmanageable.
–For I know that in me (that is, in my flesh,) dwelleth no good thing:
for to will is present with me; but how to perform that which is
good I find not. For the good that I would I do not: but the evil
which I would not, that I do. Now if I do that I would not,
it is no more I that do it, but sin that dwelleth in me. –Romans 7:18-20

Step Two: Came to believe that a Power greater than ourselves could restore us to sanity.
–Jesus said unto him, If thou canst believe, all things are possible to
him that believeth. And straightway the father of the child cried out,
and said with tears, Lord, I believe; help thou mine unbelief. –Mark 9:23-24
Step Three: Made a decision to turn our will and our lives over to the care of God as we understood Him.
–A Psalm of David.
The LORD is my shepherd; I shall not want.Step Four: Made a searching and fearless moral inventory of ourselves.

–All the ways of a man are clean in his own eyes;
but the LORD weigheth the spirits. Commit thy works unto the LORD,
and thy thoughts shall be established. –Proverbs 16:2-3
Step Five: Admitted to God, to ourselves, and to another human being the exact nature of our wrongs.
–Confess [your] faults one to another, and pray one for another,
that ye may be healed. The effectual fervent prayer of a righteous
man availeth much.–James 5:16
Step Six: Were entirely ready to have God remove all these defects of character.
–Wherefore gird up the loins of your mind, be sober,
and hope to the end for the grace that is to be brought unto you
at the revelation of Jesus Christ; As obedient children,
not fashioning yourselves according to the former lusts in your ignorance:
But as he which hath called you is holy, so be ye holy in all manner
of conversation; Because it is written, Be ye holy; for I am holy.
–1 Peter 1:13-16
Step Seven: Humbly asked Him to remove our hortcomings.
–I sought the LORD, and he heard me, and delivered me from all my fears.
They looked unto him, and were lightened: and their faces were not ashamed.
This poor man cried, and the LORD heard him, and saved him out of
all his troubles. –Psalm 34:4-6
Step Eight: Made a list of all persons we had harmed, and became willing to make amends to them all.
–Though I speak with the tongues of men and of angels, and have not charity,
I am become as sounding brass, or a tinkling cymbal.
And though I have the gift of prophecy, and understand all mysteries,
and all knowledge; and though I have all faith,
so that I could remove mountains, and have not charity, I am nothing.
And though I bestow all my goods to feed [the poor],
and though I give my body to be burned, and have not charity,
it profiteth me nothing.
Charity suffereth long, and is kind; charity envieth not;
charity vaunteth not itself, is not puffed up,
Doth not behave itself unseemly, seeketh not her own,
is not easily provoked, thinketh no evil;
Rejoiceth not in iniquity, but rejoiceth in the truth;
Beareth all things, believeth all things, hopeth all things, endureth all things.

Charity never faileth: but whether [there be] prophecies, they shall fail;
whether there be tongues, they shall cease; whether there be knowledge,
it shall vanish away. For we know in part, and we prophesy in part.
But when that which is perfect is come,
then that which is in part shall be done away.
When I was a child, I spake as a child, I understood as a child,
I thought as a child: but when I became a man, I put away childish things.
For now we see through a glass, darkly; but then face to face:
now I know in part; but then shall I know even as also I am known.
And now abideth faith, hope, charity, these three;
but the greatest of these is charity. –1 Corinthians 13
Step Nine: Made direct amends to such people wherever possible, except when to do so would injure them or others.
–Therefore if thou bring thy gift to the altar,
and there rememberest that thy brother hath ought against thee;
Leave there thy gift before the altar, and go thy way;
first be reconciled to thy brother, and then come and offer thy gift.
–Matthew 5:23-24
Step Ten: Continued to take personal inventory and when we were wrong promptly admitted it.
–For I say, through the grace given unto me,
to every man that is among you, not to think of himself more highly
than he ought to think; but to think soberly, according as God hath dealt
to every man the measure of faith. –Romans 12:3
Step Eleven: Sought through prayer and meditation to improve our conscious contact with God as we understood Him, praying only for knowledge of His will for us and the power to carry that out.
–Let your moderation be known unto all men. The Lord is at hand.
Be careful for nothing; but in every thing by prayer and supplication
with thanksgiving let your requests be made known unto God.
And the peace of God, which passeth all understanding,
shall keep your hearts and minds through Christ Jesus.
–Philippians 4:5-7
Step Twelve: Having had a spiritual awakening as the result of these steps, we tried to carry this message to others, and to practice these principles in all our affairs.
Let your light so shine before men, that they may see your good works,
and glorify your Father which is in heaven. –Matthew 5:16