When I first saw the image of Jesus doing a "Face palm," I laughed.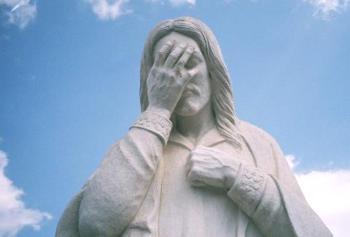 The exasperated look of our Savior, indeed, conveys the message of "why did you say/do THAT?" And you and I know what that is. It usually has something to do with sin. Sometimes, we look downright foolish. I mean, c'mon, how many times in life have we, ourselves, done a similar face palm?
Remember, lying is a sin.
In any case, some lesser face palm moments often involve us- and our big mouths. Yes, we really blow it here. It's not just about "taking the Lord's Name in vain" either. It's not even about other expletives (you know the words). It, instead, has to do with the negative and untrue statement we utter.
Things like…
"It'll never change."
Nope, not true. See 2 Corinthians 3:18:
And we all, who with unveiled faces contemplate the Lord's glory, are being transformed into his image with ever-increasing glory, which comes from the Lord, who is the Spirit.
"I'm/it's hopeless."
Again, it's not true. Check out:
And now, Lord, what wait I for? My hope is in thee. Psalms 39:7
But I will hope continually, and will yet praise thee more and more. Psalms 71:14
Hmmm. It looks like there's hope to me.
"I'm/it's so stupid."
Here's a direct face palm for Jesus. Check out the Mind of Christ
For who hath known the mind of the Lord, that he may instruct him? But we have the mind of Christ.1 Corinthians 2:16
"I know what's best/I know what I'm doing."
Face palm executed right here by Jesus, with shaking head and possibly some laughter.
After all…
For what I am doing, I do not understand. For what I will to do, that I do not practice: but what I hate, that I do. The Apostle Paul in Romans 7:15
For my thoughts are not your thoughts, nor are your ways my ways, says the LORD. For as the heavens are higher than the earth, so are My ways higher than your ways, and My thoughts than your thoughts. Isaiah 55:8-9
"I can handle this…"
Oh, really?
Pride goeth before destruction, and an haughty spirit before a fall. Proverbs 16:18
For all have sinned and fall short of the glory of God. Romans 3:23
And, of course, there's this musing:
"No one loves me."
Ah, you really want to go with that? You're thoroughly convinced absolutely no one loves you- in the whole world? No one?
But God demonstrates His own love toward us, in that while we were still sinners, Christ died for us. Romans 5:8
For I am persuaded that neither death nor life, nor angels nor principalities nor powers, nor things present nor things to come, nor height nor depth nor any other created thing, shall be able to separate us from the love of God which is in Christ Jesus our Lord Romans 8:38-39
So much for our theories, huh?
And, granted, no one is getting this whole thing right; no one sees life, much less, our own lives, perfectly…
For now we see through a glass, darkly; but then face to face: now I know in part; but then shall I know even as also I am known…1 Corinthians 13:12-13
But there's a difference between ignorance and careless trash talking – concerning ourselves, our situations, others- and even God. Scripture tells us our words aren't just things…
Death and life are in the power of the tongue: and they that love it shall eat the fruit thereof. Proverbs 18:21
Whatever we choose to say, good or bad, will produce a result and hence, a potential face palm, perhaps even from Jesus, Himself. He wants to give us "life and life more abundantly" (John 10:10). But what if, out of ignorance, frustration, anger or arrogance, we're saying things to wreck those intended plans? What if we need to shut our own big mouths, or, at the very least, think (there's a notion) before we speak?
Hmmm. We'll all blow it when it comes to the things we say. We're human. But each one of us does have the ability to decrease the face palm moments.
We're not powerless:
For God hath not given us the spirit of fear; but of power, and of love, and of a sound mind.2 Timothy 1:7
Let's use that power, therefore, to create the positive results we want; let's be aware of our words.