There are times (though they are fleeting) that I feel like giving up on everything and everybody. That includes me and even God. Thankfully Heavenly Papa doesn't take me seriously. And neither does He issue me a citation for going too far out of bounds from His Watch Care, Grace and Love. David said,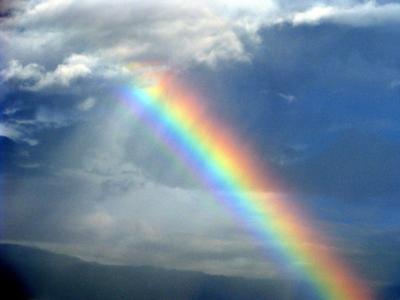 If I climb to the sky, you're there!
If I go underground, you're there!
If I flew on morning's wings to the far western horizon,
you'd find me in a minute – you're already there waiting! Psalm 139: 8-9, The Message
I like that, don't you? He's already waiting for us, wherever we go! As futile and insane as it is; running and hiding does not frustrate God's loving presence. He is always the same. He is always there for us. He always has the same opinion about us-He's crazy about us and every one of us is His favorite! His opinion of us (in Scripture and in Christ) is the foundation of faith.
Yet this I call to mind and therefore I have hope. The steadfast love of the Lord never ceases. His Mercies never come to an end. They are new every morning. Great is His faithfulness. Lamentations 3:21-24 The Message
Then why in the blue blazes do we have the propensity to run, hide (by the way, when we hide, which side of the tree do we get on?) and let go? Well, why? For me, it is a combination of doubt, anger and fear. Obviously; (as far as the Scripture is concerned) we have no, zero, nada good reason for such behavior!
The Psalmist; King David, gives us a glimpse into his experience with God that may shed light and give us direction as to what will keep us from flying apart in difficult times. He said,
What times I am afraid (or angry, doubting, frustrated-put your experience here) I will trust in You." Or, "When I get really afraid I come to you in trust. Psalm 56:3, The Message
Consider the experience of Peter in the following passage. Remember he is the very same Peter who betrayed Jesus three times!
I Peter am an apostle on assignment by Jesus, the Messiah, writing to exiles scattered to the four winds. Not one is missing, not one forgotten. 2 God the Father has his eye on each of you, and has determined by the work of the Spirit to keep you obedient through the sacrifice of Jesus.
May everything good from God be yours! 3 What a God we have! And how fortunate we are to have him, this Father of our Master Jesus! Because Jesus was raised from the dead, we've been given a brand-new life and have everything to live for, 4 including a future in heaven – and the future starts now! 5 God is keeping careful watch over us and the future.
The Day is coming when you'll have it all – life healed and whole. 6 I know how great this makes you feel, even though you have to put up with every kind of aggravation in the meantime. 7 Pure gold put in the fire comes out of it proved pure; genuine faith put through this suffering comes out proved genuine.
When Jesus wraps this all up, it's your faith, not your gold, which God will have on display as evidence of his victory. 8 You never saw him, yet you love him. You still don't see him, yet you trust him – with laughter and singing. 9 Because you kept on believing, you'll get what you're looking forward to: total salvation. 1 Peter 1:1-9, The Message
I mean the following in the truest way possible, and it really is this simple-Keep the faith in Jesus
Faithing Jesus! I am, Ron Ross