I have this roll around bag I carry with me every day to work. In it, I carry my journal, extra pens, a small laptop, and anything else I think I might need for the day. I decided to get a bag that had rollers because the one I carried over my shoulder grew too heavy for me. I wish I could do the same for the other baggage I have carried with me over the years.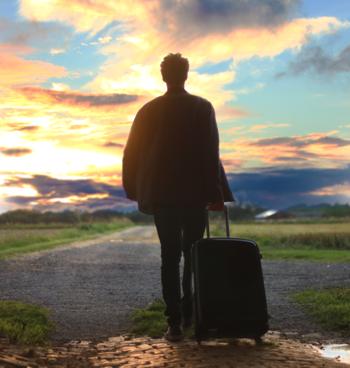 The other suitcase I carry with me has no handle. It resides within the chambers of my heart and the confines of my soul. It has years of control, co-dependency, self-blame, regret, sadness, grief, and pain within it. As I face Step Four of my recovery journey, I know there is more in that piece of luggage. I know there are things I haven't admitted to yet. I know there are probably even things I am not aware of. But I know this is an important step in the recovery from my past.
These issues I have carried with me are common for people like me. I haven't always known this to be true. Working diligently on making a searching and fearless moral inventory of myself showed me this. Reading Psalm 139:23-24 guides me toward God's loving arms to reveal the truth about me.
Search me, O God, and know my heart;
Try me and know my anxious thoughts;
And see if there be any hurtful way in me,
And lead me in the everlasting way.
I ask God to search and know my heart. I ask him to

know the anxiety I feel through this step. I ask Him to point out to me exactly where I have hurt others because I hurt myself. I ask Him to lead me out of the pit of darkness and out into the everlasting light. His light. I ask and He does. I can see now not only my feelings and pain, but also the chaos I have forced upon others because of my inner chaos. I can see now how my controlling behavior caused broken relationships. I can see now how my co-dependency created a life of confusion for me and for those around me.
Oh at the times I have unpacked and repacked the old worn luggage of my soul. I've taken each item out, piece by broken piece and laid them all around me to sort through. Some I have looked over and folded to be pack away again. Some I have tossed behind me, never to see them again. Then others I have gently laid at the feet of Jesus and asked Him to take them on my behalf. Those items are the ones I can say I am free from today. The items I have let go and given to Jesus are the ones that have no hold on me any longer.
God is my guide. He is the one who knows me better than I know myself. He knows where I have made errors and need His grace. It's time to break free from the shackles of control, co-dependency, shame, and regret. It's time for me to walk free in the love of my Father.
Think About It:
What are you carrying in your luggage? List it out.
Ask God to help you identify things that may be hidden from your immediate view.
Are you ready to unpack that old worn suitcase and lay the contents at Jesus' feet?
Read Psalm 51:6, Matthew 6:12-13 and Job 7:11.
Journal About it:
Write about how the questions and scriptures today resonated with you. As you write, thank Him for showing you the way in your journey.
Pray About it:
As you think and write, say this prayer with me.
Our Father, who is in heaven,
Hallowed be Your name.
Your kingdom come.
Your will be done,
On earth as it is in heaven.
Give us this day our daily bread.
And forgive us our debts, as we also have forgiven our debtors.
And do not lead us into temptation, but deliver us from evil.
For Yours is the kingdom and the power and the glory forever.
Amen Matthew 6:9-13
Talk About it:
This is my story, what's yours? I would love to hear from you! I enjoy connecting and keeping in touch. Do you feel as though you don't have anyone you can share with confidentially? Your anonymity is protected. Do you feel you are the only one struggling with the aftereffects of growing up with an alcoholic parent? Sweet sister, YOU are not alone! It's time to break free from the shackles of your controlling habits, trust issues, co-dependency, guilt, self-blame, hurts, regrets, and heartaches!