Whether it's been through abuse or disorder, I learned to fear.
Child development experts state that newborns have only two fears: loud noises and falling. Babies' brains and nerves grow rapidly in the first two years of life, but they are born with very immature nervous systems. This means that they cannot interpret or handle certain sensory input — like loud noises or the feeling of falling.
So, that means, all other fears are learned.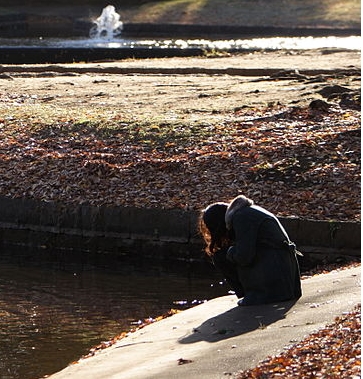 That's certainly been my experience. Growing up with an abusive dad, there was always this "or else" undercurrent of dread. My life experiences with conditional love further sealed the deal to the performance-based nature to both love and life:
"I desperately wanted my dad to notice me. I learned very quickly that one surefire way to do that was by winning awards. When I won something, I wasn't completely worthless or useless. I was productive; I was 'earning my keep.' I set impossible standards for myself. Try as I might with award after award, I'd eventually disappoint everyone, including myself, proving that I wasn't worth anything after all.
My perfect attendance record in school is an excellent example. For three years in a row, I did not missed one day of school, knowing that I would win a perfect attendance certificate, tangible proof on paper that I was worthwhile. It became a standard I had to maintain because my dad seemed pleased in my performance. Of course, he never said that he was proud of me, but he did lay off the criticisms briefly. So for the next few years, I went to school with colds, sore throats and influenza. I remember going to school once with a temperature of over 101, sitting at my desk, on the verge of throwing up, yet only thinking of that certificate.
When I reached junior high, I became so sick once I had to stay home. I felt defeated and anxious. My dad, who had never really been sick with so much as a cold, was unsympathetic to my condition. With each passing day I stayed home from school, the tension mounted. Three days at home, according to my dad, was enough. He became upset at my mom for being 'such a terrible mother.' After three days home, he had enough. He decided he would take me into school to make sure I got there.
On the way to school, he was fuming and I was scared to death, but my fourteen-year-old mind wanted to know something. We'd never had any father/daughter talks about anything, much less about the existence of a loving relationship, but I got up the nerve to ask him, 'Do you still love me?' His answer? 'If you do this again, I won't.'
His answer proved it. It was my fault. I had to prove myself in order to be loved. I wasn't the cute, good little daughter he should have had. If I could just look right and act right, he'd love me. All I have to do, I decided, is be perfect. That's all."
(Excerpt taken from "Thin Enough: My Spiritual Journey Through the Living Death Of An eating Disorder")
In the years since my abusive childhood, it's been an ongoing relearning process concerning love, God and self-acceptance. A big part of that process involves the revelation that my dad's response is not God's.
For my thoughts are not your thoughts, nor are your ways my ways, says the LORD. For as the heavens are higher than the earth, so are My ways higher than your ways, and My thoughts than your thoughts."
Isaiah 55:8-9
Furthermore, life's response- from anyone at all- likewise, is not necessarily representing God's perspective.
"I have chosen you and have not cast you away." Isaiah 41:9
"For I know the thoughts that I think toward you, says the Lord, thoughts of peace and not of evil, to give you a future and a hope." Jeremiah 29:11
God loves unconditionally and His love has no conditional, fear-based tones to it.
There is no fear in love; but perfect love casteth out fear: because fear hath torment. He that feareth is not made perfect in love. We love him, because he first loved us. 1 John 4:18-19
"Fear thou not; for I am with thee: be not dismayed; for I am thy God: I will strengthen thee; yea, I will help thee; yea, I will uphold thee with the right hand of my righteousness." Isaiah 41:10
So, that means I need to challenge those fear-driven thoughts and look at where they are coming from.
Bottom line: God is neither abusive nor disordered; He is love. Period.
"Since you were precious in my sight… I have loved you…" Isaiah 43:4
"The LORD hath appeared of old unto me, saying, 'Yea, I have loved thee with an everlasting love: therefore with lovingkindness have I drawn thee.'" Jeremiah 31:3
And that's now what our focus needs to be, regardless of negative experiences like abuse, addiction and disorder. We need to override our past experience with Who God is. It is that ongoing process which makes all the difference.