And everyone who calls on the name of the Lord will be saved. Acts 2:21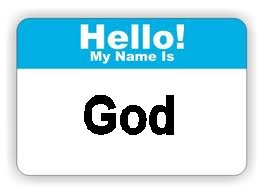 When I was a kid, my cousins had a favorite pastime: scaring me senseless. I mistakenly thought by being an only child, I'd avoid the horror of sibling torment.
Not so fast. The beauty of older cousins.
Anyway, as part of this torment, my loving cousins frequently told me I was in rooms with ghosts, demons and the devil himself. Whether it was in my home or theirs, they'd lure me into a particular room, then shut the door, locking me in while making scary noises, "talking" to the disturbing entities and, of course, telling me these unholy creatures were coming for me.
Oh, happy childhood. When is it over?

Because I was terrified, I screamed for help, calling for my mother- or even for my tormentor cousins to rescue me. But none came. The terror didn't end until it was time to go home or my cousins got bored. Until then, however, I learned it was hopeless and terrifying.
Again, happy childhood.
And, even though I believed in God, it never occurred to me to call out to Him for help. I somehow believed that, at least in this situation, He wouldn't help me.
Still more happy childhood.
Now, I know this teasing situation, be it siblings or cousins, to some degree, is echoed in many families out there, in the name of "kids will be kids."
But I don't think it is ever too early to tell children God is a loving – and helping – God.
Years later, I've come to learn of this reality. And a large key to that has been that of the power of God's Name- or, more specifically, Names.
For whosoever shall call upon the name of the Lord shall be saved. Romans 10:13
And everyone who calls on the name of the LORD will be saved; for on Mount Zion and in Jerusalem there will be deliverance, as the LORD has said, even among the survivors whom the LORD calls. Joel 2:32
Know ye that the LORD he is God…be thankful unto him…bless his name. For the LORD is good; his mercy is everlasting; and his truth endureth to all generations. Psalms 100:3-5
Unfortunately, many of us adults still don't have the revelation of that power.
God is a specific, detail-oriented God. So, Who, exactly, is He?
While it's not humanly possible to figure Him out completely without at least giving ourselves a serious headache in our eyes, God has given us a few clues, via the array of Names He is called by. Here's a sampling:
First, He is the great "I Am."
And Moses said unto God, Behold, when I come unto the children of Israel, and shall say unto them, The God of your fathers hath sent me unto you; and they shall say to me, What is his name? what shall I say unto them? And God said unto Moses, I AM THAT I AM: and he said, Thus shalt thou say unto the children of Israel, I AM hath sent me unto you. And God said moreover unto Moses, Thus shalt thou say unto the children of Israel, the LORD God of your fathers, the God of Abraham, the God of Isaac, and the God of Jacob, hath sent me unto you: this is my name for ever, and this is my memorial unto all generations. Exodus 3:13-15
It's a big blanket of sufficiency, spread over any and every need which pops up. Indeed, God tells us there's nothing too hard for Him (Jeremiah 32:27). So, no matter what metaphorically scary room we're helplessly shut in, God is there, with us.
Jehovah –Shammah: "The Lord Who Is Present"
…and the name of the city from that day shall be, The LORD is there. Ezekiel 48:35
God is our refuge and strength, a very present help in trouble. Psalms 46:1
And, indeed, God sees everything…
El Roi: "The God Who Sees"
And she called the name of the LORD that spake unto her, "Thou God seest me:" for she said, "Have I also here looked after him that seeth me?" Genesis 16:13
Whether we're tormented or the tormentor like my rowdy cousins, God sees it. We can't get away with ANYTHING!!! That may sound like a bummer, but it can also be incredibly reassuring.
However we've been hurt, terrified, abused, taken advantage of and left to feel powerless, God sees it. He knows. And, again, He's there with us.
Whither shall I go from thy spirit? or whither shall I flee from thy presence?
If I ascend up into heaven, thou art there:
if I make my bed in hell, behold, thou art there. Psalm 139:7-8
And part of that involves His Authority as our peace.
And the LORD said unto him, "Peace be unto thee; fear not: thou shalt not die." Then Gideon built an altar there unto the LORD, and called it "Jehovahshalom:" unto this day it is yet in Ophrah of the Abiezrites. Judges 6:23-24
You may have felt like your life was anything but peaceful. However, God And Peace are still very much connected. It just may not be according to our definitions and feelings.
"Peace I leave with you, my peace I give unto you: not as the world giveth, give I unto you. Let not your heart be troubled, neither let it be afraid." John 14:27
Yeah, I know, it's a tall order. Nevertheless, God is in control. It may not feel like it, but all the same, God has our past, present and future situations- EVERYTHING!!! He IS the end all, be all!!!
"I am Alpha and Omega, the beginning and the ending," saith the Lord, "which is, and which was, and which is to come, the Almighty." Revelation 1:8
Whew!! That about covers it!
These are just a few Names of God; there's more, so much more!!!
And, while it is powerful to know and call on those Names, we must not forget the most important One: Father.
Have we not all one father? hath not one God created us?… Malachi 2:10
This is the Name which often trips us up. Many of us have not had good father experiences. Abuse, neglect, abandonment and divorce are just a few situations in which the father issue may be all too painful and negative.
Nevertheless, God is first our Father, Who loves us so passionately that He adopts us:
For ye have not received the spirit of bondage again to fear; but ye have received the Spirit of adoption, whereby we cry, "Abba, Father." Romans 8:15
That includes you!
So, what's in a Name? When it comes to God, it is blessing, love and help, just for starters. Find out the power of the Names for yourself; call on God today!!!