When I was a child, I had repeated ear infections. My earliest memories are of me, screaming in the car, on the way to the doctor, with a hot water bottle pressed against my painful bleeding ear. Fun.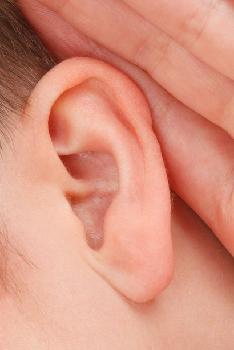 Years later, the ear ache issue pops up again. I've been told I'm a great listener. People feel they can tell me anything, and often do. I love helping people. But there is a line, all too often, they want to cross. And so, if I'm not careful, I can often find myself with a spiritual ear ache.
Most of us know God is love.
Beloved, let us love one another: for love is of God…1 John 4:7
But is love always telling someone what he/she wants to hear? No.
But this desire to only hear pleasant things still exists, nevertheless. We like "feel good" affirmations.
For the time will come when they will not endure sound doctrine; but after their own lusts shall they heap to themselves teachers, having itching ears. 2 Timothy 4:3
Which say to the seers, See not; and to the prophets, Prophesy not unto us right things, speak unto us smooth things… Isaiah 30:10
Ever since the book on my eating disorder journey came out years ago, I've been repeatedly approached by people who are also affected by addictions, disorders and dysfunctions. I am not a therapist; I make that clear from the start. Yet, I often encounter people, who feel that, because he/she is communicating with me, suddenly, it's okay to stop his/her recovery program. Wrong answer!

I've thought about why we do this. I think the disorder/addiction convinces us to be secretive, with the faulty promise of being "safe" in our particular disease. But there is no such thing. Talking to someone, outside of his/her recovery structure and geographical area may "feel" safe, but it's an unhealthy way to continue the disorder or the addiction. There's more pain, harm and shame. Jesus asked the question, "Do you want to get well?"(John 5:6) Often times, however, our answer seems to be, "no."
So, we vent our pain. But is that helpful? It's frustrating when someone pours out every problem and issue to me but does not do so to his/her recovery team and/or therapist. It's like the thought goes, "Since I'm talking to her, I don't need to talk to them." Are we, indeed, guilty of this? Do we turn to someone, just for the purposes of unloading? It's not only wrong, but harmful as well.
Help is not one person using another as a dumping ground. An important point, both to the life and recovery issue is this: boundaries.
Let all things be done decently and in order. 1 Corinthians 14:40
A listening ear is not to be a crutch. Yes, we are to love and help one another, but we are not the infallible Source God is; we are an imperfect resource. As that resource, we are not to be viewed or misused as the substitute answer for God.
Often, in conversations with someone who is struggling, when asked if he/she has talked to God about his/her life and circumstances, the predominant answer is "no." Why not? Perhaps, because, there is the belief it is not necessary- or effective to pray. Again: wrong answer.
In my distress I called upon the LORD, and cried unto my God: he heard my voice out of his temple, and my cry came before him, even into his ears. Psalms 18:6
Only God is our complete Source:
"I am the vine; you are the branches. If you remain in me and I in you, you will bear much fruit; apart from me you can do nothing." John 15:5
Part of being that incredible and loving Source involves correction. Yes, God corrects us.
"As many as I love, I rebuke and chasten…" Revelation 3:19
And most of us aren't thrilled with that. We'd rather be assured we're okay doing what we're doing; we want to hear what we want to hear. But is that helpful?
Counseling, supportive people and listening ears are a part of a healthy life. We need that support structure. But God needs to be first in that equation. Even the best Godly resource, like a therapist or a recovery program, can be wrongly viewed as a God substitute. And, when that occurs, the resource stops being a help.
If you're not in recovery now, please find a program. But, most importantly, find God and seek His help, direction and wisdom. Recognize resources, organizations and people as imperfect; yes, they are part of recovery, but not the only vital element. God needs to be involved; He is perfect, complete and acutely aware of everything about us. He wants us to lean on Him.
Trust in the LORD with all your heart
and lean not on your own understanding;
in all your ways submit to him,
and he will make your paths straight. Proverbs 3:5-6
He desires to be our ever listening Ear; therefore, talk to and hear Him today!
"He that hath ears to hear, let him hear." Matthew 11:15; Mark 4:9