He that getteth wisdom loveth his own soul: he that keepeth understanding shall find good." Proverbs 19:8
As with most families this time of year, my husband and I commemorate the season with holiday decorations. That décor, however, is threatened by two factors: our cats, Gracie and Glory.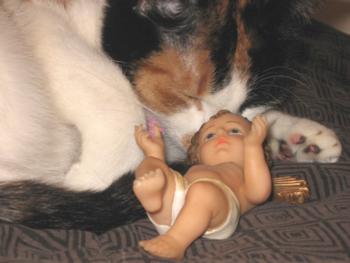 And, it is in this holiday decoration/feline context where I started thinking about the power of negative consequences.
The Book of Proverbs is especially loaded with helpful warnings for particular behaviors. It comes down to wisdom versus foolishness, pride versus humility, willingness to learn versus stubbornly and repeatedly making the same poor choices.
Hear counsel, and receive instruction, that thou mayest be wise in thy latter end. Proverbs 19:20
Judgments are prepared for scorners, and stripes for the back of fools. Proverbs 19:29
Like it or not, we live in a cause and effect world. Many of us who battle with addiction, disorder and compulsion have already felt certain unpleasant consequences like lost jobs, wrecked relationships, health issues and excruciating moments of embarrassment.

We've heard about reaching our personal "bottom." The concept is if we have something detrimental enough happen to us, something which gets our attention, then we will be motivated to make drastic healthier decisions.
The Twelve Steps are all about that principle. Each step, should we choose to heed it, may prevent us from achieving worst case scenario destruction.
Step number one…
We admitted we were powerless over our addiction/compulsion – that our lives had become unmanageable.
We are not running the show; we are quite imperfect and vulnerable.
For he knoweth our frame; he remembereth that we are dust. Psalms 103:14
My husband and I certainly know we are responsible for putting up the tree, not our rambunctious felines. Therefore, we, perhaps, take on the role of God, while our cats embody flawed humanity's role.
And the decorated tree? Well, I suppose that represents the addiction, the lure which pique's our susceptible, human interest/obsession.
(Hey, back in Genesis, temptation all started with a tree, right)?
Anyone who has experienced the combination of Christmas trees and cats knows the lure's power. It can be impossible for kitty to "just say no" to a shiny ornament or a full-tilt climb.
For all have sinned and fall short of the glory of God." Romans 3:23
Hence, destruction takes place. I have encountered enough cats to know they first only see the "good idea" of the short-term curiosity. They rarely entertain the longer-term consequences of their actions. No one is thinking, "Is this tree stable enough to hold me?" "What would happen if I grab this funny looking mouse?"
No. Instead, their thought process is more like, "I must climb the tree or capture this unusually shiny looking prey. This is going to be extremely satisfying."
We are more like these creatures than we care to admit. Unflattering, isn't it?
It's all the more reason we need to take our feline resemblance, including its catastrophes, to God in the second step.
We came to believe that a Power greater than ourselves could restore us to sanity.
I learned some cat trivia which asserts felines are naturally more equipped, through their claws and instinctual abilities, for the climb up, not the climb down.
Animal or human, therefore, a universal principle seems to be in effect: it's much easier (and fun) to get into a mess than it is to get out of one.
Via the Christmas tree, I have had incidents of some feline, scaling its heights. And then, once there, Kitty-Cat has a realization: "I don't know how to get down; I'm stuck."
And so, there is a pathetic cry until I attempt to extract the cat from the tree and reunite it with its much missed ground.
No matter how fierce, big and bad Kitty may believe himself/herself to be, there is an acknowledgment then and there: "I can't do this. Please help me."
Be not far from me; for trouble is near; for there is none to help. Psalms 22:11
And yes, I suppose, in that moment, I, again, can resemble God here. Somehow, the cat understands I can do what he/she cannot do.
"Behold, I am the LORD, the God of all flesh. Is there anything too hard for Me?" Jeremiah 32:27
But, before we get too puffed up in our God-like abilities, this cat predicament should also be a reminder of our own flawed natures in relation to a capable God.
What power it could mean if it translated into the third step for us…
We made a decision to turn our will and our lives over to the care of God as we understood Him.
In moments of peril, a cat has a choice: to accept or to fight help.
Once again, kind of like us.
I've encountered both decisions these creatures have made. I have the bonded love relationships- and the physical scars- as proof.
Concerning, again, the holiday décor issue, when a cat gets in a Christmas tree, there comes, with it, a swaying instability which elicits feline panic.
And it is here where I break out my rescue plea: "Here, Kitty, Kitty…"
Spiritual equivalent quoted by Jesus? "Come to me…"
"Come unto me, all ye that labor and are heavy laden, and I will give you rest." Matthew 11:28
I know; it's a stretch.
Or, is it?
After all, distress calls transcend species, right?
Do we believe our "hitting bottom" experiences to look more dignified and less desperate than a cat stuck in a tree?
Indeed, whatever the creature, a decision must be made concerning that help. With cats, that means the use or non-use of claws, teeth and a flailing body. That involves cooperation or the struggle/retreat further into the mess.
I've had cats who trust me, deciding not to fight my help. They may not be happy about the situation, but their limp bodies tell me I don't need to worry about an eye gouge.
On the other hand, there are felines who violently resist any kind of help. Loud, guttural growls, spit-take hisses and a right hook any boxer would love to possess are the unfortunate realities in those scenarios.
And so, it gets messy and painful.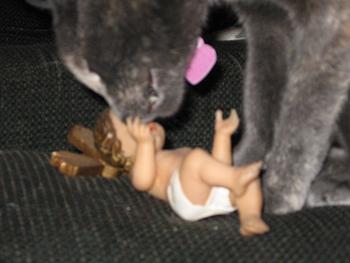 How many of us, caught in intervention situations, respond like the fear-stricken cat? How many of us, when confronted by loved ones, react in defensive
anger? How many of us retreat? How many of us hiss and growl? How many of us fight our help? And how many of us create mess and pain?
Therefore, the power of the third step speaks to the good which comes in trusting God, even with our chaos.
God is our refuge and strength, a very present help in trouble. Psalms 46:1
My frustration often surfaces when a terrified, uncooperative animal shows itself to be unwilling or incapable of realizing I am there to help, not hurt them.
Therefore, how much more does God share this sentiment when it comes to petrified, desperate us?
"How often I have longed to gather your children together, as a hen gathers her chicks under her wings, but you were not willing." Matthew 23:37
"For I know the thoughts that I think toward you," says the Lord, "thoughts of peace and not of evil, to give you a future and a hope." Jeremiah 29:11
So, a critical element in experiencing the third step's healing requires each of us to examine what "as we understood Him" really means for us. When we view
God as ally, not enemy, we can, perhaps, escape- or avoid- calamity more easily.
And this viewpoint, perhaps, may make steps three through seven much more effective. They focus on attitude – and action.
Step Four…
We made a searching and fearless moral inventory of ourselves.
Here's the reality of this cat/holiday décor dynamic: felines, by nature, typically don't have a lot of introspection going on.
My husband and I have seen our cats scale the tree or obsess over a fragile ornament, compelled by some drive which tells them pursuing this action will make their lives perfect. They are driven by what they want.
Sound familiar?
Yet we do not see Gracie and Glory probing their psyches, asking questions like…
"Am I bored?"
"Am I frustrated?"
"Am I fulfilled?"
"Why am I drawn to doing this?"
Nope.
Regardless of past experience, consequences- or even their bond with us- cats are not known for their self-reflection. Again, they go by instinct, with little regard for the impact their actions have on others.
But, before we pipe in about how much different we are from them, again, there's still an unflattering resemblance going on here.
When it comes to matters of addiction and personal vice, we can often take on this feline perspective concerning our right and wrong attitudes or actions. That's the selfish, animalistic choice; we're all too capable of making it.
But God has created consciences within us. Therefore, we have the ability to delve into our issues and our souls. But the core question remains: are we willing to do that?
Search me, O God, and know my heart: try me, and know my thoughts: Psalms 139:23
Saying yes to that question opens us to pain, discomfort, change and facing our ugly realities. That takes courage and humility.
And that takes a willingness to learn the lessons from our addictive natures.
Therefore, cue step five…
We admitted to God, to ourselves, and to another human being the exact nature of our wrongs.
Here, again, we often resemble the stuck feline. And, it is here again, I've encountered another truth about cats: they are not apologetic.
Repeatedly, our cats have gotten wedged in the tantalizing Christmas tree. Repeatedly, in that predicament, they cry for rescue. They're too high, too unstable or their collars are stuck in the branches. So, the wailing meow begs for help.
And I respond to set Kitty-Cat safely on the floor.
And then she does it again.
There does not seem to be a shred of remorse or lesson learned.
Again, often, just like us.
"Of all the animals, man is the only one that is cruel.
He is the only one that inflicts pain for the pleasure of doing it."
~Mark Twain
Mr. Twain's scathing observation illustrates how, despite resembling a feline in that unflattering moment, we, however, are a species which has the capability of making an active decision. We don't have the luxury of blaming our actions solely on animal nature.
Therefore, it can be all the more damning, when, knowing this, we still choose to do the wrong, evil and hurtful thing.
And most of us struggling with addiction have all had that experience.
The fifth step, therefore, is not about saying "I'm sorry," as it is about learning how our actions wreak havoc on others. It's about owning those choices, while making a quality commitment to make a better decision in the future.
Repent therefore of this thy wickedness, and pray God, if perhaps the thought of thine heart may be forgiven thee. Acts 8:22
It is about repentance. And that repentance dovetails into step six…
We were entirely ready to have God remove all these defects of character.
"You can lead a horse to water, but you can't make it drink."
That expression, one can argue, has its roots in scripture…
"If ye be willing and obedient, ye shall eat the good of the land. But if ye refuse and rebel, ye shall be devoured with the sword: for the mouth of the LORD hath spoken it." Isaiah 1:19- 20
We should not underestimate the power of our willing spirit. It takes willingness to face truth, accept responsibility, admit wrongdoing, ask for forgiveness and make necessary changes.
Concerning feline behavior and our resemblance to it, however, more often than not, there is no willingness to be found. The feline chooses its wants over a better choice; we can, in our own addictions, also do the same. There's an unruly attitude in both creatures: "I know what I'm doing. I'm going to keep doing it."
Possible results from that attitude? Let's see… wrecked trees, shattered ornaments, incarceration, divorce papers…
Again, consequences or "hitting bottom" experiences transcend species.
So, it is no small thing for us to embrace willingness and humility, asking for God's intervention.
That spills into step seven…
We humbly asked Him to remove our shortcomings.
Cats, however, don't display humility. They come from a place of curiosity.
"Curiosity killed the cat."
And how many of us have mimicked this feline trait when it came to trying something that eventually became an addiction?
Our cats have often investigated an unsafe tree or holiday decoration situation, fully convinced only good could come from it. And then the unpleasant reality hits them, all too late. Now they enter into humility out of necessity, not proactive searching for wisdom on the matter.
Again, there is not self-examination going on. They just want help. And, because there is not a deeper revelation going on, yet again, there may be a repeat of the behavior.
And again, this is just like us. We can either choose to get it- or not.
But, should we choose to be willing, admitting God needs to correct some things in us, now we can get somewhere.
Create in me a clean heart, O God; and renew a right spirit within me. Cast me not away from thy presence; and take not thy holy spirit from me. Restore unto me the joy of thy salvation; and uphold me with thy free spirit. Psalm 51:10- 12
And that place concentrates on the origin of our crimes; therefore, we often need to "go to our brother."
"Moreover if thy brother shall trespass against thee, go and tell him his fault between thee and him alone: if he shall hear thee, thou hast gained thy brother. But if he will not hear thee, then take with thee one or two more, that in the mouth of two or three witnesses every word may be established. And if he shall neglect to hear them, tell it unto the church: but if he neglect to hear the church, let him be unto thee as a heathen man and a publican." Matthew 18:15-17
This lays the groundwork for steps eight and nine…
We made a list of all persons we had harmed, and became willing to make amends to them all.
We made direct amends to such people wherever possible, except when to do so would injure them or others.
Here we are going to have to admit wrongs, ask for forgiveness and endeavor to repair the destruction we've caused. None of these are easy to do.
Cats, by their nature, don't seem to possess the ability to execute these steps' behaviors. Again, when our two have tipped over the Christmas tree, broken ornaments or leaped into some unattended holiday feast, there typically has been no remorse.
I have heard it said that goldfish have extremely short-term memories. May I, therefore, say, then, they have nothing on cats.
And, for many of us, mired in our addictions, there can, likewise, be memory loss, blackouts or just simple unawareness of the disasters we've created.
Nevertheless, the damage, be it from feline or human, is done.
And, while, at first glance, these particular steps may seem primarily healing for the injured party, we should not lose sight of the healing work which comes to us, the injurers, taking responsibility for our behaviors.
Beloved, let us love one another: for love is of God; and every one that loveth is born of God, and knoweth God. 1 John 4:7
Step Number Ten:
We continued to take personal inventory, and when we were wrong, promptly admitted it.
God is about reconciliation. He is always about this work. So, if we cooperate instead of fighting that truth, the greater the possibility for healing may be.
With the tenth step, focusing on our personal heart issues, what is desperately needed is a new perspective.
We need some things removed and replaced with something more life- affirming, something healthier.
"A new heart also will I give you, and a new spirit will I put within you: and I will take away the stony heart out of your flesh, and I will give you a heart of flesh." Ezekiel 36:26
When it comes to viewing the feline perspective on the matter, it's quite safe to say this is not their strong suit.
Again, how often have we encountered our cats repeating the same enticing, yet bad, behavior?
When it comes to the yearly Christmas tree, those tantalizing ornaments, dangling on branches, appear to send out a siren call.
Bat, bat, bat, (the sound of crashing/breaking follows).
But before you and I chuckle with human superiority, let's stop and think: have we repeatedly engaged in bad behavior, stuff which, inevitably, brings some kind of crashing or breaking of our lives?
On numerous occasions, while catching Gracie and Glory "in the act," they have stopped briefly, only to brazenly resume their destruction.
You know, once again, kind of like we often do.
This "comfort in familiarity," even if it's an unhealthy, destructive familiarity, eventually seems too tempting for our resistance. We have to, in our own unique, addictive ways, go after the shiny ornaments over and over again.
But, we need to remember upon doing just that, the famous definition of insanity:
"It's doing something repeatedly, yet expecting a different result."
So, yes, a new heart, some new habits, some new attitudes and some constant assessment are in order to locate where, exactly, we are in this thing called a recovering life.
And no matter who we are and how well we may be doing, we each need to fully acknowledge the reality: we have more, ongoing work to do.
I think I hear step eleven calling…
We sought through prayer and meditation to improve our conscious contact with God as we understood Him, praying only for knowledge of His will for us and the power to carry that out.
If any of you lacks wisdom, you should ask God, who gives generously to all without finding fault, and it will be given to you. James 1:5
Yeah, again, not a feline strength here.
I have yet to see any cat, much less, our Gracie or Glory, meditate and pray for God's perfect will to be revealed to them. It's more like animal instinct…go!
As predatory creatures, therefore, many a decoration, beyond the Christmas tree, is their designated prey.
Case in point: the Baby Jesus from our nativity scene. Year after year, Gracie and Glory have nibbled on His fingers and toes and, depending on the nativity's placement, have even attempting to push Him off whatever surface He's on.
So, yes, I have stopped displaying the nativity scene on our dining room table.
Neither of our cats have ever paused to reflect on the consequences of what they're doing to Baby Jesus. There is no "If I keep doing this, there could be broken shards of porcelain everywhere. I could hurt someone that way. What would be a better choice in my tempted moment?"
No. There is none of that going on.
Instead there is, "This looks like fun, pleasurable, something I want. I'm gonna do it."
Again, chuckle if you want to, but make sure you don't see you own self here coming from a similar perspective.
For, here's an example of feline consequences from décor nibbling/destroying: the fear-inducing sound of breaking decorations.
When that consequence happens, as big and bad as our two may believe themselves to be, panic still grips them, followed by a furry streak zipping through our living room. Now we have trauma: holiday ho, ho, ho.
They're underneath a piece of furniture for the rest of the day.
What started out as fun or enjoyable quickly turned to terror and unpleasantness. Seeing yourself here by your own addictive actions and their consequences? I know I am.
And that, therefore, sets the perfect stage for step number twelve…
Having had a spiritual awakening as the result of these steps, we tried to carry this message to addicts, and to practice these principles in all our affairs.
As we face the ugly, unflattering reality of ourselves, our addictions and the ramifications of those suckers, we are confronted by our neediness for a relationship with God.
As personal as that realization and relationship may be, we are presented with the choice of pursuing or rejecting Him. Neither choice is cut and dry. Rather, either is part of our individual continuum.
I say that to encourage, not discourage, all of us. Once again, God knows we are "but dust" (Psalms 103:14). He is not expecting perfection from us. Instead,
He longs for our commitment, imperfect as it is. That involves our messy love responses.
And he answering said, "Thou shalt love the Lord thy God with all thy heart, and with all thy soul, and with all thy strength, and with all thy mind; and thy neighbor as thyself." Luke 10:27
Both love and recovery are ongoing, flaw-filled works in progress.
And, it is in this context where, once again, our felines bring this theory to life.
Gracie and Glory, while true to their feline natures, still show their love for my husband and I. The cat reputation, yes, is known to be fickle. Still, they have the capacity for affection, cuddling and other outward signs of, if not love, than certainly, a kind of bonding dynamic. We, as cat owners, know better than to expect our perfect definition of love from them. Again, concerning the cat personality, it's unrealistic.
Yet, they are pure and honest with where they stand concerning us. So, in essence, I suppose they love us with all they are, such as they are.
And it is this lesson, we can, as human beings, practice in both our faith and recovery journeys. Honest acknowledgment, sincere effort and an ongoing lifetime commitment may, indeed, sound too lofty to achieve, too unrealistic.
Yet, if we take the old adage, "one day at a time," it is doable. Just for today; just for now.
And if there's one thing I have observed about feline nature, it is their skill concerning "living in the moment."
So, whether or not we may consider ourselves to be "cat people," we would benefit from assessing our current resemblance to that of a feline's. How flattering- or unflattering- is it?
This holiday season is all about self-reflection. Are we stuck in a proverbial Christmas tree? Are we shattering proverbial ornaments? Are we experiencing negative consequences?
When it comes to the feline example, are we learning cautionary tails?
(Sorry, I couldn't resist that pun).