When we're little girls, many of us have, at some point, wanted to be an actress. I did. I was "bitten" by the bug at age nine, when I played a baby doll in a school play. From there, I acted in various productions and eventually graduated from college as a theater major.
And during that time, I was exposed to Shakespeare and of course, his female characters. Juliet, Ophelia, Queen Gertrude and Lady Macbeth were the most influential to me.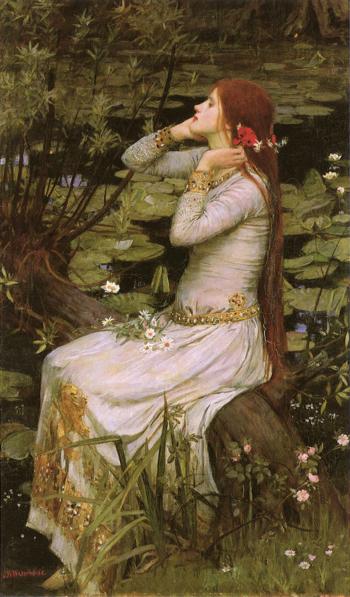 I first encountered the Juliet character on a Brady Bunch episode (Marcia Brady was cast as Juliet in a school play). I know. It was during the time Franco Zefferelli's film was out, portraying our young star crossed lovers. And, by the time I hit high school, I'd seen the film. What wasn't to like? Drama, a love story and two very beautiful lead actors; Juliet was played by Olivia Hussey. Anyway, it lines right up with my desire to be beautiful. And that was, of course, a large part of wanting to be an actress.
And so, it begins – acting.
By the time I entered college, I decided to be a theater major. I was a great way to express myself – and a nifty way to avoid having to take math classes as well. (I was hopeless at algebra). Anyway, by college, I was introduced to Hamlet – and the leading lady role of the young, fragile – and crazy- Ophelia. She was the love interest of Hamlet (again, the star-crossed lovers theme) and I bought into its mystique.
Or rather, I bought into the ingénue's mystique. Ingénue. According to its definition, it means:
An unsophisticated girl or young woman: a girl or young woman who is naive and lacks experience or understanding of life;
A naive character in drama: a character in a play or a movie who is a naive inexperienced young woman
Really?

That's what little girls want to be when we grow up? Hmmm… I mention it because, for years, that very word was associated with beauty for me. And, since I so wrongly linked beauty with extreme delicate thinness, well, all sorts of things went awry. Hopelessness, despair, wrong views of God, as well as both physical and emotional complications, like, irregular heartbeat and suicidal thoughts were just a few fun highlights.
So, I was far from eating disorder recovery during my college years, but it was during this time I became familiar with another type of "leading lady"- the strong, and yes, often sinister kind. Yay. During my exposure to Hamlet I became most familiar with Queen Gertrude, Hamlet's mother. I won't give away the plot, for those of you who haven't read the classic play, but let me just say yes, "it's complicated." And Queen Gertrude was no ingénue, no unsophisticated woman.
During my junior year I was, in fact, an understudy for the character. That was great. However, I still yearned to play those blasted ingénue roles. What can I say? I still wanted to be the fairy princess. Let's hear it for my wonderful embracing of female empowerment.
But, as my college career plucked along, I became more intrigued by the dark, the sinister and the complicated. Acting already was a way I could safely channel emotions and feelings which "good girls" didn't express. I soon reveled in the power of playing the strong, complicated or even wicked woman. This is where I encountered Lady Macbeth.
Indeed, by my Senior year of college, in all of my theatrical misadventures, I was informed that I possessed such power, as belonging to that Shakespearean character.
In my directing class, a fellow theater student was told he miscast his choice for Lady Macbeth in the assigned scene he was directing. Then my theater instructor referred to me. In fact, he said that I should play this famous character; I could "play mean." It was as if any of my weaknesses were immediately canceled out.
Late in my senior year of college, I was cast as "Lady M" herself. Because of the challenging staging of the play, the production eventually fell through. But after immediately learning my lines (yes, I'm that kinda person), I felt empowered reciting them during those few rehearsals. I saw the character's sinister nature present itself as strength and yes, a force to be reckoned with. So, go with it, right?
I equated "mean" or angry to that of great power. Being denied permission to possess any anger myself for much of my life, especially dealing with my eating disorder behaviors, in this theater moment, I decided to take this strong persona- and all that it represented- and run! Run dramatically! Run fantastically! And yes, run mean!!!
I ran amok, amok, amok is really what I did. Oh yeah and I ran my share of bad acting also. But "being mean" in character meant I could push boundaries, get what I want; it meant that I was powerful. Never mind the real weak person I actually was; no, please look at this acting (lie) I'm giving you! Don't I have it all together?
Aren't I a force to be reckoned with?
Not exactly. Like the famous player's speech from Shakespeare's "Hamlet, the speech all of us theater students were required to learn, I indeed, was…
"…tearing a passion to tatters, to very rags…"
But power, by virtue of a mean presentation of a character, drove me to keep other people at bay and me on track in getting ahead. Not exactly "sugar and spice and all things nice," is it? But I would be heard! I would be powerful! I would not be who I actually was!
Lady Macbeth, indeed, would pop up a few times for me in my life.
When I asked my theater professor for audition piece suggestions, again, she came up. Now, please keep in mind that, at the time, I was already doing dramatic pieces, "crazy women," like the homeless bag lady from Jane Wagner's "The Search For Signs of Intelligent Life In the Universe." Therefore, I questioned his suggestion, informing him that I'd already done some strange and wacky pieces. His response? "You know you've already set yourself up. You're strong; you have a strong presence." He told me I am a great character actress. So much for the ingénue roles, huh?
Roles. Do we box ourselves in, believing only certain female roles are worthy? How do we feel about beauty, wifedom and motherhood, for instance? Do we get into a catfight – emotionally, mentally and even – yikes – physically, simply because we're insecure about the role we're currently playing?
Is this really how God wants us to live and relate to one another?
It's been years, and now, with cliché hindsight, I've discovered that way of being is not God's best. Nope. Being competitive, covetous, sinister, plotting and frankly, "hell on wheels," even if, like Queen Gertrude or Lady Macbeth we're interesting characters, is not exactly what God had in mind for us when it comes to living with ourselves, other women- and all people, for that matter.
God has a better way; check it out:
You must teach what is in accord with sound doctrine. Teach the older men to be temperate, worthy of respect, self-controlled, and sound in faith, in love and in endurance.
Likewise, teach the older women to be reverent in the way they live, not to be slanderers or addicted to much wine, but to teach what is good. Then they can train the younger women to love their husbands and children, to be self-controlled and pure, to be busy at home, to be kind, and to be subject to their husbands, so that no one will malign the word of God. Titus 2:1-5
Does it seem like an impossible, highly offensive tall order? As women, we can get edgy about such hot button words as "self-controlled," "pure" and "subject to their husbands" (that one alone is dicey to our sensibilities). I know I've done my share of squirming.
But I often think how much different things would have turned out if, say Queen Gertrude mentored Ophelia or Lady Macbeth signed up to be someone's big sister. Okay, I know it's a stretch.
But, what could happen if we stopped striving against each other? What could happen if competition and envy ceased?
God gives us the template of the Proverbs 31 woman.
Who can find a virtuous woman? for her price is far above rubies.
The heart of her husband doth safely trust in her, so that he shall have no need of spoil.
She will do him good and not evil all the days of her life.
She seeketh wool, and flax, and worketh willingly with her hands.
She is like the merchants' ships; she bringeth her food from afar.
She riseth also while it is yet night, and giveth meat to her household, and a portion to her maidens.
She considereth a field, and buyeth it: with the fruit of her hands she planteth a vineyard.
She girdeth her loins with strength, and strengtheneth her arms.
She perceiveth that her merchandise is good: her candle goeth not out by night.
She layeth her hands to the spindle, and her hands hold the distaff.
She stretcheth out her hand to the poor; yea, she reacheth forth her hands to the needy.
She is not afraid of the snow for her household: for all her household are clothed with scarlet.
She maketh herself coverings of tapestry; her clothing is silk and purple.
Her husband is known in the gates, when he sitteth among the elders of the land.
She maketh fine linen, and selleth it; and delivereth girdles unto the merchant.
Strength and honour are her clothing; and she shall rejoice in time to come.
She openeth her mouth with wisdom; and in her tongue is the law of kindness.
She looketh well to the ways of her household, and eateth not the bread of idleness.
Her children arise up, and call her blessed; her husband also, and he praiseth her.
Many daughters have done virtuously, but thou excel them all.
Favor is deceitful, and beauty is vain: but a woman that feareth the LORD, she shall be praised.
Give her of the fruit of her hands; and let her own works praise her in the gates. Proverbs 31:10-31
Again, looking at it, it appears to be an impossibly tall order. But what if we saw our worth as already there, only improving with time as we grow and age? In the context of the Proverbs 31 Woman, there is no time clock on her value, her beauty, her dignity or her accomplishments. She's not limited by anything because, as is, she is who God created and called her to be.
May we take on that role!