…I am fearfully and wonderfully made…Psalm 139:14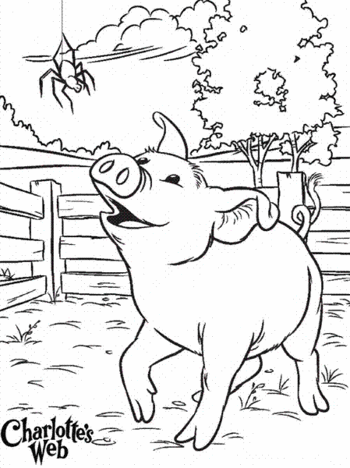 I love E. B. White's classic, "Charlotte's Web." It's the wonderful children's story about the relationship between a county fair pig, Wilbur and Charlotte, the farm spider. Perhaps you've caught the 1970's animated film of this sweet story.
Anyway, throughout the tale, there are various life lessons discussed, not the least of which is the self-esteem issue. Wilbur has been challenged in that area. In response to a threat against his life and welfare, as a prized fair pig, ready for slaughter, Charlotte takes it upon herself to write such words as, "Terrific" and "Some Pig" in her webs. These web inscriptions garner much attention and therefore, saved his life.
The power of words. Scripture teaches us about their impact:
Death and life are in the power of the tongue: and they that love it shall eat the fruit thereof. Proverbs 18:21
Indeed.
And it's no small matter to navigate in life. After all, how many of us have been bullied, teased and abused because of our appearance? For many of us struggling with disordered eating and image issues, many toxic words like "ugly," "fatso," and yes, "pig" have been hurled against us. It's a painful thing to overcome.

For as he thinketh in his heart, so is he…" Proverbs 23:7
But, just as words can be used powerfully in negative ways, they can also be utilized for positive, affirmative healing…
Pleasant words are like a honeycomb, sweetness to the soul, and health to the bones. Proverbs 16:24
So shall My word be that goes forth out of my mouth; it shall not return to Me void, but it shall accomplish what I please, and it shall prosper in the thing for which I sent it. Isaiah 55:11
Indeed, that means God's Word over us has tremendous power. It has the power to heal our lives and our issues…
"He sent his word, and healed them, and delivered them from their destructions. Psalm 107:20
But we need to know what those words are.
For my thoughts are not your thoughts, nor are your ways my ways, says the LORD. For as the heavens are higher than the earth, so are My ways higher than your ways, and My thoughts than your thoughts." Isaiah 55:8-9
We've been saturated in negative, disparaging and hurtful words over the years. But what are God's words- and thoughts- about us?
"Since you were precious in my sight… I have loved you…" Isaiah 43:4
"For I know the thoughts that I think toward you, says the Lord, thoughts of peace and not of evil, to give you a future and a hope." Jeremiah 29:11
But we all, with unveiled face, beholding as in a mirror the glory of the Lord, are being transformed into the same image from glory to glory, just as by the Spirit of the Lord. 2 Corinthians 3:18
Just like Charlotte writing positive statements about Wilbur, how much more has God written wonderful, positive, loving words and intentions about us?
You are terrific; you are incredible. It is written Truth and no one can change that!!!
For I am persuaded that neither death nor life, nor angels nor principalities nor powers, nor things present nor things to come, nor height nor depth nor any other created thing, shall be able to separate us from the love of God which is in Christ Jesus our Lord. Romans 8:38-39