When I was in high school, my saintly art teacher tried her best to give us rural hooligans some culture. The jury is still out on the results. But, in the study of different styles and artists, we learned about pointillism. The definition reads as follows: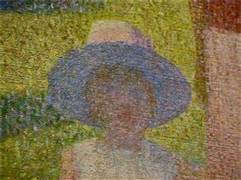 A late 19th-century style of painting in which a picture is constructed from dots of pure color that blend, at a distance, into recognizable shapes and various color tones.
The artist, George Seurat is one such artist who incorporated pointillism. His famous work, "Sunday Afternoon On the Island Of La Grande Jatte," has made its way into popular culture, as well as into the Art Institute of Chicago.
It also appears in the John Hughes film, "Ferris Bueller's Day Off."
In that film, in fact, one of the characters, Cameron, has an existential crisis moment as the audience sees back and forth shots of his concerned face and the dotted face of the little girl within the painting.
Recently, I've been thinking a lot about pointillism and Seurat's famous painting, especially concerning adversity, trials and tribulations which often occur in our lives. Scripture tells us they will, indeed, happen:
Beloved, do not think it strange concerning the fiery trial which is to try you, as though some strange thing happened to you; but rejoice to the extent that you partake of Christ's sufferings, that when His glory is revealed, you may also be glad with exceeding joy.1 Peter 4:12-13
I have a friend who is going through extreme challenges within her family. I've had many conversations with her in which she feels hopeless and pointless about her circumstances, in spite of the scripture of Jeremiah 29:11 being prophesied numerous times over her life:
For I know the thoughts that I think toward you, says the Lord, thoughts of peace and not of evil, to give you a future and a hope.
At first glance, it's easy to judge when we have the luxury of not being in her moccasins. But, haven't we all, at some point in our lives, questioned the reason for our existence? Haven't we asked the "why" question? There's nothing new under the sun (Ecclesiastes 9:11). After all, Job in the Bible was famous for his lamentations:
My spirit is broken,
my days are cut short,
the grave awaits me.
God has made me a byword to everyone,
a man in whose face people spit. My eyes have grown dim with grief;
my whole frame is but a shadow.
My days have passed, my plans are shattered.
Yet the desires of my heart
turn night into day;
in the face of the darkness light is near.
If the only home I hope for is the grave,
if I spread out my bed in the realm of darkness,
if I say to corruption, 'You are my father,'
and to the worm, 'My mother' or 'My sister,' where then is my hope —
who can see any hope for me?
Will it go down to the gates of death?
Will we descend together into the dust? Job 17:1; 6-7;11-16
Man that is born of a woman is of few days and full of trouble.
He cometh forth like a flower, and is cut down: he fleeth also as a shadow, and continueth not.
Yet through the scent of water it will bud, and bring forth boughs like a plant.
But man dieth, and wasteth away: yea, man giveth up the ghost, and where is he?
If a man die, shall he live again? all the days of my appointed time will I wait, till my change come.
The waters wear the stones: thou washest away the things which grow out of the dust of the earth; and thou destroyest the hope of man.
But his flesh upon him shall have pain, and his soul within him shall mourn. Job 14:1-2;9-10;14;19;22
I loathe my own life;
I will give full vent to my complaint;
I will speak in the bitterness of my soul.
"I will say to God, 'Do not condemn me;
Let me know why You contend with me.
Your hands fashioned and made me altogether,
And would You destroy me?
Remember now, that You have made me as clay;
And would You turn me into dust again? Did You not pour me out like milk
And curdle me like cheese;
If I am wicked, woe to me!
And if I am righteous, I dare not lift up my head.
I am sated with disgrace and conscious of my misery.
You renew Your witnesses against me
And increase Your anger toward me;
Hardship after hardship is with me.
Why then have You brought me out of the womb?
Would that I had died and no eye had seen me!
Would He not let my few days alone?
Withdraw from me that I may have a little cheer
Before I go — and I shall not return —
To the land of darkness and deep shadow,
The land of utter gloom as darkness itself,
Of deep shadow without order,
And which shines as the darkness.Job 10:1-22
Yeah, we get the point (no pun intended). Perhaps, what's such a great challenge is to possess perspective when we're smack dab in the middle of a problem, crisis or difficult situation. We can get myopic about it, seeing only distorted dots, rather than getting some distance, stepping away from the dots to see it is, indeed, like Seurat's painting, a little girl, or, even more powerful, a beautiful painting.
Again, I use the analogy of the tapestry. On one side, we see all kind of threads, all kinds of zigzag chaos going on. But, if we turn it over, it's this incredible woven, detailed and intricate design. It has beauty, uniqueness and it makes sense. Perspective. It's easier to say the word than it is to live it. Nevertheless, it's available to us. And most importantly, there's spiritual significance to it:
For our light affliction, which is but for a moment, worketh for us a far more exceeding and eternal weight of glory; While we look not at the things which are seen, but at the things which are not seen: for the things which are seen are temporal; but the things which are not seen are eternal. 2 Corinthians 4:17-18
You are not a mistake; you're not in vain. And, no matter what your current circumstances may be, God has created you on purpose for great reasons:
For by him were all things created, that are in heaven, and that are in earth, visible and invisible, whether they be thrones, or dominions, or principalities, or powers: all things were created by him, and for him.Colossians 1:16
For from him and through him and for him are all things. To him be the glory forever! Amen.Romans 11:36
There is a point to you! Look at it through pointillism; look at it through God!!!