And of His fullness have all we received, and grace for grace." John 1:16
As someone recovering from disordered image, food and weight issues, I've long wrestled with the perfection issue. There was a mandate, both self-imposed and emanating from others, to be perfect in behavior, achievement and appearance.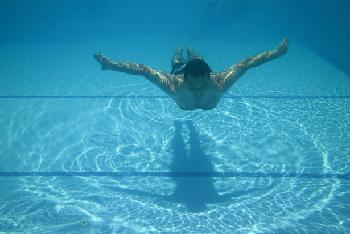 However, this last goal was the most frustrating and demoralizing.
As a child, I was overweight, inheriting my mother's own negative body image perceptions. Later, throughout adolescence, I was bullied, teased and rejected.
And then, adding insult to injury, I felt I could never win when it came to my dad and his expectations.
"…I desperately wanted my dad to notice me. I learned very quickly that one surefire way to do that was by winning awards. When I won something, I wasn't completely worthless or useless. I was productive; I was "earning my keep." I set impossible standards for myself. Try as I might with award after award, I'd eventually disappoint everyone, including myself, proving that I wasn't worth anything after all.
My perfect attendance record in school is an excellent example. For three years in a row, I did not missed one day of school, knowing that I would win a perfect attendance certificate, tangible proof on paper that I was worthwhile. It became a standard I had to maintain because my dad seemed pleased in my performance. Of course, he never said that he was proud of me, but he did lay off the criticisms briefly. So for the next few years, I went to school with colds, sore throats and influenza. I remember going to school once with a temperature of over 101, sitting at my desk, on the verge of throwing up, yet only thinking of that certificate.
When I reached junior high, I became so sick once I had to stay home. I felt defeated and anxious. My dad, who had never really been sick with so much as a cold, was unsympathetic to my condition. With each passing day I stayed home from school, the tension mounted. Three days at home, according to my dad, was enough. He became upset at my mom for being "such a terrible mother." After three days home, he had enough. He decided he would take me into school to make sure I got there.
On the way to school, he was fuming and I was scared to death, but my fourteen-year-old mind wanted to know something. We'd never had any father/daughter talks about anything, much less about the existence of a loving relationship, but I got up the nerve to ask him, 'Do you still love me?' His answer? 'If you do this again, I won't.'
His answer proved it. It was my fault. I had to prove myself in order to be loved. I wasn't the cute, good little daughter he should have had. If I could just look right and act right, he'd love me. All I have to do, I decided, is be perfect. That's all."
(Excerpt from Cruse's book, "Thin Enough: My Spiritual Journey Through the Living Death of an Eating Disorder")
So, in all of my efforts to be perfect, I learned I was not only unacceptable, ugly, stupid and fat, I was also a hopeless failure.
"Success isn't about perfection. It's about progression."
I wish I knew who uttered this wonderful quote.
But, little did I know I was eventually and slowly actually practicing it, via one of God's most powerful truths: grace.
In fact, you could replace the word, "progression" with "grace" and it would still hold the same potent meaning.
It's because grace is critical to life, destiny and healing. None of us would have any hope without it.
For by grace are ye saved through faith; and that not of yourselves: it is the gift of God: Not of works, lest any man should boast." Ephesians 2:8-9
Grace has been there from the start because, simply stated, we NEED it!
God provides it for each one of us, equipping us for this thing called our lives, and yes, our sins.
But when it pleased God, who separated me from my mother's womb, and called me by his grace." Galatians 1:15
For sin shall not have dominion over you: for ye are not under the law, but under grace." Romans 6:14
That is vital for those of us obsessed with unrealistic, paralyzing perfection. It goes beyond the anorexic or the bulimic. It covers anyone who struggles.
And hello, last time I checked, that was the human race.
But knowing that reality and absorbing/applying it are two different things.
To achieve any kind of healing requires seeing the personalization God has given to grace when it comes to each of us.
And God is able to make all grace abound toward you; that ye, always having all sufficiency in all things, may abound to every good work. 2 Corinthians 9:8
Grace is not some nebulous theory; it is relevant, accessible and pro-us.
Let us therefore come boldly unto the throne of grace, that we may obtain mercy, and find grace to help in time of need. Hebrews 4:16
Who out there needs help in time of need?
Exactly.
But coming to terms with God's personal, individual dispensation of grace can be tricky because of the lies we've absorbed. These lies can dictate oppressive terms, convincing us of such things as…
I am not good enough.

God doesn't think about me.

God doesn't love me.

I need to earn my worth.

It's too late/hopeless for me.
For much of my life, I lived each of these statements. They pushed me to anorexia, bulimia, suicidal thoughts and numerous lost, self-destructive choices.
It had a lot to do with my stance on grace.
For as much attention as there is to the importance of accepting Jesus Christ as personal Lord and Savior, there is not equal emphasis on us having a personal relationship with God's grace. Jesus and Grace: one can argue how they are, indeed, one and the same.
Even when we were dead in sins, hath quickened us together with Christ, (by grace ye are saved). Ephesians 2:5
But do we choose to accept this?
I do not frustrate the grace of God: for if righteousness come by the law, then Christ is dead in vain. Galatians 2:21
The process of living our lives in and with grace is not dependent upon our performance. It's in spite of our performance. If we are in a constant state of "earning," we not only frustrate the grace of God, we frustrate our lives, our health, our recovery and our irreplaceable meaning.
We are all in this same boat of being dependent upon God's grace. No one has it together. No one is mistake and sin-free. We have all blown it.
Therefore, it is upon us all to heed 2 Corinthians 6:1…
We then, as workers together with him, beseech you also that ye receive not the grace of God in vain.
It's an ongoing, flaw-filled process. However, committing to – and following it – eventually reveals the transformation reality.
But we all, with unveiled face, beholding as in a mirror the glory of the Lord, are being transformed into the same image from glory to glory, just as by the Spirit of the Lord. 2 Corinthians 3:18
And that truly is living, breathing progression in us all!