An alcoholic woman told me, "My dad was always drunk and in and out of prison." She sniffled and continued, "I hated him for that. Now I'm doing the same thing to my family." She leaned over my desk, sobbed and said, "I can't forgive myself."
A drug addict told me he couldn't forgive himself because his use left him with short-term memory loss and in financial ruin.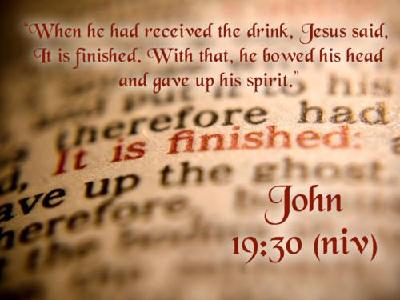 Jesus said on the cross, "It is finished." John 19:30 He never said it is finished except for alcoholics and other addicts.
Do you identify with them? What is at the root of this lack of self-forgiveness?
Maybe you've done something awful. You asked God for forgiveness and He forgave you (1 John 1:9). However, you think you need to punish yourself anyway. God doesn't need your help. Jesus paid the price in full for your forgiveness.

That shame you feel comes from the devil himself. He is known as "the accuser of our brethren." Revelation 12:10
The devil wants you to wallow in shame and self-pity because he has come "to steal, and kill, and destroy." John 10:10
Out of shame, you may stay away from family, friends and church. You may isolate from others for a long time. Meanwhile, your shame grows and multiplies like weeds. You are imprisoned in spiritual shackles.
Let's look at one person who embraced God's forgiveness and repented:
Miles McPherson used marijuana as a high school junior and as a "rookie" in the NFL progressed to cocaine.
For eight years Miles used drugs. He became a football player for the San Diego Chargers, and two teammates shared the gospel of Jesus Christ with him.
Miles accepted God's forgiveness, quit drugs, stopped using foul language, and reunited with his girlfriend who is now his wife.
On February 27, 2000, Miles held his first church service in San Diego and is pastor of The Rock Church there. The Rock now has more than 12,000 members and a powerful ministry to alcoholics, drug addicts, prostitutes, juveniles and adults in prison, and other hurting people.
You have one of two choices. You can continue to punish yourself and isolate yourself in shame. However, you'll end up with the stronghold of unforgiveness. The damage to your body could lead to ulcers, colitis, migraine headaches, high blood pressure, heart attacks, strokes, depression or suicide.
Your other choice is to be like Miles. Embrace God's forgiveness and experience God's peace, joy and fulfillment of His plan for you.
1 John 1:9 says, "If we confess our sins, He is faithful and righteous to forgive us our sins and to cleanse us from all unrighteousness." (NASB). Hallelujah.