A man's heart plans his way, but the Lord directs his steps.
Proverbs 16:9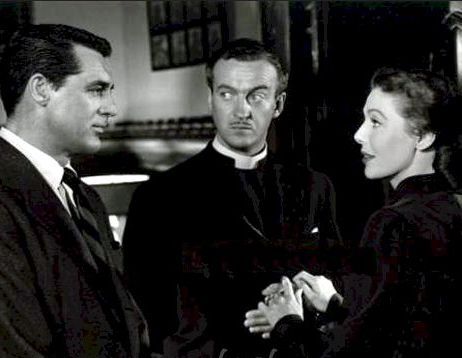 During the holiday season, we're inundated with many Christmas movies: "It's a Wonderful Life," "Miracle On 34th Street," "Frosty the Snowman" and many variations of the Charles Dickens classic, "A Christmas Carol."
But one that my husband and I became aware of years ago is "The Bishop's Wife," starring David Niven, Loretta Young and the debonair Cary Grant. Indeed, Mr. Grant plays an angel, named Dudley, assigned to the bishop and his wife, as they are challenged with raising money for a cathedral.
As the story unfolds, the bishop tells Dudley how his prayers weren't answered with that completed cathedral. Dudley points out how the bishop was, in fact, not praying for the realized project. Rather, he was praying for guidance.
That's not exactly a holiday word, is it? Most of us are fixated on such often-used words as "miracle," Savior," "Peace," "good will" and "glory." No one's really thinking much about guidance.
But, if we check the Christmas story, it's there from the start.
And there were shepherds living out in the fields nearby, keeping watch over their flocks at night. An angel of the Lord appeared to them, and the glory of the Lord shone around them, and they were terrified. But the angel said to them, "Do not be afraid. I bring you good news that will cause great joy for all the people. Today in the town of David a Savior has been born to you; he is the Messiah, the Lord. This will be a sign to you: You will find a baby wrapped in cloths and lying in a manger."
Suddenly a great company of the heavenly host appeared with the angel, praising God and saying,
"Glory to God in the highest heaven,
and on earth peace to those on whom his favor rests." Luke 2:8-14
Guidance. It's not just for shepherds. It's for each of us. In fact, it's often there, in spite of us.
"I will instruct you and teach you in the way you should go; I will counsel you and watch over you." Psalm 32:8
Your ears shall hear a word behind you, saying, "This is the way, walk in it," whenever you turn to the right hand or whenever you turn to the left. Isaiah 30:21
We may think we know what we want and need, but, truth be told, most of the time, we're clueless.
O Lord, I know the way of man is not in himself; it is not in man who walks to direct his own steps. Jeremiah 10:23
This time of year is all about self-reflection. What are we praying for?
Could God's guidance be the answer we need and want?
He is faithful and loving to lead us. Let's not stand in the way.
The Lord will guide you continually, and satisfy your needs in parched places, and make your bones strong, and you shall be like a watered garden, like a spring of water, whose waters never fail. Isaiah 58:11