"Do not let your hearts be troubled. Trust in God; trust also in me. In my Father's house are many rooms; if it were not so, I would have told you. I am going there to prepare a place for you. And if I go and prepare a place for you, I will come back and take you to be with me that you also may be where I am. You know the way to the place where I am going." John 14:1-4
What's the ultimate adversity?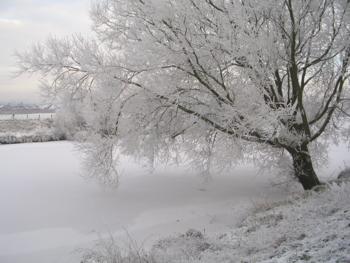 One week before Christmas, adversity may boil down to long lines at the mall or difficult weather conditions for holiday travel. My wife's scrambling to prepare for a party and receiving little help from a spouse who's glued to the keyboard—that's adversity. But I'm thinking along the lines of something a bit more elemental.
One of my best friends is dying.
It's not the Christmas gift we hoped for, but there it is. The conclusion of a courageous battle with a terrible enemy finally approaches, and we'll soon have to accept the loss of his physical presence in our circle.
Death doesn't fit nicely into the Christmas story. Birth and lights and gifts proclaim a priceless promise of hope and beginning. Tinsel and glitter prompt smiles and celebration. Christmas isn't the time for sad farewells.
Except…

My friend has been on a true journey to faith over the past couple of years. His struggle to reconcile old wounds and personal failure has been replaced with an understanding and acceptance of healing grace. I know that Jesus lives in his heart.
So I grieve the impending loss of a friend and the pain of his family. I'm sad for the large circle to whom he's been mentor and courageous example. I cry for the empty space his passing will leave in so many lives.
But next week I'll celebrate the event that assures me he's approaching a new beginning rather than an end. I'll hold the paradox of sadness and joy in my heart. I'll trust that God will help me experience them fully, mix them with grace, and give me His peace.
I pray that each of us, in the midst of life that isn't always happy, can discover the spirit at the heart of a truly Merry Christmas.
"Peace I leave with you; my peace I give you. I do not give to you as the world gives. Do not let your hearts be troubled and do not be afraid." John 14:27