Do you sometimes struggle to know how to pray about your eating disorder recovery? Do words simply escape you sometimes? If so, it's okay. But please know that you can always start by just picturing yourself with Him and coming into His presence. Plus, you can always pray Scriptures. Maybe you would like to highlight some scriptural prayers in your Bible or even write down some of them so you can have them with you.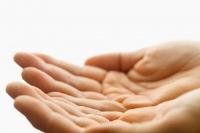 We come into agreement with God when we pray Scripture. As we pray, we put ourselves and our situations into God's hands. As we pray Scripture, we also open ourselves to His power. Perhaps a good scriptural prayer to start with would be Psalm 141:1, "O Lord, I call to you; come quickly to me. Hear my voice when I call to you." You can use this verse to come into His presence and start a conversation with Him.
What about saying a scriptural prayer like this one, found in Psalm 143:8, to begin your day? "Let the morning bring me word of your unfailing love, for I have put my trust in you. Show me the way I should go, for to you I lift up my soul." What a way to open yourself up to His power. What a way to invite Him to have a greater role in your recovery for the day.
Why not use Ephesians 3:20 as a guideline to begin your prayers? "Now to him who is able to do immeasurably more than all we ask or imagine, according to his power that is at work within us…" Say it AND believe it!
Try to imagine how different your recovery might be if you surrendered your recovery and yourself to the Lord and opened yourself to His power by saying scriptural prayers. If you allowed God to have a very personal role in your recovery, how might that change things? If you haven't done so already, why not try it?
Search the Bible for other Scriptural prayers. You may be surprised at what you find and how relevant God's Word is for your eating disorder recovery. Give your eating disorder and your very self to Him in your prayers. Open yourself up to His power. God loves you unconditionally, so you couldn't be in safer hands.