Could a simple Bible story spark eating disorder recovery? Well, for me, it did. The account of Jairus' daughter, found in Mark 5:35-43, became the catalyst to hope, life, freedom, and yes, my recovery. I chronicle my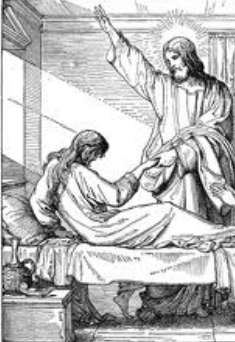 eating disorder odyssey, recovery included, in my book, "Thin Enough: My Spiritual Journey Through the Living Death of an Eating Disorder." From this scriptural passage, I encountered tangible proof that God's Word was relevant and applicable. I learned some good news, all right.
Nothing's too difficult; no one's too impossible for God.
I saw that in Jairus' daughter. I have, likewise, seen it in my own life, as well as the lives of others. And this simple Bible story is now a declaration of hope to all young girls and women, dealing with eating disorders, food, weight and body image issues. You, too, can arise!
"Little girl, I say unto you, arise."

Mark 5:41
I had done and been so many horrible things. As far as I was concerned, I was on my way to hell. But I couldn't shake the thoughts of this story. Was there hope that I wasn't doomed after all?

I became intrigued with the story of Jairus' daughter. It wouldn't leave me alone. My soul was in a tug of war. For so long, I'd just accepted believing I was bound for hell. As upsetting as this belief was, it had become familiar to me. Now, all of a sudden, these familiar thoughts had competition. Maybe hope was possible for me again.
I'd never really been much of a Bible reader. I'd look at the thick book and think, "That's too much reading. It's too difficult — too many Thous and Thines — and besides, it doesn't really apply to me." But now, it applied.
Of course, I had no clue where to find the story. I had to do some hunting. I narrowed it down to the New Testament. Hey, that's where the stories about Jesus are found, right? Sooner or later, I'd have to come across this little girl.
As I plowed through the Bible, I found a Scripture that summed up who I was and what I was going through.
"Lord, I believe; help my unbelief!"

— Mark 9:24
That was me! I knew I couldn't be enough, love enough, believe enough, and have faith enough unless God helped me.
When I began to feel that I wasn't hell-bound after all, I experienced an opposing tug in this battle. Another thought popped up: "How do you know you even believe in God, or want to believe in God?" This scared me. My life showed me repeatedly that I couldn't trust my own heart. Maybe this desperation for God was a new lie.
I decided to fight as hard as I could, not because I was nobly seeking after God, but because I was scared to death of my life without Him. I had to find this story of Jairus' daughter, but more than that, I had to find God Himself.
The guilt and shame over my past took a backseat to my new urgency in finding God. Some days, I felt like I was saved and on my way to a wonderful life with God. Other days, I left the lights on and slept clutching my Bible for dear life, like a child clutches a teddy bear. I cried. I laughed. I shouted. I cowered. I whispered and whimpered. But through it all, I kept praying, "God, be real to me, be real." And I kept reading the Bible.
I finally found the story in Mark 5:35-43. It started out with desperate parents wanting their daughter healed. I could relate. My own family wanted me cured, fixed. In the Bible story, Jairus, a ruler of the synagogue, begged Jesus to come and heal his daughter, who was at the point of death. Jesus agrees to go with him.
But before Jesus could get there, some people came from Jairus' house and told Jairus not to bring Jesus; there was no longer any point.
Your daughter is dead: Why trouble the Teacher any further?"

" Mark 5:35
I could relate. There were so many people who had given up on me. I heard their voices and frustrated sighs, "It's hopeless, she'll never change." But then, as I continued reading, it jumped out at me:
As soon as Jesus heard the word that was spoken, he said to the ruler of the synagogue, 'Do not be afraid; only believe."

Mark 5:36
He ignored their comments? He didn't listen to them? Hope started in me as I continued to read. He wouldn't let anyone else come along with Him, to argue with him. I looked at my life. For so long, my life was about seeking a substitute for God, instead of seeking God Himself. I'd turned to food, accomplishment, image, people, and things. But it was Jesus this whole time. Jesus was my answer, my answer to pain, to fear, to Father.
"I am the way, the truth, and the life. No one comes to the Father, except through me."

— Jesus speaking in John 14:6
Jesus entered the house where people were weeping and wailing. He said to them,"the child is not dead, but sleeping,"

Mark 5:39
I thought about how death had become my life. I'd focused on death as the beauty, the answer. Stuffing and starving myself was death. Bingeing, purging, punishing, all were death. But what if these words could apply to me and the death I was going through? What if anorexia, bulimia, compulsive eating — what if none of them were the final word? What if Jesus was? What if the Bible really was true?
I read on through Mark 5:41:
Then he took the child by the hand, and said to her, "Talitha, cumi," which is translated, "Little girl, I say to you, arise."
And she did! What if I could arise from all of this too? What if I could wake up and live beyond anorexia, bulimia, overeating, food, weight? And then, to top it all off, I read Mark 5:43, Jesus "said that something should be given her to eat."
You mean Jesus wants me to eat? Not starve, not stuff myself either, but eat something? I didn't have to starve or binge? "Something" — everything in moderation? You mean Jesus said it first?
"For my thoughts are not your thoughts, nor are your ways my ways, says the Lord. For as the heavens are higher than the earth, so are My ways higher than your ways, and My thoughts than your thoughts."

Isaiah 55:8-9
It was during this slow, gradual process I began, not only to learn, but to live the wonderful reality of John 8:32: "the truth shall make you free."
Of all of the things I've been, I never thought free would be one of them.