Helen Keller once said: "The world is full of suffering. It is also full of overcoming it."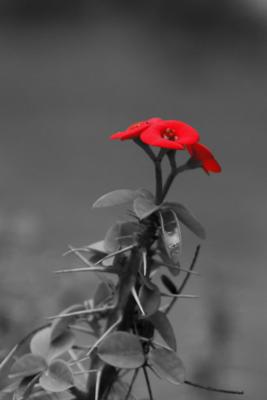 Perspective plays a role in how we view our current physical, emotional, spiritual, and attitudinal situations. Is the sum total a barrier or an opportunity? Like a kaleidoscope, we can tweak the patterns of what we see, what we feel, how we respond via our perspective.
For Helen Keller she chose to see the human situation of suffering and seized every opportunity to overcome suffering. When we stop and think about it, overcoming is a lifetime decision. We can either wrap ourselves in a cloak of suffering to insure our self pity and woe is communicated clearly and heard by the masses, seeking sympathy with "poor me. No one knows the trouble I bear." Or we can embrace an attitude of bravery in Christ—overcoming the suffering.
There are many tough, life-impacting decisions in our lives, but choosing to wallow in the mire of our pain and be satisfied with a life of self pity just doesn't seem like a healthy life decision. In fact, that's not why God created us.
First and foremost, God created us to have a personal loving relationship with Him. Hmmmm…. Based on my personal research, Bible study, and life experiences, this means a two-way relationship, including a:
-A relationship with God
-Freely inviting God into every aspect of your life.
No sloughing off here, because God wants every part of you in this relationship. Your mind, soul, spirit, body, and heart. Don't hold back, or you'll end up back at that pity party, and we don't want that do we?
John 10:3-5 gives a relationship view for us to strive for:

He calls His own sheep by name
-Relationship with name recognition.
His sheep hear His voice and come to Him
-Relationship built on trust.
"Follow me"
-Relationship based on divine exemplary leadership.
-In order to follow without stumbling, imitate Jesus' attitudes on earth, especially the attitude of placing others first.
-Imitate our Leader's behavior, attitude, actions, and deeds.
-Jesus sees good in His children and you should too.
-Jesus is gentle, kind, loving, compassionate, and extends grace to all. Follow your Leader.
Relationship of Adoration and Respect
-Praise the Lord for all He is doing and will continue to do in your life.
-Sing praises.
-Pray for you and OTHERS.
-Grab your Bible and commune with God.
Like Helen Keller, our many biblical ancestors, and everyday people who know the joy associated with overcoming, let's follow God's directives. As our personal relationship with the Lord grows, so will our desire and ability to overcome and live a victorious life.
For now, this should provide you with good, growth-filled, food to chew on that can help you learn to live in truth and freedom.