This is easily the longest article I've ever written. Check out the next few sentences and you'll see why.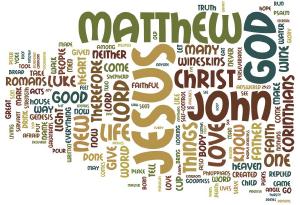 A while back someone asked me to define my "life verse."
I suppose if I HAD to choose a single passage I'd pick Romans 8:28.
And we know that in all things God works for the good of those who love him, who have been called according to his purpose.
Choosing a single verse was nearly impossible, and I found myself creating a list of passages that have significantly impacted and shaped my understanding of God. I realized that the list would continue for a very long time, so I decided to list one hundred passages.
These are not the most important Scriptures. All Scripture is God-inspired and therefore important. These are simply the verses that came to mind over the course of a few months. I'm sure if I did the exercise again I'd have some changes.
However, the project did reveal some insights about my personal theology. I found myself wondering why some verses held significance, so I had to do some study and research. A few were removed upon further consideration. I had no strict criteria other than a gut sense of priority.
What am I suggesting by publishing this list? Certainly I claim no special insight or that you should treat my selections as anything more than one person's choices. Perhaps a couple of possible uses might be:
Scan the list for any general themes. See if anything emerges that's useful.
If you're not familiar with the Bible (or if you are) use my list as a source for daily devotionals or journaling. Seek to understand each verse, its context and significance, and what it might reveal to you.
Make notes about what you would add or delete.
Use this list as a basis for creating your personal list.
Please understand the pitfalls of reading verses or passages in isolation without understanding their context. Scripture can be misused to make just about any point or support any pre-conceived conclusion. Those who wish to use the Bible to advance an agenda will do so, but that's NOT its purpose. The goal is to understand God and seek a closer relationship with Him.
The graphic was generated from the entire list using wordle.com. Biggest words occur most frequently, so you might see what impressions you get from glancing at the graphic.
If this list is useful, here's a link to a PDF that might be a bit easier to work with.
Who do you know who might benefit in some way from these verses?
And we know that in all things God works for the good of those who love him, who have been called according to his purpose. Romans 8:28
For I am convinced that neither death nor life, neither angels nor demons, neither the present nor the future, nor any powers, neither height nor depth, nor anything else in all creation, will be able to separate us from the love of God that is in Christ Jesus our Lord. Romans 8:38-39
For God so loved the world that he gave his one and only Son, that whoever believes in him shall not perish but have eternal life. John 3:16
And so we know and rely on the love God has for us. God is love. Whoever lives in love lives in God, and God in him. 1 John 4:16
But you are a chosen people, a royal priesthood, a holy nation, a people belonging to God, that you may declare the praises of him who called you out of darkness into his wonderful light. 1 Peter 2:9
In the beginning was the Word, and the Word was with God, and the Word was God. John 1:1
The Word became flesh and made his dwelling among us. We have seen his glory, the glory of the One and Only, who came from the Father, full of grace and truth. [John 1:14]
"Come to me, all you who are weary and burdened, and I will give you rest. Take my yoke upon you and learn from me, for I am gentle and humble in heart, and you will find rest for your souls. For my yoke is easy and my burden is light." Matthew 11: 28-30
It is for freedom that Christ has set us free. Stand firm, then, and do not let yourselves be burdened again by a yoke of slavery. Galatians 5:1
And now these three remain: faith, hope and love. But the greatest of these is love. 1 Corinthians 13:13
If I speak in the tongues of men or of angels, but do not have love, I am only a resounding gong or a clanging cymbal.1 Corinthians 13:1
But the fruit of the Spirit is love, joy, peace, patience, kindness, goodness, faithfulness, gentleness and self-control. Against such things there is no law. Galatians 5:22-23
In the beginning God created the heavens and the earth. Genesis 1:1
Jesus said, "Father, forgive them, for they do not know what they are doing." And they divided up his clothes by casting lots. Luke 23:34
"Come, follow me," Jesus said, "and I will send you out to fish for people." Matthew 4:19
The LORD is my shepherd, I shall not be in want. Psalm 23:1
Even though I walk through the valley of the shadow of death, I will fear no evil, for you are with me; your rod and your staff, they comfort me. Psalm 23:4
"I am the good shepherd. The good shepherd lays down his life for the sheep. John 10:11
See, I am sending an angel ahead of you to guard you along the way and to bring you to the place I have prepared. Exodus 23:20
See, I am doing a new thing! Now it springs up; do you not perceive it? I am making a way in the desert and streams in the wasteland. Isaiah 43:19
Then Jesus declared, "I am the bread of life. He who comes to me will never go hungry, and he who believes in me will never be thirsty. John 6:35
"Then neither do I condemn you," Jesus declared. "Go now and leave your life of sin." John 8:11
But I tell you: Love your enemies and pray for those who persecute you. Matthew 5:44
When Jesus spoke again to the people, he said, "I am the light of the world. Whoever follows me will never walk in darkness, but will have the light of life." John 8:12
"I tell you the truth," Jesus answered, "before Abraham was born, I am!" John 8:58
Now that I, your Lord and Teacher, have washed your feet, you also should wash one another's feet. John 13:14
I am the vine; you are the branches. If a man remains in me and I in him, he will bear much fruit; apart from me you can do nothing. John 15:5
Greater love has no one than this, that he lay down his life for his friends. John 15:13
Jesus did many other things as well. If every one of them were written down, I suppose that even the whole world would not have room for the books that would be written. John 21:25
You are the light of the world. A city on a hill cannot be hidden. Matthew 5:14
Be careful not to do your 'acts of righteousness' before men, to be seen by them. If you do, you will have no reward from your Father in heaven. Matthew 6:1
Therefore I tell you, do not worry about your life, what you will eat or drink; or about your body, what you will wear. Is not life more important than food, and the body more important than clothes? Matthew 6:25
Why do you look at the speck of sawdust in your brother's eye and pay no attention to the plank in your own eye? Matthew 7:3
Ask and it will be given to you; seek and you will find; knock and the door will be opened to you. Matthew 7:7
He replied, "You of little faith, why are you so afraid?" Then he got up and rebuked the winds and the waves, and it was completely calm. Matthew 8:26
On hearing this, Jesus said, "It is not the healthy who need a doctor, but the sick. Matthew 9:12
Neither do men pour new wine into old wineskins. If they do, the skins will burst, the wine will run out and the wineskins will be ruined. No, they pour new wine into new wineskins, and both are preserved. Matthew 9:17
Your word is a lamp to my feet and a light for my path. Psalm 119:105
But if serving the LORD seems undesirable to you, then choose for yourselves this day whom you will serve, whether the gods your forefathers served beyond the River, or the gods of the Amorites, in whose land you are living. But as for me and my household, we will serve the LORD. Joshua 24:15
Blessed are the poor in spirit, for theirs is the kingdom of heaven. Matthew 5:3
You have heard that it was said, Love your neighbor and hate your enemy.' But I tell you: Love your enemies and pray for those who persecute you… Matthew 5:43-44
You intended to harm me, but God intended it for good to accomplish what is now being done, the saving of many lives. Genesis 50:20
But the angel said to them, "Do not be afraid. I bring you good news of great joy that will be for all the people. Today in the town of David a Savior has been born to you; he is Christ the Lord. Luke 2:10-11
Jesus wept. John 11:35
Your attitude should be the same as that of Christ Jesus: Who, being in very nature God, did not consider equality with God something to be grasped, but made himself nothing, taking the very nature of a servant, being made in human likeness. Philippians 2:5-7
For I received from the Lord what I also passed on to you: The Lord Jesus, on the night he was betrayed, took bread, and when he had given thanks, he broke it and said, "This is my body, which is for you; do this in remembrance of me." In the same way, after supper he took the cup, saying, "This cup is the new covenant in my blood; do this, whenever you drink it, in remembrance of me." For whenever you eat this bread and drink this cup, you proclaim the Lord's death until he comes. 1 Corinthians 11:23-26
When I was a child, I talked like a child, I thought like a child, I reasoned like a child. When I became a man, I put childish ways behind me. 1 Corinthians 13:11
"Father, if you are willing, take this cup from me; yet not my will, but yours be done." Luke 22:42
For where your treasure is, there your heart will be also. Luke 12:34
For where two or three come together in my name, there am I with them. Matthew 18:20
I will make you into a great nation and I will bless you; I will make your name great, and you will be a blessing. Genesis 12:2
God said to Moses, "I am who I am. This is what you are to say to the Israelites: 'I AM has sent me to you.' Exodus 3:14
For in Christ Jesus neither circumcision nor uncircumcision has any value. The only thing that counts is faith expressing itself through love. Galatians 5:6
I do not understand what I do. For what I want to do I do not do, but what I hate I do. Romans 7:15
I can do everything through him who gives me strength. Philippians 4:13
"Father, if you are willing, take this cup from me; yet not my will, but yours be done." Luke 22:42
"Why do you look for the living among the dead? He is not here; he has risen!" Luke 24:5b-6a
"I have told you these things, so that in me you may have peace. In this world you will have trouble. But take heart! I have overcome the world." John 16:33
But Jesus immediately said to them: "Take courage! It is I. Don't be afraid." Matthew 14:27
Jesus answered, "I am the way and the truth and the life. No one comes to the Father except through me. John 14:6
When Jesus saw their faith, he said to the paralyzed man, "Son, your sins are forgiven." Mark 2:5
So God created mankind in his own image, in the image of God he created them; male and female he created them. Genesis 1:27
Therefore, since we are surrounded by such a great cloud of witnesses, let us throw off everything that hinders and the sin that so easily entangles. And let us run with perseverance the race marked out for us. Hebrews 12:1
For now we see only a reflection as in a mirror; then we shall see face to face. Now I know in part; then I shall know fully, even as I am fully known. 1 Corinthians 13:12
But Mary treasured up all these things and pondered them in her heart. Luke 2:19
For we live by faith, not by sight. 2 Corinthians 5:7
"Do not judge, and you will not be judged. Do not condemn, and you will not be condemned. Forgive, and you will be forgiven." Luke 6:37
Jesus answered, "Everyone who drinks this water will be thirsty again, 14 but whoever drinks the water I give them will never thirst. Indeed, the water I give them will become in them a spring of water welling up to eternal life." John 4:13-14
"His master replied, 'Well done, good and faithful servant! You have been faithful with a few things; I will put you in charge of many things. Come and share your master's happiness!'" Matthew 25:23
Therefore, if anyone is in Christ, the new creation has come: The old has gone, the new is here! 2 Corinthians 5:17
"And no one pours new wine into old wineskins. Otherwise, the wine will burst the skins, and both the wine and the wineskins will be ruined. No, they pour new wine into new wineskins." Mark 2:22
Now to him who is able to do immeasurably more than all we ask or imagine, according to his power that is at work within us, to him be glory in the church and in Christ Jesus throughout all generations, for ever and ever! Amen. Ephesians 3:20-21
When Joseph woke up, he did what the angel of the Lord had commanded him and took Mary home as his wife. Matthew 1:24
Jesus replied, "Very truly I tell you, no one can see the kingdom of God unless they are born again." John 3:3
Don't have anything to do with foolish and stupid arguments, because you know they produce quarrels. 2 Timothy 2:23
My Father's house has many rooms; if that were not so, would I have told you that I am going there to prepare a place for you? John 14:2
…but those who hope in the LORD will renew their strength. They will soar on wings like eagles; they will run and not grow weary, they will walk and not be faint. Isaiah 40:31
They were looking intently up into the sky as he was going, when suddenly two men dressed in white stood beside them. "Men of Galilee," they said, "why do you stand here looking into the sky? This same Jesus, who has been taken from you into heaven, will come back in the same way you have seen him go into heaven." Acts 1:10-11
Then Jesus came to them and said, "All authority in heaven and on earth has been given to me. Therefore go and make disciples of all nations, baptizing them in the name of the Father and of the Son and of the Holy Spirit, and teaching them to obey everything I have commanded you. And surely I am with you always, to the very end of the age." Matthew 28:18-20
Then Peter said, "Silver or gold I do not have, but what I do have I give you. In the name of Jesus Christ of Nazareth, walk." Acts 3:6
Then they prayed, "Lord, you know everyone's heart. Show us which of these two you have chosen 25 to take over this apostolic ministry, which Judas left to go where he belongs." 26 Then they cast lots, and the lot fell to Matthias; so he was added to the eleven apostles. Acts 1:24-26
All Scripture is God-breathed and is useful for teaching, rebuking, correcting and training in righteousness… 2 Timothy 3:16
Heal the sick, raise the dead, cleanse those who have leprosy, drive out demons. Freely you have received; freely give. Matthew 10:8
In everything I did, I showed you that by this kind of hard work we must help the weak, remembering the words the Lord Jesus himself said: "It is more blessed to give than to receive." Acts 20:35
"Do not think that I have come to abolish the Law or the Prophets; I have not come to abolish them but to fulfill them." Matthew 5:17
A week later his disciples were in the house again, and Thomas was with them. Though the doors were locked, Jesus came and stood among them and said, "Peace be with you!" John 20:26
Therefore, I urge you, brothers and sisters, in view of God's mercy, to offer your bodies as a living sacrifice, holy and pleasing to God—this is your true and proper worship. Romans 12:1
Love the Lord your God with all your heart and with all your soul and with all your mind and with all your strength." Mark 12:30
"His master replied, 'Well done, good and faithful servant! You have been faithful with a few things; I will put you in charge of many things. Come and share your master's happiness!'" Matthew 25:23
Therefore, since we have been justified through faith, we have peace with God through our Lord Jesus Christ… Romans 5:1
Just as a body, though one, has many parts, but all its many parts form one body, so it is with Christ. 1 Corinthians 12:12
For the law was given through Moses; grace and truth came through Jesus Christ. John 1:17
For I know the plans I have for you," declares the LORD, "plans to prosper you and not to harm you, plans to give you hope and a future. Jeremiah 29:11
Therefore, there is now no condemnation for those who are in Christ Jesus… Romans 8:1
Do nothing out of selfish ambition or vain conceit. Rather, in humility value others above yourselves, not looking to your own interests but each of you to the interests of the others. Philippians 2:3-4
Jesus said to him, "Away from me, Satan! For it is written: 'Worship the Lord your God, and serve him only.'" Matthew 4:10
Then Jesus asked them, "Which is lawful on the Sabbath: to do good or to do evil, to save life or to kill?" But they remained silent. Mark 3:4
Therefore do not let anyone judge you by what you eat or drink, or with regard to a religious festival, a New Moon celebration or a Sabbath day. These are a shadow of the things that were to come; the reality, however, is found in Christ. Colossians 2:16-17
For this very reason, make every effort to add to your faith goodness; and to goodness, knowledge; and to knowledge, self-control; and to self-control, perseverance; and to perseverance, godliness; and to godliness, mutual affection; and to mutual affection, love. 2 Peter 1:5-7
When you build a new house, make a parapet around your roof so that you may not bring the guilt of bloodshed on your house if someone falls from the roof. Deuteronomy 22:8
What verse(s) would you add?