Psalm 86:11 NRSV
Teach me Your way, O Lord,
that I may walk in Your truth;
give me an undivided heart to revere Your name.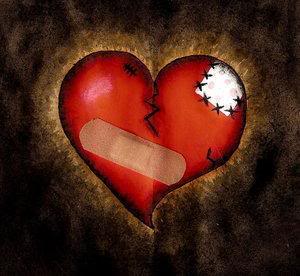 What is the condition of my heart?
A dear friend of ours went Home to be with the Lord yesterday. He was younger than I and his illness was short and unexpectedness. The miracle of the Internet has allowed me to walk with his family and friends as he went (in July) from not feeling good to a diagnosis of cancer (in August) to going home (in November). It has been an interesting study of human nature as I have read the various reactions and actions of those surrounding him, reactions that varied from committing prayer to commanding friends to rise up in some kind of protest.
We all deal with the unexpected in different ways. The question is, should we? If we are truly born again, what does God's truth say? And what does it mean to have an "undivided" heart?
When I read this verse yesterday, I read it in the NKJV. The version says, "Unite my heart to fear Your name." But it doesn't say unite with what. The NRSV is clearer: "give me an undivided heart." The NAB says "single-hearted."
James speaks about the double-minded in both chapters 1 and 4. In chapter 4, he writes:
Those conflicts and disputes among you, where do they come from? Do they not come from your cravings that are at war within you? You want something and do not have it; so you commit murder. And you covet something and cannot obtain it; so you engage in disputes and conflicts. You do not have, because you do not ask. You ask and do not receive, because you ask wrongly, in order to spend what you get on your pleasures. Adulterers! Do you not know that friendship with the world is enmity with God? Therefore whoever wishes to be a friend of the world becomes an enemy of God. Or do you suppose that it is for nothing that the scripture says, "God yearns jealously for the spirit that He has made to dwell in us?" But He gives all the more grace; therefore it says, "God opposes the proud, but gives grace to the humble." Submit yourselves therefore to God. Resist the devil, and he will flee from you. Draw near to God, and He will draw near to you. Cleanse your hands, you sinners, and purify your hearts, you double-minded. (v. 1-8 NRSV).
James equates double-mindedness — or having a divided heart — with being a friend of the world. What does it mean to be a friend? To be a friend means to have a commitment to, to be loyal to, to give time and resources to. The Lord Jesus clearly said that we are His friends if we do what He has commanded us to do (John 15:14). Thus, when James calls us double-minded, he is stating that we claim to be Christians, but fail to obey the Lord. We have one foot in the world, cemented there by our desires and passions, and hope that we have one foot in heaven. Our loyalties are divided.
One of the posters for my friend who is gone said that he was gone too soon. Really? He is gone in the Lord's time. And if he truly is my friend, what better outcome would I wish for him then to be in the presence of our Savior? How can any of us go Home too soon? Paul was anxious to go Home to see the Lord Jesus. He writes in Philippians:
For to me, to live is Christ, and to die is gain. But if I live on in the flesh, this will mean fruit from my labor; yet what I shall choose I cannot tell. For I am hard-pressed between the two, having a desire to depart and be with Christ, which is far better. Nevertheless to remain in the flesh is more needful for you" (1:21-24 NKJV).
How many of us desire to be in heaven with Christ? I know that I do, but I also find myself caught up in the things of this world. I find myself being double-minded, being of a divided heart. How can I truly love the Lord if my heart is divided between those things which are at odds with Him and His commandments?
Lord, I ask You today to teach me Your way that I might walk in Your truth. I confess my divided heart and ask that You make my heart undivided so that I can reverence You, that my only desire would be to please You and to be with You. I ask this in the name of the Lord Jesus. Let it be so.