I would almost make a presumption that almost everybody in the world knows what guilt is and that they are guilty of something in their life. Who has not told a "white lie" in order to make things look a little cleaner than they actually are? I admit to telling more white lies than I can count and I am only 36 at the moment. And even if you were to argue that you are not guilty of anything, have I got some shocking news for you. According to the Bible, everybody is guilty of sin. In fact, when we are born, we are born into a sinful world and we automatically become part of that sinful world. (Isaiah 53:6 New Living Translation (NLT)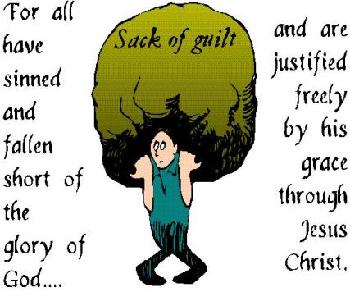 All of us have strayed away like sheep. We have left God's paths to follow our own. Yet the LORD laid on him the guilt and sins of us
If we say we have no sin, we deceive ourselves, and the truth is not in us. If we confess our sins, He is faithful and just, and will forgive our sins and cleanse us from all unrighteousness. If we say we have not sinned, we make Him a liar, and His Word is not in us. (1 John 1:8-10 RSV)
Romans 3:23
For all have sinned, and come short of the glory of God.
And the Bible tells us that if we think we have not sinned that what we are indeed doing is calling God a liar –
1 John 1:10 King James Version
(KJV) If we say that we have not sinned, we make him a liar, and his word is not in us.
What we are guilty of depends on how we were raised, what we were taught to believe in school, at home, and our other places of meeting. But the Bible makes it clear that all sin is equal. There is no one sin greater than another like we as humans class them as, save one special sin. According to the New Testament, Blasphemy of the Holy Spirit is the ONLY sin that is not forgivable.

Matthew 12:31 NIV
And so I tell you, every sin and blasphemy will be forgiven men, but the blasphemy against the Spirit will not be forgiven.
NLT – Every sin or blasphemy can be forgiven–except blasphemy against the Holy Spirit, which can never be forgiven.
I do not yet understand what this sin is so I won't go any further with it. I have been taught that if you do not know what it is, then you can't be guilty of it. I honestly don't know how to address that sin. For more direction on this topic, speak to your pastor or an elder/deacon in the church you attend.
But there are the everyday sins: lying, swearing, hitting/hurting people, killing, lustful premarital sex, adultery, idolatry, witchcraft and so on. Most of us will know the Ten Commandments and we know what is considered okay and not okay. And while we may classify rape and murder as greater sins than lying, in God's eyes, there is no degree of sin. Sin is sin in God's eyes. There is no one sin greater than another aside from the Blasphemy of the Holy Spirit. Mark 3:28 MSG – >Listen to this carefully. I'm warning you. There's nothing done or said that can't be forgiven. 29But if you persist in your slanders against God's Holy Spirit, you are repudiating the very One who forgives, sawing off the branch on which you're sitting, severing by your own perversity all connection with the One who forgives.When you follow the desires of your sinful nature, your lives will produce these evil results: sexual immorality, impure thoughts, eagerness for lustful pleasure, idolatry, participation in demonic activities, hostility, quarreling, jealousy, outbursts of anger, selfish ambition, divisions, the feeling that everyone is wrong except those in your own little group, envy, drunkenness, wild parties, and other kinds of sin. Let me tell you again, as I have before, that anyone living that sort of life will not inherit the Kingdom of God.
And in James 2:10 it says And the person who keeps all of the laws except one is as guilty as the person who has broken all of God's laws. So according to God's own word, if we commit even one sin, we are guilty of all sins. By this God is saying that no one sin is greater than another, except for blaspheming the Holy Spirit, which, as I have already stated, I really don't know much about.
As humans, we tend to categorize sins by their degree of depravity, shock and so on. But if we were to look through the eyes of God, we would see that all sin is sin and all sin is wrong punishable UNLESS we ask for repentance.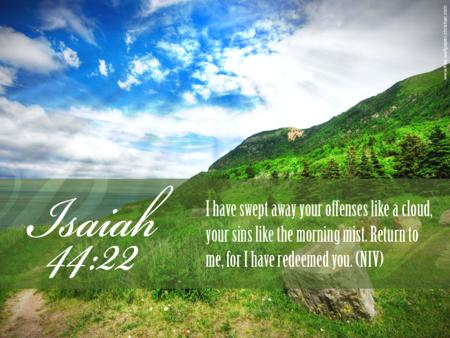 By my own definition, repentance is not just asking for forgiveness. True repentance is making a change in your actions so that you don't commit that sin anymore. Many times, we ask for forgiveness only to go right back out and do the same thing over again. By doing this, repeating our sin, we have not truly asked for true repentance and we may not even really WANT true forgiveness. We MUST WANT TO CHANGE OUR WAYS!!!!. We just say it because it sounds good and it's the right thing to do as a Christian. God would rather you not ask for forgiveness than to keep on sinning and asking for forgiveness for the same sin over and over and over.
1. A lot of the time, we let our sins stir within us causing strife and toil in our lives:
Psalm 38:4 (NIV) My guilt has overwhelmed me like a burden too heavy to bear.

2. We don't have to wait until things get too heavy to carry alone. God is waiting, here, right now. All you have to do is reach out with a heart of true repentance and He will reach down and take our hand and wash our sins away. That was Jesus' main purpose for coming to Earth when He did. Our prayer can be as simple as Psalm 51:9 (NLT) Don't keep looking at my sins. Remove the stain of my guilt And in that moment, your sin will be seen and known about no longer. Acts 13:39 (NLT) Everyone who believes in him is freed from all guilt and declared right with God–something the Jewish law could never do.

3. And once we have truly repented of our sins, God has no way of remembering them nor does He want to. Psalm 103:12 (NIV) – as far as the east is from the west, so far has he removed our transgressions from us.

4. (1 John 1:9 NIV) If we confess our sins, he is faithful and just and will forgive us our sins and purify us from all unrighteousness. – (All we have to do is open our mouth and believe in our heart and be sincere in what we say and we will be forgiven.)

5. And the final say is found in Romans 8:1 where it says: So now there is no condemnation for those who belong to Christ Jesus. If you are a child of the Living God and you ask for forgiveness and act upon true repentance, your sins are no more. What a promise and what a positive affirmation to remember and live by!!!
So, have we sinned? Of course we have! The Bible clearly states that as soon as we are born, we are born into a sinful world. It is natural for us to sin and fall short of God's expectations while we do not know Him, and even when we do know Him to some extent. But there is a way out and a way for our sins to be forgiven and our lives to be light and full of True Life. When we ask Jesus to come into our hearts and be the Lord, Savior and Love of our lives, we immediately are forgiven of EVERY sin – all the past sins, all the sins yet to be done and the sins we are committing at this moment. That does not give us a credit card to sin and do what we want. It is simply a love offering from God to you and me through His only Son, Jesus Christ.
God's promise to us – Though there is much sin in us and done by us, as every true believer readily admits and confesses (1 John 1.8, 10), yet God sees no sin in His people.