Every so often the familiar and even somewhat predictable "amnesia scenario" is resurrected for another made-for-TV-movie or sitcom. The actor stares blankly into once-loved faces and professes no recognition whatsoever. Places, sounds, smells, even names–nothing seems familiar. Memory has been lost; hence, a sense of identity has been lost as well.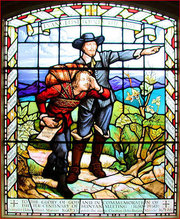 And that is exactly what has happened to us–all of us. We have lost our memory. Like the prodigal son's older brother who toiled endlessly and joyously in the fields, we have forgotten who we are and where we came from. But the forgetting goes beyond the pigsty from which the Father has rescued the prodigals. It extends back to the beginning–to a time when our identity was secure in our fellowship with the Father.
Before the rebellion…
Before the fall…
Before the exile.
As a result, our world is in the midst of an ongoing identity crisis. We walk around, day after day, year after year, generation after generation, trying to find our way back to….somewhere…. hoping that when we get there, someone will recognize us and tell us who we are.
The problem is, even if we figure out where that "somewhere" is, we cannot get ourselves back there, contrary to a song that was popular in the late '60s and early '70s that proclaimed the need to get ourselves back to the Garden.