The Lord calls us to be "transformed by the renewing of [our] minds" (Rom. 12:2). One of the most powerful ways we can do this is by praying the promises of His Word back to Him, since He has promised that His Word would not return void, but would accomplish its intended purpose (Is. 55:11). By God's Word we can defeat the accusations and the temptations of Satan, as Christ did while tempted in the wilderness (Matt. 4:1-11).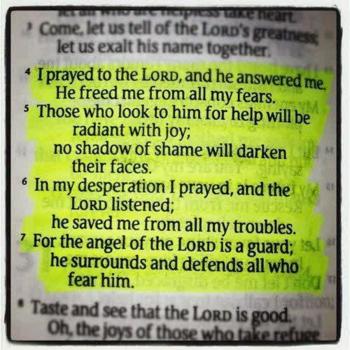 The following prayer is one that I wrote over some time as I meditated on a number of promises from the Scripture that the Spirit called to my mind. What I mean by "meditation" is not that I repeated any verses as a mantra, as if they had power in themselves, but that I considered deeply what they meant, that I weighed the meaning of the words, that I waited to see if the Lord brought to mind other verses that touched on the same topics, and that I related all of this to what I was experiencing in life.
As a result, I was able to see something in these words that was greater,

I think, that any one of these verses alone, precious as they are. Now that I have put them together, I try to pray this occasionally, particularly when I am feeling discouraged, when I am feeling distant from God, or when I am feeling like my efforts and my mental energies are being scattered in many different directions, such that I don't feel I have the energy to go on.
Jesus, Center of the Turning World,
Unite my Heart to Fear Your Name
Father, I trust that You will keep in perfect peace
the one whose mind is fixed on You. (Is. 26:3)
For where can I go from Your Spirit?
Or where can I flee from Your presence?
If I ascend into Heaven, you are there;
if I make my bed in the grave, you are there. (Ps. 139: 7-8)
I have been united to You, Jesus, as a branch to the Vine (John 15:5),
and I have set my mind on the things above where I reign with You (Col. 3:2).
For I have been crucified with You,
and I no longer live, but You live in me.
And the life I live in the body, I live by faith in You,
for You loved me and gave Yourself up for me (Gal. 2:20)
I have hidden Your Word in my heart that I might not sin against You (Ps. 119:11).
Unite my heart to fear Your name (Ps. 86:11b).
Teach me to delight in You (Ps. 37:4a) –
I will run in the way of your commandments
when You enlarge my heart. (Ps. 119:32).
Lord, You are my strength and my song, and You have become my salvation.
With joy I will draw water from the wells of salvation (Is. 12:2).
My flesh and my heart may fail,
but You are my strength and my portion forever. (Ps. 73:26)
You have brought me out into a broad place;
You delivered me because You have delighted in me (Ps. 18:19).
Open my lips, Lord, and my mouth will declare your praise (Ps. 51:15).
I have developed other prayers for other situations, and I am seeking to live more closely in tune with the Spirit so that I can pray for others as I hear their current situation and bring to mind relevant Scriptures for them. I have found that praying for others can often unlock new insights and spiritual blessings in my own life.
John Piper's Desiring God Ministries has many great resources that go further into how to use God's Word in prayer, such as his Solid Joys Android & iPhone app, and this free e-book on using God's promises in intercessory prayer. The book Praying God's Word: Breaking Free from Spiritual Strongholds is also an excellent resource on how to apply God's promises – and His Law – to the temptations of life, and contains many relevant Scriptures on topics from depression to unforgiveness to anger to spiritual warfare.
I pray that as you use this prayer I've shared, and develop Scripture prayers of your own, you will grow deeper in oneness with the Spirit who intercedes for you with "groans that cannot be uttered" (Rom. 8:26). May the knowledge of God's promise and His presence give you boldness in life, delight in His law, and victory over sin.
~*~

Evan Donovan is the Director of Technology for TechMission, Christians in Recovery's parent organization. He also serves in various roles for City Vision University, TechMission's accredited online college, which offers degrees in addiction studies, Christian ministry, and other fields.
Evan and his wife Sarah have been married 7 years, and have an infant son.
Evan was diagnosed with bipolar disorder in 2002. Currently, he leads a mental health support group at his church. You can hear an interview with him discussing his coping strategies for bipolar, and particularly for mania, at
http://www.mentalchristians.com/interview-with-evan-donovan-on-bipolar-disorder/
Apart from his mental illness, Evan strives to overcome issues with boundaries, seeking acceptance from others, workaholism, and technology addiction.
The single most encouraging word that someone gave him in his journey to recovery was "There is a God and you're not him."