There I was, sitting in the green room of the Oprah Winfrey television show, waiting for my turn to share with the world how my new identity had transformed me from the inside out. I stood in front of the floor-to-ceiling mirror startled by my own image. The mirror reflected an image of a tall, slender black woman with shiny, wavy hair that sparkled like dew drops on a crisp autumn morning. The chestnut eyes beamed with vibrant life. The air was filled with deep love, passion, and hope. I didn't recognize "me."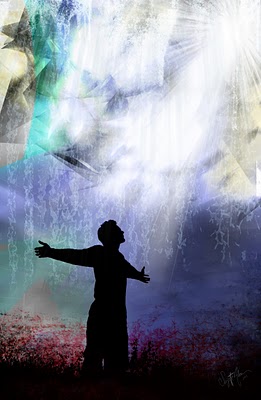 As I crawled out of bed the next morning, just out of curiosity, I checked in the mirror. I now saw what I had seen hundreds of times before: an under-tall—5 feet, two inches and shrinking to be exact—Caucasian, over forty-nine and holding, work-in-progress lady.
Perhaps it was just a dream that seemed so real to me. Ten years later I still remember the precise details of my "Oprah adventure."
Confused and baffled by my identity, I wondered: Who am I anyway?

Children of God
Yet to all who received him, to those who believed in his name, he gave the right to become children of God—children born not of natural descent, nor of human decision or a husband's will, but born of God. John 1:12-13
I've read and reread this verse. My silent response was always, "Yes but… I've got a past." Hey, I ain't your perfect Christian lady, sitting on the third row of the center pew. In fact, I'm a lady who's made more than my share of wrong decisions and bad choices—a condemned woman in the eyes of the Pharisees. Why, I could have been stoned 2,000 years ago. Did I mention I'm also a sinner?
The truth of the matter is that until I began to experience abundant grace and understand the "born of God," I disqualified me. But, Jesus didn't.
Understanding Our New Identities
God is speaking to you and me about our new identities. Through faith and belief in Christ we're born of God and have been declared children of Christ. We're fully adopted with all the benefits of new identities.
Through God's mercy and grace, we can feel free to call him "Abba, Father," which means Daddy. We can also expect to share in the inheritance of his only son, Jesus. We are heirs of God and joint-heirs with Christ in the Kingdom of God. As believers, our identities are changed forever.
New identities are important to understand because identity precedes and affects:
Behaviors
Attitudes
Emotions
Values
Someone once said, "Don't try to get in touch with your feelings; get in touch with truth and your feelings will change." The truth about who we are and how God sees us can be found in the Bible.
When we accept Jesus as our Savior, we experience a spiritual rebirth from above. Jesus declared, "I tell you the truth, no one can see the kingdom of God unless he is born again." John 3:3 Jesus did not speak of a physical birth resulting from human flesh, but of a rebirth from God through the Holy Spirit.
When we accept Jesus as our Savior, we experience rebirth; simultaneously, we receive the Holy Spirit. When we become Christians, the Holy Spirit comes to live in us, making his temple in our bodies.
Our pasts do not disqualify us. I've discovered it doesn't matter who we were, or what we've done. It matters that God wants to give us a hope-filled future.
We really shouldn't wait until we get that problem fixed, get through that divorce, or get our act together to commit our lives to God. First, because it is impossible to be perfect. Next, in God's family it is more than acceptable to come as we are, baggage and all. We can experience a new beginning—complete with a past that has been wiped clean—and a bright future.
As the Holy Spirit transforms our identities into that of Christ's, we will, over time, see evidence in our lifestyles. We will see patience, gentleness, kindness, and love become a natural part of our life—our entire spiritual selves will daily become more like Christ.
A mirror won't reflect the change. But when God looks at us, He sees the reflection of His Son. If we truly want to be set free from our pasts to pursue a life of freedom in Christ, this should be eternal incentive to keep on keepin' on while allowing God to work in and through us.