While sifting through my childhood toys, I happened upon some Weebles.
What are they – and what do they do?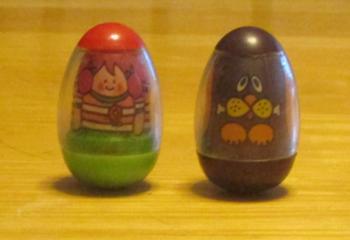 "…an egg-shaped Weeble causes a weight located at the bottom-center to be lifted off the ground. Once released, gravitational force brings the Weeble back into an upright position… The popular catchphrase, 'Weebles wobble, but they don't fall down.' was used in advertising during their rise in popularity…" https://en.wikipedia.org/wiki/Weeble
As I was reunited with these toys, I remembered how, in my playtime, I often tried to put my Weebles to bed, lying them on their sides, only to watch them quickly spring to their vertical stance again. There was no keeping these suckers down.
"Weebles wobble but they don't fall down."
You better believe it.
Therefore, reacquainting myself with them in my adult life, I now view them through the recovery/struggle context and the famous Serenity Prayer: