I must admit, my favorite question is "why?"
I ask it a lot: of God, of others, of myself, of life.
And yes, I ask the why question concerning the tricky addiction/recovery issue.
Author, Jonathan Lockwood Huie really takes that matter to task, using two words.
"Urgent? Why?"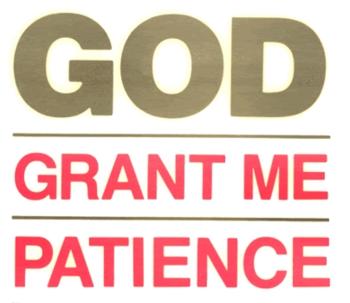 It's not merely a question; it's a statement… about the significance of urgency.
And this is right up addiction's alley. The fix driving the addiction- why?
Why is this my answer?

Why will this solve things?

Why will nothing else do?

Why must I be instantly healed?
It is that last question which brought two scripture passages to my mind: Jairus' daughter and Lazarus.
First, let's look at Jairus' daughter (Mark 5:22-42).
If you know anything about me and the writing I've done over the years, this bit of scripture is close to my heart. It lit the fuse to the creation and publication of my book, "Thin Enough.""Thin Enough." And it provided life-changing revelation and healing concerning my faith and eating disorder issues.
Let's review its power.
Jesus was out and about one day…
22And, behold, there cometh one of the rulers of the synagogue, Jairus by name; and when he saw him, he fell at his feet, 23 And besought him greatly, saying, "My little daughter lieth at the point of death: I pray thee, come and lay thy hands on her, that she may be healed; and she shall live." 24 And Jesus went with him; and much people followed him, and thronged him.
So, okay, Jesus has set about to deal with this urgent matter. Things look hopeful.
And then life interrupted. There was a woman in need of healing…
25 And a certain woman, which had an issue of blood twelve years, 26 And had suffered many things of many physicians, and had spent all that she had, and was nothing bettered, but rather grew worse,
Now, I know if I were Jairus or any of the disciples, I'd start feeling like Jesus was getting distracted.
"Come on, Lord. You already promised to take care of this life and death matter and administer miracles for Jairus. We're not in a position to over-schedule here!"
Still, Jesus was Jesus. So, that meant He tended to her situation also, even in the face of a "booked appointment."
And how could He not? Her desperate circumstances prompted her bold move to seek Jesus for her healing…
27 When she had heard of Jesus, came in the press behind, and touched his garment. 28 For she said, "If I may touch but his clothes, I shall be whole." 29 And straightway the fountain of her blood was dried up; and she felt in her body that she was healed of that plague.
Now, keep in mind, this malady existed for years. She suffered for years.
So, in this moment, suddenly, she was healed? Really?
That sounds quite powerful and unbelievable.
And what contributes to its impact, if we look closely is how, indeed, this healing not only affected her, but Our Savior as well…
30 And Jesus, immediately knowing in himself that virtue had gone out of him, turned him about in the press, and said, "Who touched my clothes?'"31 And his disciples said unto him, "Thou seest the multitude thronging thee, and sayest thou, Who touched me?'"32 And he looked round about to see her that had done this thing.
He was moved by her actions. What was the factor which made all the difference?
Faith.
33 But the woman fearing and trembling, knowing what was done in her, came and fell down before him, and told him all the truth. 34 And he said unto her, "Daughter, thy faith hath made thee whole; go in peace, and be whole of thy plague."
I think we underestimate this Truth too often.
Faith… in an interruption…

Faith… in imperfect lives…

Faith… in the midst of disease…

Faith… in the middle of…addiction?
One can reason, perhaps, while this woman was afflicted for years, her faith was also being fine- tuned, stretched and strengthened. I'm sure none of it felt great in the process.
Indeed, God, it seems, was in no hurry to develop something as important as that attribute.
"Urgent? Why?"
It takes as long as it takes until…
Pow! Results!
This woman with the issue of blood illustrates faith, healing and the Most High in action, spiting circumstances and schedules. He works regardless.
Furthermore, He does not have preferential treatment of anyone (Romans 2:11; Deuteronomy 10:17; Galatians 2:6; Job 34:19; Acts 10:34).
If there is a person needing healing standing in front of another person needing healing, His desire is to heal them both.
Any human-imposed "deadline" on making that happen, therefore, is a nonfactor to Him.
Which brings us back to the original matter at hand: Jairus' daughter…
35 While he yet spake, there came from the ruler of the synagogue's house certain which said, "Thy daughter is dead: why troublest thou the Master any further?"
While fresh from performing one miraculous healing, Jesus gets slammed with the dreaded bad news: "She's dead."
So, it's over, huh?
Not so fast…
36 As soon as Jesus heard the word that was spoken, he saith unto the ruler of the synagogue, "Be not afraid, only believe."
But, because Jesus knew human beings only too well, He decided He needed to take drastic action.
Undeterred, He proceeded in His intentions to heal the girl, with absolutely no doubters or naysayers in the room.
37And he suffered no man to follow him, save Peter, and James, and John the brother of James.
And, oh yeah, also helpful to this negative environment? There was also drama going on.
38 And he cometh to the house of the ruler of the synagogue, and seeth the tumult, and them that wept and wailed greatly. 39 And when he was come in, he saith unto them, "Why make ye this ado, and weep? the damsel is not dead, but sleepeth."
I can almost hear the groaning, the sobbing and the fussiness from everyone. I'm sure there were a lot of "ugly cries" on faces.
And, of course, everyone still had the presence of mind to answer His reassuring declaration with a logical response…
40 And they laughed him to scorn…
(Sigh).
People…
Am I right?
Still, Jesus was not interested in suffering fools…
…But when he had put them all out, he taketh the father and the mother of the damsel, and them that were with him, and entereth in where the damsel was lying.
Verse 40 He gets right down to business…
41 And he took the damsel by the hand, and said unto her, "Talitha cumi;" which is, being interpreted, "Damsel, I say unto thee, arise."
What followed next was the reaction of our dramatic, fussy, whiny and impatient critics…
42 And straightway the damsel arose, and walked; for she was of the age of twelve years. And they were astonished with a great astonishment.
So, this miracle was noteworthy. It should have removed all doubts about His Power.
However, things being what they are concerning the human race, you and I know it's just not that simple. Scripture tells us to have everything established by two or three witnesses (2 Corinthians 13:1).
Okay. Just to make sure things weren't a fluke, let's check out another situation, one, in which death is already a reality.
Oh, Lazarus…
Scripture (John 11:11-46) sets the stage; Lazarus is dead.
After he had said this, he went on to tell them, "Our friend Lazarus has fallen asleep; but I am going there to wake him up." 12 His disciples replied, "Lord, if he sleeps, he will get better." 13 Jesus had been speaking of his death, but his disciples thought he meant natural sleep. 14 So then he told them plainly, "Lazarus is dead, 15 and for your sake I am glad I was not there, so that you may believe…"
Seeing is believing, right?
…But let us go to him."
Yep, they went, even though things look bleak.
16 Then Thomas…said to the rest of the disciples, "Let us also go, that we may die with him."
Well, that's the spirit…
So, while that cheery outlook is happening, oh, yeah, Jesus proceeds to comfort the dead guy's sisters. But only one of them happened to show up.
17 On his arrival, Jesus found that Lazarus had already been in the tomb for four days…19 and many Jews had come to Martha and Mary to comfort them in the loss of their brother. 20 When Martha heard that Jesus was coming, she went out to meet him, but Mary stayed at home.
You would think these sisters would enthusiastically appreciate this caring concern.
Well…
21 "Lord," Martha said to Jesus, "if you had been here, my brother would not have died."
Passive-aggressive translation: "You're late."
22 "But I know that even now God will give you whatever you ask."
Uh, can we say, patronizing?
23 Jesus said to her, "Your brother will rise again."
The calm reassurance proceeds, even despite this dead scene.
To which we get this response…
24 Martha answered, "I know he will rise again in the resurrection at the last day."
"Yeah, yeah, yeah, I know, someday" is her thinking process.
After all, when death is right there in your face, your consolation prize is often the "someday" hope.
But there was still a challenging concept and question for this particular sister, even in this dire situation…
25 Jesus said to her, "I am the resurrection and the life. The one who believes in me will live, even though they die; 26 and whoever lives by believing in me will never die. Do you believe this?"
And, in spite of the painful circumstances, Martha, however half-heartedly, accepts the radical thought and answers with a yes.
27 "Yes, Lord," she replied, "I believe that you are the Messiah, the Son of God, who is to come into the world."
Still, with that being said, stuff needs to get done.
It's time to get the other sister involved.
28 After she had said this, she went back and called her sister Mary aside. "The Teacher is here," she said, "and is asking for you." 29 When Mary heard this, she got up quickly and went to him. 30 Now Jesus had not yet entered the village, but was still at the place where Martha had met him. 31 When the Jews who had been with Mary in the house, comforting her, noticed how quickly she got up and went out, they followed her, supposing she was going to the tomb to mourn there.
Let's see what happens.
32 When Mary reached the place where Jesus was and saw him, she fell at his feet and said, "Lord, if you had been here, my brother would not have died."
Again with the passive-aggressive translation: "You're late."
Sisters of a feather, I guess.
Still, her distraught response didn't change the effect she had on Him…
33 When Jesus saw her weeping, and the Jews who had come along with her also weeping, he was deeply moved in spirit and troubled.
Okay, okay. Jesus might have thought, "Showtime. Gotta prove it. Faith is running low here."
34 "Where have you laid him?" he asked. "Come and see, Lord," they replied. 35 Jesus wept.
There has been a lot of conversation and speculation about verse thirty-five. Most children, when faced with the challenge of memorizing and reciting Bible verses, hope for the opportunity to parrot this one, the shortest verse in the Bible.
And, over the centuries, debates have questioned what, exactly, Jesus was weeping about.
Was it sorrow for the sisters?

Was it the frustration of people doubting the loving and miraculous power of the Most High?

Was it Jesus' genuine love for Lazarus himself?
It all started here and now, in this moment…
36 Then the Jews said, "See how he loved him!"
It looks like we might just have some compassionate folks who finally get the power of love. But we're not out of the woods yet.
For, human beings being human beings, we, a few seconds later, have some spectators, piping in with their critiques…
37 But some of them said, "Could not he who opened the eyes of the blind man have kept this man from dying?"
There is just such a human need to express oneself, isn't there?
In any case, it is the moment of Truth; our Messiah knows He has to get to work.
38 Jesus, once more deeply moved, came to the tomb. It was a cave with a stone laid across the entrance. 39 "Take away the stone," he said. "But, Lord," said Martha, the sister of the dead man, "by this time there is a bad odor, for he has been there four days."
The stinky argument is a legitimate concern, I suppose.
Still, our Savior had to have been at least slightly irritated with all of the "but, but, but" reasons arguing against the Divine.
40 Then Jesus said, "Did I not tell you that if you believe, you will see the glory of God?"
"Which part of 'I am the Resurrection and the Life' did you NOT understand?"
Hopeful, embarrassed or convicted, we're not sure, exactly, what state of mind the peanut gallery was operating from.
Nevertheless, they obliged.
41 So they took away the stone…
And then a power prayer, specifically designed to prove, to everyone, the reality of God's love and desire to heal…
…Then Jesus looked up and said, "Father, I thank you that you have heard me. 42 I knew that you always hear me, but I said this for the benefit of the people standing here, that they may believe that you sent me."
And now, drumroll, please…
43 When he had said this, Jesus called in a loud voice, "Lazarus, come out!"
You must have been able to hear a pin drop in that moment.
44 The dead man came out, his hands and feet wrapped with strips of linen, and a cloth around his face…
Ta-dah!!!
Now let's get Lazarus back to the land of the living.
…Jesus said to them, "Take off the grave clothes and let him go."
So, yet again, in verse forty-five, we see the results of God's timing and power, even in spite of an "urgent" situation…
…Therefore many of the Jews who had come to visit Mary, and had seen what Jesus did, believed in him."
As we go about our individual recovery processes, at some point, each of us needs to challenge our own "urgent why questions." We do have them.
They are as unique as snowflakes.
"Nay but, O man, who art thou that repliest against God? Shall the thing formed say to him that formed it, 'Why hast thou made me thus?'" Romans 9:20
If we learn anything from the accounts of Jairus' daughter and Lazarus, it is the reality of healing, of recovery, coming not necessarily in a typical fashion or in an instant "presto-change-o" way.
It is, instead, the deeper, more gradual, lengthier experience of "years-in-the-making."
It is, perhaps, the seemingly absurd "against all odds" defiance of hopeless circumstances.
It is the Most High God doing a thorough, meaningful and life-affirming work, one which will not be rushed because of any "urgent's" desperate plea.
Where are you right now?
Are you wanting God to speed your healing?
Are you wanting the instantaneous, painless cure?
Are you wanting "life more abundant" (John 10:10)?
Are you wanting your urgent way or God's way?
"For my thoughts are not your thoughts, nor are your ways my ways, says the LORD. For as the heavens are higher than the earth, so are My ways higher than your ways, and My thoughts than your thoughts." Isaiah 55:8-9
When things seem too hopeless and impossible for us, we need to remember they are not for a very Specific Someone Else…
"Behold, I am the LORD, the God of all flesh. Is there anything too hard for Me?" Jeremiah 32:27
So, with that in mind, really, where is the urgency?
"Declaring the end from the beginning, and from ancient times the things that are not yet done, saying, My counsel shall stand, and I will do all my pleasure:" Isaiah 46:10