For as he thinketh in his heart, so is he… Proverbs 23:7
Senator Cory Booker, on an appearance of "The Daily Show," recently shared a powerful lesson with the audience: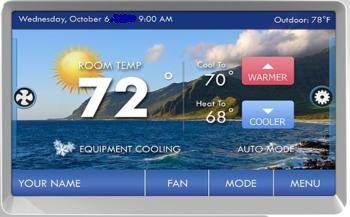 "My father told me there are two ways to go through life: as a thermometer or as a thermostat. A thermometer: whatever someone says about you, you go up or down. A thermostat: you set the temperature."
Both the thermometer and the thermostat reflect life and its issues, including our stance on addiction and recovery.
And our choice has significant ramifications concerning health, well-being and prosperity. Each option offers its inevitable results.
So, it might be worth our while to ponder what those very results may mean for us.
First, the thermometer: its appeal is that self-gratifying moment. It doesn't require much work. You just let your feelings rip.

A fool vents all his feelings. But a wise man holds them back. Proverbs 29:11
There's no requirement for patience or self-control. The thermometer is when we yell at a cashier or give the finger to the driver who cut us off in traffic. And, of course, this option is present when those of us addicts run headlong into our destructive obsessions. The thermometer is the refusal to face and deal with our ugly truth. It is not interested in healthy change, boundaries or saying "no" to our wants.
The thermometer reacts, here and now, with no sense of later consequences.
And we all engage in it; we all blow it. It's human nature to do so.
Still, that humanity doesn't cancel another simultaneous reality dwelling within us:
But the fruit of the Spirit is love, joy, peace, longsuffering, gentleness, goodness, faith, Meekness, temperance: against such there is no law. Galatians 5:22-23
Yes, there is some hope here.
Still, this in-dwelling necessitates our active tapping into it. We must prioritize, decide and put it into practice. And, we have that ability to do that.
But do we have the willingness?
"If ye be willing and obedient, ye shall eat the good of the land." Isaiah 1:19
Eh… that's a bit "if-y-er."
The willingness involved here is the surrender to our "Higher Power." It is the admission we are screwed up and vulnerable. It is the "I want to, want to change" step.
Willingness need not be perfect, just honest, at least, as honest as our tricky hearts afford us…
The heart is deceitful above all things, and desperately wicked: who can know it? Jeremiah 17:9
And, let us never forget; there is always Divine good news, to spite our seemingly hopeless human state of being…
The Lord is not slack concerning his promise, as some men count slackness; but is longsuffering to us-ward, not willing that any should perish, but that all should come to repentance. 2 Peter 3:9
We are not alone in our flawed, addicted, troubled existences. We are not sentenced to the unforgiving fate of the thermometer's negative consequences.
We can make another choice: the thermostat.
Indeed, the thermostat challenges the instant gratification, opting for the long term "big picture" instead. That involves dealing with ourselves.
Keep thy heart with all diligence; for out of it are the issues of life. Proverbs 4:23
Search me, O God, and know my heart: try me, and know my thoughts: And see if there be any wicked way in me, and lead me in the way everlasting. Psalms 139:23-24
It is the decision to work, to take the harder, higher road.
And no, that is not fun.
Nevertheless, it is critical to the stewardship which produces the more fulfilling, longer term rewards we desire.
That every one of you should know how to possess his vessel in sanctification and honor. 1 Thessalonians 4:4
We are all on a continuum of this stewardship principle.
And again, it's not about perfection; rather, it's about prioritization. It is the personal work of pursuing what matters to us.
Search me, O God, and know my heart: try me, and know my thoughts: And see if there be any wicked way in me, and lead me in the way everlasting.
Psalms 139:23-24 surfaces yet again. The challenge targets our thought processes.
What is our attitude about our beloved vices, real change and actual health?
We are thinking something about each issue.
Is it closer to disease and self-destruction or health and prosperity?
We can choose.
And for many of us, an additional vital issue to challenge is "the big payoff."
What do we honestly believe about the rewards attached to forsaking our dysfunctions?
Is the prize nonexistent?
Does it pale in comparison to the instant gratification of our familiar addictions, disorders and vices?
Are we willing to embark on imperfect change and choose something other than that reliable object of our affections?
Are we willing to relinquish control of our lives to the Creator of us all?
The thermostat asks these loaded questions with some famous "Twelve Step" principles in tow…
Step number one…
We admitted we were powerless over our addiction/compulsion – that our lives had become unmanageable.

Step number two…
We came to believe that a Power greater than ourselves could restore us to sanity.

Step number three…
We made a decision to turn our will and our lives over to the care of God as we understood Him.

Step number eleven…
We sought through prayer and meditation to improve our conscious contact with God as we understood Him, praying only for knowledge of His will for us and the power to carry that out.

Step number twelve…
Having had a spiritual awakening as the result of these steps, we tried to carry this message to addicts, and to practice these principles in all our affairs.
In all of our struggles, questions and decisions, we need to understand there is, indeed, a big "payoff," a Divine creation for each of us…
Beloved, I wish above all things that thou mayest prosper and be in health, even as thy soul prospereth. 3 John 1:2
Now unto him that is able to do exceeding abundantly above all that we ask or think, according to the power that worketh in us. Ephesians 3:20
And it exists within the framework of the thermostat. It exists when we recognize our feelings can run amok and wreak havoc unless we submit to Divine help and order. It is the decision to choose delayed gratification over impulse.
It is the realization life is not a "one-time only" event. It is ongoing, needing our stamina, discipline and, when we fail, the implementation of merciful, forgiving grace.
No matter where we are in life, in the addiction/recovery spectrum, each of us is faced with the thermometer-thermostat decision.
It is a daily reality, requiring our choice.
What do we choose right now?