What do you do when you see someone holding up a sign, "Will Work for Food"? Do you roll down your window and give them money? Do you pretend you didn't see them?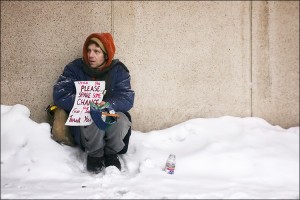 Nobody likes to be confronted by the homeless – their needs often seem too overwhelming – but we all want to treat them fairly and justly. Here are some simple guidelines to equip you to truly help the homeless people you meet:
1. Never give cash to a homeless person
Too often, well intended gifts are converted to drugs or alcohol – even when the "hard luck" stories they tell are true. If the person is hungry, buy them a sandwich and a beverage.
2. Talk to the person with respect
Taking time to talk to a homeless person in a friendly, respectful manner can give them a wonderful sense of civility and dignity. And besides being just neighborly, it gives the person a weapon to fight the isolation, depression and paranoia that many homeless people face.