I have this roll around bag I carry with me every day to work. In it, I carry my journal, extra pens, a small laptop, and anything else I think I might need for the day. I decided to get a bag that had rollers because the one I carried over my shoulder grew too heavy for me. I wish I could do the same for the other baggage I have carried with me over the years.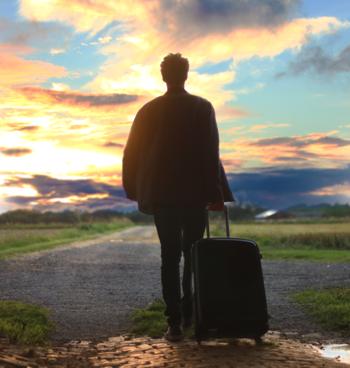 The other suitcase I carry with me has no handle. It resides within the chambers of my heart and the confines of my soul. It has years of control, co-dependency, self-blame, regret, sadness, grief, and pain within it. As I face Step Four of my recovery journey, I know there is more in that piece of luggage. I know there are things I haven't admitted to yet. I know there are probably even things I am not aware of. But I know this is an important step in the recovery from my past.
These issues I have carried with me are common for people like me. I haven't always known this to be true. Working diligently on making a searching and fearless moral inventory of myself showed me this. Reading Psalm 139:23-24 guides me toward God's loving arms to reveal the truth about me.
Search me, O God, and know my heart;
Try me and know my anxious thoughts;
And see if there be any hurtful way in me,
And lead me in the everlasting way.
I ask God to search and know my heart. I ask him to