I believe, couples, no matter how long they have been married, or how old they are, need to have daily intimate interaction with one another. When was the last time you and your spouse went on a date? When was the last time you had a private, sincere and open conversation with the one you love?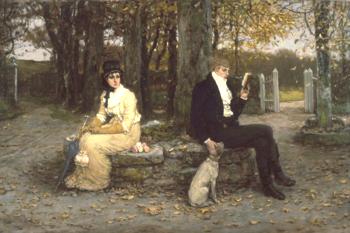 When I was a young mother with three small children to tend to all day, I happily welcomed the arrival of my husband from his work. I sometimes literally begged for his attention because at that stage of my marriage my whole life revolved around my children. Sometimes, after a long day at work, he was just too tired for me, and all he wanted to do was eat a hot meal, watch a little television and go to bed. This made me feel resentful and I acted out on my feelings, which is not a good thing for marriage.

Give, and it will be given to you. A good measure, pressed down, shaken together and running over, will be poured into your lap. For with the measure you use, it will be measured to you. Luke 6:38 NIV
I now look back on those days and wonder how I could have made a difference in my marriage if I would have known what I know now. I surely didn't know Gods words of wisdom for basing my marriage on. I was young and selfish and acted on my feelings in almost everything I did. Maybe, if I had been more interested in my husband, and how his day went, rather than only caring about getting my emotional needs met, it would have been better for us.
Thankfully, we weathered the stormy areas of our marriage and we are still married after 23 years. None of it has been without effort, of course. I believe if couples would allow one hour each day, fully devoted to each other, their marriage would liven up and the mundane obligations of the day would become acts of loving kindness and support of each other. That's all it takes! Well, it takes a foundation based on the wisdom of God too, but that goes without saying.
I realize it is difficult when both husband and wife work all day, children need tended to, and household obligations need tended to, but the person your married should be at the top of the priority list; under God, your marriage should be number one! Teach your children that mom and dad need time alone without distractions from them. Help your children to respect you for respecting the person you married. When your children see that you respect and admire the person you married, they will in turn be respectful marriage partners. Your efforts will be rewarded!
A wife should ask about her husband's day and be interested in what he has to say. Some men need to get the stressful days work off their chest because they work in frustrating positions or environments, or they have a job that entails physical labor, which in that case, he may welcome a nightly back rub. A man wants to come home, relax and eat a hot meal and be cared for. What is wrong with that? Give your husband the chance to unwind, and enjoy a loving wife.
Carry each other's burdens, and in this way you will fulfill the law of Christ. Galatians 6:2 NIV
A husband has the responsibility of being supportive to his wife. Maybe she works all day long too and needs a little bit of pampering. Listen to your wife as she tells you about her day. Offer solutions when she asks for them; don't assume she is ranting to you because she is seeking a solution. On the contrary, women enjoy talking about their day because they want support and validation, which often is the solution. Be supportive of your wife's feelings. Try not to negate what she has to say, but listen and ask questions instead. Be the loving man she married, so she can in turn be a loving wife to you.
Husband and wife can reconnect and ignite the fires by simply listening to one another, and being supportive of each other's needs and feelings. Remember to be there for each other no matter how tired you are. Give of your self! This aspect of marriage is so very important. Spend one hour of private, open interaction every single day and intimacy will be ignited once again.
Love one another deeply, from the heart. 1 Peter 1:22 NIV