I love Winston Churchill's sentiment: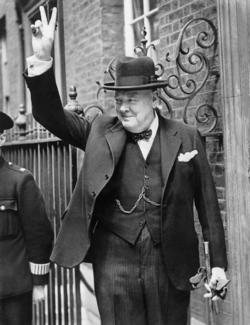 "If you're going through hell, keep going."
Life is tough. Sooner or later, we'll experience a trying situation which feels like hell. It isn't actual hell, thank God. Nevertheless, the power of that notorious situation/trauma makes us feel tortured with pain, despair and hopeless evidence. Eating disorders, addictions, compulsions, loss and grief are just a few examples of things which can feel like hell, if, indeed, torture is its calling card.
It's painful and almost impossible to see future, life, possibility or God. We can, instead, much more easily see ourselves as failures, weak, forgotten and ruined. It's, therefore, inevitable we come to a screeching halt; we stop in the mire and can only feel ourselves sinking…down to where? Greater depths of hell and torture?
But that's not God's truth about us. Even in the middle of hopelessness, God is there… living… loving… working…
And we know that all things work together for good to them that love God, to them who are the called according to his purpose.
Romans 8:28
"Behold, I am the LORD, the God of all flesh. Is there anything too hard for Me?" Jeremiah 32:27
It can be tempting to believe that

in our self-defined hells, we're going it alone. But we're not. Psalm 23 reassures us of that truth…
Yea, though I walk through the valley of the shadow of death, I will fear no evil: for thou art with me… Psalm 23:4
And as we "keep going," transformation, bit by bit, occurs…
But we all, with unveiled face, beholding as in a mirror the glory of the Lord, are being transformed into the same image from glory to glory, just as by the Spirit of the Lord. 2 Corinthians 3:18
And "keep going" doesn't necessarily mean a dramatic, larger than life display. It can be the tiniest effort, decision or prayer. It just needs to exist. God requires only a mustard seed of faith, not a mountain.
I believe we underestimate both God and ourselves. We can be one thought, word or deed away from breakthrough; we never know. But God does. And even when we fall short, God has decided and created the contingency plan for us. Jesus.
…being confident of this very thing, that He who has begun a good work in you will complete it until the day of Jesus Christ. Philippians 1:6
Are we confident in that Truth? Are we confident in God's involvement as we go through our different kinds of hell? Do we "keep going," armed with trust in God, leading, guiding, helping and transforming our lives, even in the appearance of wreckage? We all need help in this area of the faith department.
We're all in process. That applies to the "going through hell" process.
Are you experiencing some kind of hell right now? Are you stopping in it or moving through it? Regardless, God is too good of a God to leave you in that spot; you WILL get through this, whatever "this" may be. Trust Him.
Trust in the LORD with all your heart; and lean not on your own understanding. In all your ways acknowledge Him, and He shall direct your paths. Proverbs 3:5-6
God has much more for you and me!
"For I know the thoughts that I think toward you," says the Lord, "thoughts of peace and not of evil, to give you a future and a hope."
Jeremiah 29:11
Keep going!