"My people hath been lost sheep: their shepherds have caused them to go astray, they have turned them away on the mountains: they have gone from mountain to hill, they have forgotten their restingplace." Jeremiah 50:6
Most of us are familiar with the parable of the lost sheep and the passage about the good shepherd.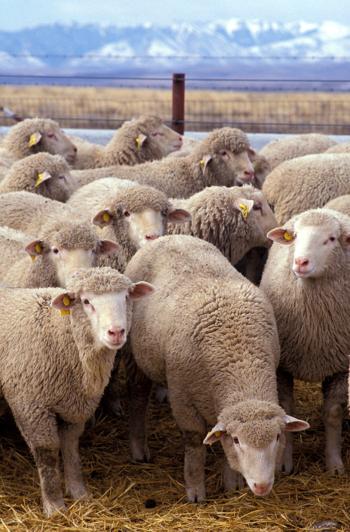 Then Jesus told them this parable: "Suppose one of you has a hundred sheep and loses one of them. Doesn't he leave the ninety-nine in the open country and go after the lost sheep until he finds it? And when he finds it, he joyfully puts it on his shoulders and goes home. Then he calls his friends and neighbors together and says, 'Rejoice with me; I have found my lost sheep.' I tell you that in the same way there will be more rejoicing in heaven over one sinner who repents than over ninety-nine righteous persons who do not need to repent."
Luke 15:3-7
"I am the good shepherd: the good shepherd giveth his life for the sheep." John 10:11
And most of us have seen the matching artwork, the depiction of a loving, attentive Jesus holding a lamb in His arms.
He tends his flock like a shepherd: He gathers the lambs in his arms and carries them close to his heart… Isaiah 40:11
Yet, there seems to be a disconnection. Yeah, yeah, yeah. Jesus loves us; He's our good shepherd. But do we REALLY personalize it? And what exactly would that mean to us?

Years ago, Bishop T.D. Jakes did a message on sheep. Scripture often refers to people as that creature. And it's honestly not a flattering comparison. As Bishop Jakes went on to point out how sheep are… stubborn, stupid and always getting lost and into trouble. Sheep also don't have any natural defenses and are helpless.
And we are sheep. Great.
When I was a kid in Vacation Bible School, one of the teachers tried to do a visualization technique. (I say tried because, after all, we're talking about kids here- lambs- baby sheep. So we're talking stubborn, stupid and prone to getting lost, all with unbound youthful energy. But I digress).
Anyway, she suggested each one of us see ourselves as that lamb, that 100th sheep, once lost, now safely tucked in our shepherd's arms. And then, from there, really get the feeling of just how much God loves us.
I know – again, kids here. Besides, it seems too simplistic.
But, years later, as fully grown adults, we're still struggling with that very same notion. We still look like ridiculous lost sheep, in desperate need of a patient and capable shepherd to swoop in and save our hides.
For this is what the Sovereign LORD says: "I myself will search for my sheep and look after them. As a shepherd seeketh out his flock in the day that he is among his sheep that are scattered; so will I seek out my sheep, and will deliver them out of all places where they have been scattered in the cloudy and dark day. And I will bring them out from the people, and gather them from the countries, and will bring them to their own land, and feed them upon the mountains of Israel by the rivers, and in all the inhabited places of the country.
I will feed them in a good pasture, and upon the high mountains of Israel shall their fold be: there shall they lie in a good fold, and in a fat pasture shall they feed upon the mountains of Israel. I will feed my flock, and I will cause them to lie down, saith the Lord GOD. I will seek that which was lost, and bring again that which was driven away, and will bind up that which was broken, and will strengthen that which was sick…"
Ezekiel 34:11-16
No matter how old we get, how much money we make, what we accomplish or how together we appear, we never outgrow our sheep status. And that might be completely depressing if it weren't for one large detail we, too often forgotten, if we know it at all: God loves us. And it's not a casual kind of love either.
"Since you were precious in my sight… I have loved you…" Isaiah 43:4
The LORD hath appeared of old unto me, saying, "Yea, I have loved thee with an everlasting love: therefore with lovingkindness have I drawn thee." Jeremiah 31:3
Love is why He puts up with us and our sheepish ways. We just don't get it. Nevertheless, God cannot help Himself but to love us. And each one of us is that lost 100th sheep special to God; we're that important. Our feelings and experiences backing that up matter not; it goes beyond us and our finite perspectives. God's thoroughly convinced of His love for us. And He doesn't change His mind.
Again…
For I am persuaded that neither death nor life, nor angels nor principalities nor powers, nor things present nor things to come, nor height nor depth nor any other created thing, shall be able to separate us from the love of God which is in Christ Jesus our Lord. Romans 8:38-39
We're sheep. We cannot change that truth. But we can go a lot further if we choose not to argue with God in His love and reasons for pursuing, chasing and loving us.
Each of us is that 100th sheep; we are that special. We are the parable.