Vain Imagination
As a little girl, I had one of those pink girly hand mirrors.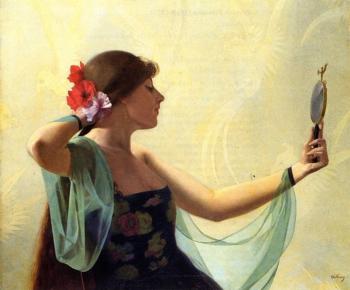 Its back had a girl's face on it, a pretty one, naturally. She had blue eyes, blond hair and an upturned nose. It wasn't exactly diversity.
Years later, I think back to playing with (looking at) that mirror; which side was more harmful to what eventually became my bad self- image. Was it that girl's face- or was it my own face staring back at me?
Vanity's not really a great Christian character trait…
I have not sat with vain persons, neither will I go in with dissemblers. Psalms 26:4
Let not him that is deceived trust in vanity: for vanity shall be his recompense. Job 15:31
Surely God will not hear vanity, neither will the Almighty regard it. Job 35:13
Seeing there be many things that increase vanity, what is man the better? Ecclesiastes 6:11
Yeah, it's not exactly "mirror, mirror," is it?
I've heard a lot of discussion about how eating disorders are about vanity and extreme narcissism. I have mixed feeling about that assessment. I know that, as a little girl, I was too preoccupied with image; I desperately wanted to be the beautiful girl. And fairytale princess, Barbie dolls and this hand mirror fed into that desire.
But it wasn't because I wanted to be self-absorbed "when I grew up." No one wants to be that kind of unflattering character trait. However, my self-obsession was rooted in insecurity and fear, not so much image. Image was the promise, the solution, the "happily ever after" carrot to chase in life. And, through the diet and cosmetic industries, isn't that what we still chase?
So, what are we to do with vanity? Do we break all of the mirrors, stop wearing makeup and pay no attention to our physical appearance?
No, of course not.
But it comes down to what has the final authority in our lives: God or man's opinion, the temporary or the eternal perspective. Which mirror do we trust?
I'm not suggesting we have it entirely figured out. God knows that's impossible. After all…
For now we see through a glass, darkly; but then face to face: now I know in part; but then shall I know even as also I am known. 1 Corinthians 13:12
For He knoweth our frame; He remembereth that we are dust. Psalms 103:14
For all have sinned, and come short of the glory of God. Romans 3:23
Please hang in there. It's not as hopeless as it looks. It's about perspective…and priorities.
We need to look at ourselves and what we truly value. It's easier said than practiced. No one enjoys dealing with the complex issues which underscore eating disorders, low self-esteem, addictions and compulsions. We'd much rather look at "something pretty" instead. It is hard work: spiritually, emotionally and physically; it takes deliberate effort, all stemming from a decision. Do we deal with "it" or not?
Which mirror dominates our lives- God's perfect reflection or our imperfect, issue- riddled version? God tells us the benefit of choosing His mirror…
For if anyone is a hearer of the word and not a doer, he is like a man who looks at his natural face in a mirror; for once he has looked at himself and gone away, he has immediately forgotten what kind of person he was. But one who looks intently at the perfect law, the law of liberty, and abides by it, not having become a forgetful hearer but an effectual doer, this man will be blessed in what he does. James 1:23-25
It's not about being perfect or even following, with precise accuracy, the letter of God's Law (again, the reality of 1 Corinthians 13:12; Psalms 103:14; Romans 3:23). It's about a value decision; it's a decision that God's perspective on us matters more than any other opinion or trend.
Casting down imaginations, and every high thing that exalteth itself against the knowledge of God, and bringing into captivity every thought to the obedience of Christ. 2 Corinthians 10:5 (King James Version)
We are destroying speculations and every lofty thing raised up against the knowledge of God, and we are taking every thought captive to the obedience of Christ. 2 Corinthians 10:5 (New American Standard Version)
And that often is a lifetime process (the good and the frustrating news). Life and recovery issues are not "instant cures;" they are process oriented. And God's quite involved in our lives and life processes.
"Your ears shall hear a word behind you, saying, This is the way, walk in it, whenever you turn to the right hand, and whenever turn to the left." Isaiah 30:21
"I will instruct you and teach you in the way you should go: I will guide you with My eye." Psalm 32:8
"For I know the thoughts that I think toward you," says the Lord, "thoughts of peace and not of evil, to give you a future and a hope." Jeremiah 29:11
For I am persuaded that neither death nor life, nor angels nor principalities nor powers, nor things present nor things to come, nor height nor depth nor any other created thing, shall be able to separate us from the love of God which is in Christ Jesus our Lord. Romans 8:38-39
What if we reflected on these Truths of God? Mirrors will break and warp; beauty aesthetics in the fashion, cultural and diet worlds change. But we, as God's beloved and created children, will retain our value and our beauty. We cannot change how God views us:
"Since you were precious in my sight… I have loved you…" Isaiah 43:4
"I have chosen you and have not cast you away." Isaiah 41:9
"For I know the thoughts that I think toward you," says the Lord, "thoughts of peace and not of evil, to give you a future and a hope." Jeremiah 29:11
The LORD hath appeared of old unto me, saying, "Yea, I have loved thee with an everlasting love: therefore with lovingkindness have I drawn thee." Jeremiah 31:3
What if, next time we looked into the mirror, we reflected on that?