Proverbs 18:6-7, 9 NRSV
"A fool's lips bring strife,
and a fool's mouth invites a flogging.
The mouths of fools are their ruin,
and their lips a snare to themselves. . . .
One who is slack in work is close kin to a vandal."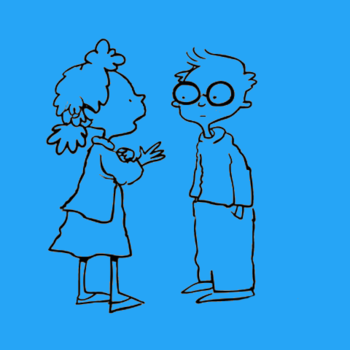 We talk a lot. We text. We phone. We email. We chat. Unfortunately, we tend not to talk to those who matter most. Have you ever gone to a restaurant and noticed that people are texting or talking on their cell phones and ignoring the people they're eating dinner with? What we say, when we say it, to whom we say it… all of those things are important. We need to talk. But we need to choose to whom and when. Wrong talking brings ruin.
One of the reasons that texting, phoning, and the Internet has become so attractive is the characteristic of anonymity. We will say something to someone who is hidden from view much easier than we will say it to them in person. Evil loves the darkness; it loves to be hidden: "And this is the judgment, that the light has come into the world, and people loved darkness rather than light because their deeds were evil. For all who do evil hate the light and do not come to the light, so that their deeds may not be exposed" (John 3:19-20 NRSV).

For most of us, saying less in every situation would likely be a good thing. "Never be rash with your mouth, nor let your heart be quick to utter a word before God, for God is in heaven, and you upon earth; therefore let your words be few" Ecc. 5:2 NRSV). Our words often get us into situations and often interfere with our relationships far more often than do our actions. Our words also often precede our actions. Once we say something, we are more likely to do it. Actions do not exist in a vacuum. We think, then we do. We often think, say, and then do. Saying something often lends the impetus to doing it. It's interesting that the Lord linked what we say with what we think in our hearts: "Let the words of my mouth and the meditation of my heart be acceptable to you, O Lord, my rock and my redeemer" (Psalm 19:14 NRSV). In a similar way, sinful actions are linked to what we say: "The words of their mouths are mischief and deceit; they have ceased to act wisely and do good" (Psalm 36:3 NRSV). The problem is that, with the Internet, with phones, we have so many more opportunities to say.
The second link to all this is that speaking is often connected to not doing. I've often heard of people who neglected the things they needed to do and instead spent time on their computers talking, discussing, posting, playing games. It's interesting that the proverb links "slack in work" to vandalism. Vandalism is the willful and malicious destruction of property. The KJV translates the word as "waster." In other words, one who is slack in work wastes… time, resources, relationships, opportunities. And we often put aside our work (our duty) to talk. You see, talking (particularly posting, chatting, texting) makes us feel important. It also takes up valuable time, focus, resources that could be spent on ministering to those around us (including our families). Some time keep a personal diary of how you spend your time. It can be very revealing. Our time is supposed to be spent ministering to those around us, bringing glory to the Father Who loves each and every one. How do we spend our time? Are we talkers or doers?