I recently came across this child's drawing once sent to the legendary Marilyn Monroe. Children often get right to the truthful point.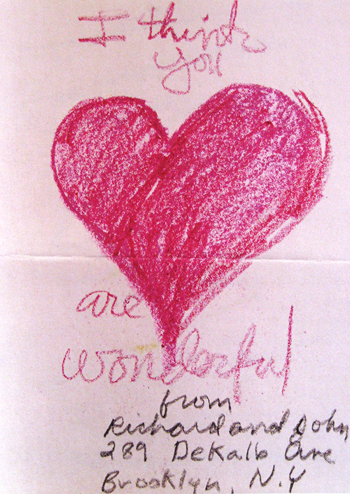 "I think you are wonderful."
What an astounding thought. Yet, how many of us experience that sentiment?
Yeah.
Most of us struggle with this positive self-image thing. We may have had negative people and experiences in which we were told- and believed- the exact opposite. Coping with that pain, therefore, it's no surprise some of us have turned to our addictions, disorders and any number of "comforting" vices. We want to feel we are wonderful. And the drug, the drink, the food or any other object of our desire supposedly tells us precisely that.
Meanwhile, however, we completely lose sight of a Truth, if we ever knew about it in the first place. God already thinks we're wonderful.
He thinks that…about us… right now. And God isn't short on these kinds of thoughts…


How precious also are thy thoughts unto me,
O God! how great is the sum of them!
If I should count them,
they are more in number than the sand: when I awake,
I am still with thee. Psalm 139:17-18
However, how much time, how many negative, self-destructive and toxic thoughts do each of us spend, draining ourselves, dragging ourselves down and engaging in self-destructive choices?
For as he thinketh in his heart, so is he… Proverbs 23:7
And then, what if we have the audacity to believe these negative thoughts are actually God's thoughts? Things like…
God hates us…
God wants to punish us…
God doesn't care…
God can't do anything for us; it's hopeless…
You can see how motivating these kinds of thoughts are in promoting a happy and healthy life and recovery.
Yes, we need to remember there's a difference when it comes to the area of thoughts. Our negative self-image does not equal God's perspective about us…
"For my thoughts are not your thoughts, nor are your ways my ways," says the LORD. "For as the heavens are higher than the earth, so are My ways higher than your ways, and My thoughts than your thoughts." Isaiah 55:8-9
Some examples of those higher thoughts include…
"I will instruct you and teach you in the way you should go: I will guide you with My eye." Psalm 32:8
"For I know the thoughts that I think toward you, says the Lord, thoughts of peace and not of evil, to give you a future and a hope." Jeremiah 29:11
"My grace is sufficient for you, for My strength is made perfect in weakness." 2 Corinthians 12:9
Yep, that's already over our heads, isn't it?
But wait, God's just getting warmed up. We haven't even gotten to the love stuff yet.
"Since you were precious in my sight… I have loved you…" Isaiah 43:4
…"Yea, I have loved thee with an everlasting love: therefore with lovingkindness have I drawn thee." Jeremiah 31:3
The LORD your God in your midst, the Mighty One will save; He will rejoice over you with gladness, He will quiet you with His love, He will rejoice over you with singing. Zephaniah 3:17
Whew! He sounds like a love struck Romeo, doesn't He?
But that's the point. He is besotted with love for us; He just can't help Himself.
Can anyone say Song of Solomon?
"If thou know not, O thou fairest among women, go thy way forth by the footsteps of the flock, and feed thy kids beside the shepherds' tents." Song of Solomon 1:8
"Behold, thou art fair, my love; behold, thou art fair; thou hast doves' eyes." Song of Solomon 1:15
"Behold, thou art fair, my love; behold, thou art fair; thou hast doves' eyes within thy locks: thy hair is as a flock of goats, that appear from mount Gilead." Song of Solomon 4:1
"Thou art all fair, my love; there is no spot in thee." Song of Solomon 4:7
And I'm just citing the tamer verses here. Song of Solomon, known as the most erotic book of the Bible, symbolizes the passionate love between God and us. Depicting the chatty commentary of two young lovers, this book has some pretty steamy pages. "Fifty Shades of Grey" has nothing on His love!
And, as if that wasn't enough of a love fest, proving how much God is "into us," check out these next two ditties:
But God demonstrates His own love toward us, in that while we were still sinners, Christ died for us."
Romans 5:8
For God so loved the world, that he gave his only begotten Son, that whosoever believeth in him should not perish, but have everlasting life. John 3:16
These aren't just some random musings here.
Jesus.
God's Son.
Died for us.
Still feel unlovable?
Need more?
All right, let's truck on over to Genesis, the beginning of the whole shebang.
So God created mankind in his own image,
in the image of God he created them;
male and female he created them…
God saw all that he had made, and it was very good… Genesis 1:27; 31
God, from the start, created us to be glorious "mini me's" of Himself…
And God said, "Let us make man in our image, after our likeness…" Genesis 1:26
From the beginning, He thought we were wonderful.
Why can't we then?
"…I am fearfully and wonderfully made…" Psalm 139:14
Why should that wonderful thought be any more difficult to believe than any negative, insulting thought we entertain in our daily lives?
"I think you are wonderful."
Let's endeavor to start thinking that way about ourselves. God already does.