For those who don't know the Disney's story "Song of The South" a character named Brer Rabbit, who after being captured by old Brer Fox and bear, began to plead with them "…you can do anything to me, but please don't throw me in the Briar Patch!"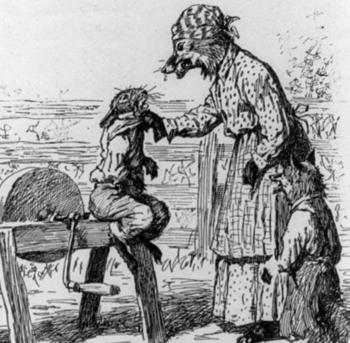 When these two old fools heard his pleads for mercy they threw him into the briar patch, it was then that old Brer Rabbit begin to chant, "BORN AND BRED IN THE BRIAR PATCH!"
The point was he used strategy to out think them. They thought they were hurting him, when in actuality they were hurling him into a safe and profitable place.
We can squander so much precious energy, sanity and joy fighting against people, places and things, when God is just using one's foolish adversaries' to propel one into His perfect will. We can rest in Him for "…we know that God causes all things to work together for good to those who love God, to those who are called according to His purpose"
Cause and Effect
God truly is working behind the scenes on our behalf (Read- 2 Kings 6:17). An excellent example is found in the life of Joseph. The son of Jacob (Israel) who was sold to the Midianites by his envious brother's and ended up as a slave in the land of Egypt (Genesis 37:28).
Holy Scripture tells us, that throughout all his set backs and negative experiences in this foreign land, "God was with Joseph", and He continued to bless Joseph to the point of eventually being exalted as governor over Egypt second only to Pharaoh (Genesis 45:26).
Can't Take it From Me
We need to understand that Joseph's God given blessing (divine favor & approval) was not nullified because of his environment or circumstances. Life has a way of throwing the unpredictable at us and we can so easily become spiritually, morally and mentally shipwrecked when our faith is tested seemingly beyond measure (please read – 1 Timothy 1:19, 1 Corinthians 10:13). Many good people have been taught to believe that their covenant relationship with God can be severed because of people, places or things. Don't let go of God's grace motivated promises because of wrong theology, but rather stand firm in your faith for God does not change his purpose or fail to keep His covenant as scripture confirms to us that "…the gifts and calling of God are irrevocable (unalterable – Romans 11:29)
The Prophet Balaam rightly stated "How shall I curse whom God has not cursed? And how shall I denounce whom the Lord has not denounced (blame or brand publicly?" (Numbers 23:8)
Can't Stop It
Scripture tells us that "The steps of a good man are ORDERED (commanded, destined or ordained) by the Lord; and he delights in his way." (Psalm 37:23)
You see my friends; once again I remind you that our destiny lays not in the tossing of the dice nor by the will of man. But as Christians our destiny is directly commanded, ordered by God Almighty. Scripture once again confirms this fact to us for He says to the church "Behold , I have put before you an open door which no one can shut." (obstruct the entrance) Revelation 3:8) No matter how it looked, tasted, sounded, or smelled, God was with Joseph, and like all who have been called to walk by faith the great King of Israel David also understood this fact quite well for he himself writes, "Even though I walk through the valley of the shadow of death, I will fear not evil, for You are with me… (Psalm 23:4a)
The Fulfillment
Like my dad would tell me "A lie will linger around, until the truth shows up", and that's exactly what happened the day when Joseph's brother's unknowingly stood before him seeking food during a great famine. It was then that Joseph confronted his siblings with the forth coming dialog Then Joseph said to his brothers "please come closer to me." And they came closer. And he said, "I am your brother Joseph, whom you sold into Egypt. Now do not be grieved or angry with yourselves, because you sold me here, for God sent me before you to preserve (your) life…. Do not be afraid, for I am in Gods Place (perfect will). As for you, you meant evil (you meant to hurt me) against me, but God meant it for GOOD in order to bring about this present result, to preserve many people alive." (Genesis 50:19-20).
As I meditated on these sequences of events, God opened my eyes to a very relevant fact, though we thrive to be people of integrity as Joseph, we so often fail to reach that perfect standard (I know I do). I am reminded that I just like Joseph's brothers am in need of a Savior and it was for that reason that one much more greater than Joseph, (Jesus – Immanuel – God with us – Matthew 1:23) took the form of a servant (read – Philippians 2:7) and much more than a servant, but a redeemer to the fallen and pathetic human race (read – Titus 2:14).
We were not met with vengeance or hostility as we stood before King Jesus, even though we were helplessly lost in our sins (read – Romans 5:6-8). All the Angels in Heaven rejoiced as we repented (reversal of sinful lifestyle) of our transgression (trespass, rebellion, sin – Luke 15:10) and we were welcomed with Mercy (clemency) and Grace (unmerited favor – Romans 3:27). Yes there will be trials and adversaries in our lives, but please be comforted by knowing that "No weapon (armor) that is formed (created) against you will prosper (be profitable or be successful); and every tongue that accuses you in judgment you will condemn."
"This is the heritage (inheritance, share) of the Lord. And their vindication (justification, salvation) is from Me," declares the Lord. (Isaiah 54:17)
And you can take that to the briar patch!
Thank you as always for allowing me to share my experience, strength and hope with you all, and may the Lord continue to bless you.
Your friend always in the journey,
Rev. Joe A. Rivera