Thou shalt be perfect with the LORD thy God. Deuteronomy 18:13
The artist, Salvador Dali is famous for stating one of my favorite quotes:
"Have no fear of perfection. You'll never reach it."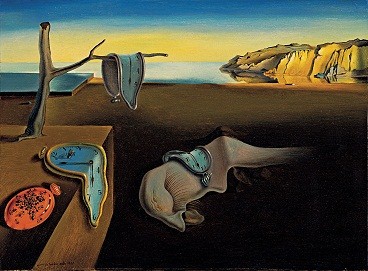 Indeed, if you look at his art, there was a challenging of the perfect, of the "normal," of the expected. Surreal images were not about depicting something as it occurred in life. Stretched out clocks and manipulated human bodies captured that artistic representation.
If one cannot find his depiction of perfection in his work, the same, however, cannot be said about the existence of excellence there. It is pervasive. Imagination, bravery and human imperfections are all there. And, I believe, that's part of why we identify so strongly with his art. We can relate to

him; we can relate to the images we see.
It's just a shift in thinking.
And that leads me to the perfection issue itself. It really is a defeating word, isn't it? "Perfect."
What if we changed our perspective on it? What if we chose to embrace the messy, constant and imperfect process as excellence?
What if being imperfect didn't cancel out our excellence and value? What if being imperfect, in fact, made us much more interesting?
Indeed, if we look at the process of process instead of a finished end product, there certainly is a more fascinating story going on.
The law of the LORD is perfect, converting the soul: the testimony of the LORD is sure, making wise the simple. Psalms 19:7
God never told us we wouldn't go through a process. And that definitely covers our focus on Him. Just because God's in it, doesn't mean it's painless or easy.
And he said unto me, My grace is sufficient for thee: for my strength is made perfect in weakness. Most gladly therefore will I rather glory in my infirmities, that the power of Christ may rest upon me. 2 Corinthians 12:9
And, it's often in this messy, imperfect and painful journey that we find out who we are; we can discover meaningful purpose.
Not as though I had already attained, either were already perfect: but I follow after, if that I may apprehend that for which also I am apprehended of Christ Jesus. Philippians 3:12
Having a perfect, unchallenged life, however, would rarely afford us this same result.
Honestly, I like the sound of the word, "excellent." There's more to it, in my opinion; it's more interesting.
It's a challenge to us all, then, to have no fear of perfection. Being who were are is so much better.