I recently came across an image post on the internet. It was a female's body, in workout gear. And it was accompanied by this statement:
"For Every 'Comment', I'll do 10 sit ups, For Every 'Like', I'll do 5 squats. Go, go, go!"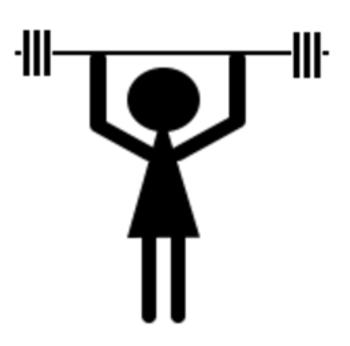 Furthermore, this post was also followed by a series of emoticons to emphasize its message: three arm curled biceps and one gold trophy.
(Sigh… Here we go again…)
Exercise, goals, striving for improvement/perfection…This is where I squirm, faced with posts as these.
Indeed, there is much emphasis on fitness in today's culture. There are countless gyms, trainers, exercise equipment, programs, workout clothes and shoes, as well as a variety of athletic activities from which to choose. It's overwhelming.
Yet there's still a rise in eating disorders and in such health issues as

childhood obesity and Type 2 Diabetes. How do we explain that?
I believe it has a lot to do with focus and priority, the personal, daily decision to put exercise and health in a healthy balance for our lives.
For God, in fact, tells us that, yes, there is some benefit to exercise…
For bodily exercise profits little: but godliness is profitable to all things, having promise of the life that now is, and of that which is to come. 1 Timothy 4:8
It lowers blood pressure, combats heart disease; it also improves circulation and mood, just to name a few positive results.
But, like anything used to excess, it can harm, even kill. That's what it could have done for me, back in the day, when I exercised for six or more hours a day, while starving myself at the same time. That was not God's Will. That was not profitable.
For God is not a God of disorder but of peace… 1 Corinthians 14:33
So what is profitable? Moderate exercise that is a part of life, but not our ENTIRE life. If exercise is preventing you from experiencing other people and things in your life, to the point of disruption, that is not profitable.
This importance of "every like and comment," where did it start?
I believe its genesis is the heart, usually that of a wounded heart…
Keep thy heart with all diligence; for out of it are the issues of life. Proverbs 4:23
For where your treasure is, there will your heart be also. Matthew 6:21; Luke 12:34
Long story short: we believe the solution to our pain is found in the external, including the external appearance.
"…man looks on the outward appearance…" 1 Samuel 16:7
We shortchange ourselves, not taking into account the entirety of the outward appearance situation, especially from a spiritual perspective…
"…For the LORD sees not as man sees: man looks on the outward appearance, but the LORD looks on the heart." 1 Samuel 16:7
Yet, we value other people's validation over God's, more often than not. I suppose, one can argue, it's because with man, there is the 3-D evidence.
God, is nebulous; we view Him via the if-y faith tactic.
So, in our hearts somewhere, perhaps God is not "as real" as other people… and their opinions of us.
And that can set us up for a snare…
The fear of man bringeth a snare… Proverbs 29:25
We fear other people's disapproval, along with our own fragile sense of self. We want to belong; we want to be accepted, liked and included…
Do not be conformed to this world… Romans 12:2
Yet God tells us there is health and blessing if we prioritize Him, above anything of this world, appearance issues included.
Beloved, I wish above all things that you may prosper and be in health, even as your soul prospers. 3 John 1:2
…whoso putteth his trust in the LORD shall be safe.
Proverbs 29:25
Do not be conformed to this world, but be transformed by the renewal of your mind, that by testing you may discern what is the will of God, what is good and acceptable and perfect. Romans 12:2
Doing so is more important and beneficial than any like, comment or opinion. Do we want something which is fleeting or something which lasts? It's up to us to decide.
Therefore, let's view ourselves, most importantly, through God's eyes and comments, not anyone else's.
"Since you were precious in my sight… I have loved you…" Isaiah 43:4
The LORD hath appeared of old unto me, saying, "Yea, I have loved thee with an everlasting love: therefore with lovingkindness have I drawn thee." Jeremiah 31:3
And let that influence how we take care of ourselves, including outward appearance and exercise matters.
Don't you know that you yourselves are God's temple and that God's Spirit lives in you? 1 Corinthians 3:16
Let's believe that and accept that in everything we do!