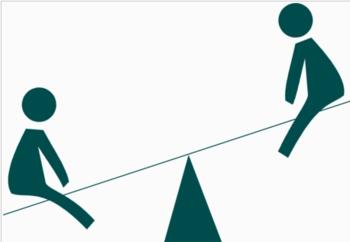 When I was a kid, I loved the teeter totter. Because of my weight issues, however, I was acutely aware of how my weight differed from most kids. The teeter totter was the scale; whoever was the heavier had the strength to hold the other occupant stranded in mid- air for however long he/she desired.
And usually that person was me, much to my dismay. After all, I wanted to be the dainty princess of sugar and spice and everything nice; I didn't want to be a bruiser or a brute.
I had a completely distorted and unhealthy perspective. And one incident, in particular, captured it.
When I was in the second grade, playing on the teeter totter during recess, I was hurled through the air with the greatest of ease as my teeter totter partner, a boy, was heavier than I was. We kept going back and forth, trying to outdo each other in the forceful slams with each landing. Eventually, however, he slammed a little too hard and, there I was sailing through the air. Next thing I remember, I was surrounded by kids and teachers; I was then sent home.
I suppose I "should have" broken my neck from this incident (let's hear it for God's guardian angels). I was okay, just feeling a bit of a headache. But my head had larger problems. I was thinking the wrong thing (not the first time or the last time, by the way). I was so happy that someone heavier was able to hurl me through time and space.
When I was a child, I spoke as a child, I understood as a child, I thought as a child: but when I became a man, I put away childish things. 1 Corinthians 13:11
And later in my life, that wrong childish thought followed me into eating disorder thoughts- and behaviors.
There is a way which seemeth right unto a man, but the end thereof are the ways of death. Proverbs 14:12
It started me thinking of how warped we get in our ideas of what is aesthetically pleasing. How many of us as little girls, choose to downplay our strengths, our intelligence and worth, simply because we believe that being pleasing, accepted, tiny or cute is the "better" way to be?
We buy into the thought that we, as little girls, need to be helpless, weak, dainty, pretty and pleasing, to our own detriment. And so, eating disorders, gossip, competition and low self- esteem choices all come into play. We tear ourselves- and each other- down instead of building ourselves up and becoming who God has created us to be.
And this is a sampling of God's thoughts about us:
…I am fearfully and wonderfully made…" Psalm 139:14
"I have chosen you and have not cast you away." Isaiah 41:9
"Since you were precious in my sight… I have loved you…" Isaiah 43:4
The LORD your God in your midst, the Mighty One will save; He will rejoice over you with gladness, He will quiet you with His love, He will rejoice over you with singing. Zephaniah 3:17
Do we believe His Word? Or, are we teetering more towards our own destructive thoughts, thinking we'll be better, even if we put ourselves in harm's way, compromise ourselves and dim our own light?
I believe confusion happen because, as inherently valuable spiritual beings, God's Truth already resonates within us. But, with life being what it is, that Truth bumps into other deceitful, harmful and mixed messages, like "beauty matters more than brains," "being strong isn't attractive" and "his opinion counts; mine doesn't."
You matter. As is. As you are right now. You are an incredible being who deserves to shine your light. Don't dumb it down, sell yourself short, compromise yourself
or harm yourself in the name of being cute or pleasing. It's not worth it. It's not who God has limited you to be.
You are more than you realize. Find out exactly who God says you are and how His determination teeters on nothing else to make it real!