Trust. What does it mean? According to www.Dictionary.com
it has 8 different meanings. We will only focus on those which apply to us as Christian believers.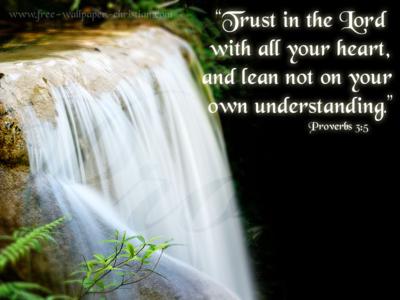 trust noun.
1. Firm reliance on the integrity, ability, or character of a person or thing.
2. Custody; care.
3. Something committed into the care of another; charge.
4.
a.The condition and resulting obligation of having confidence placed in one: violated a public trust.
b.One in which confidence is placed.
5. Reliance on something in the future; hope.
verb. trust·ed, trust·ing, trusts verb. intr.
1. To have or place reliance; depend: Trust in the Lord.
2. To be confident; hope.
verb. tr.
1.To have or place confidence in; depend on.
2. To expect with assurance; assumeTo believe: I trust what you say.
3. To place in the care of another; entrust.
4. To grant discretion to confidently:
So to trust means to totally depend on somebody, to be confident in somebody, to expect with assurance what you have asked for, to place your concern in the care of another person, to rely on somebody and to have a firm reliance on another person. For our purposes, we will focus our trust on the Lord.
Do you trust the Lord? After reading or hearing all of the above descriptions of trust, how much do you REALLY trust the Lord?
There are many reasons we should and MUST trust in the Lord. From salvation to healing to fully understanding His will for our lives, there are dozens of reasons we should and are required to trust in the Lord. Take a look at just some of the main reasons.
The Psalms are full of different ways people put their trust in the Lord:
1. God will never abandon anyone who searches for Him:
Those who know your name trust in you, for you, O LORD, have never abandoned anyone who searches for you. Psalm 9:10

2. God is the defender of the orphans and the helpless. He will see to it that orphans, widows and the helpless are protected.
But you do see the trouble and grief they cause. You take note of it and punish them. The helpless put their trust in you. You are the defender of orphans. Psalm 10:14

3. When we trust in the Lord, we are assured of His unfailing protection. There is no other that can protect us as the Lord can.
I trust in the LORD for protection. So why do you say to me, "Fly to the mountains for safety!"Psalm 11:1

4. When we trust in the Lord, it gives us reason to rejoice in the Lord. He has rescued us from troubles of all kinds and therefore we have reason to rejoice.
But I trust in your unfailing love. I will rejoice because you have rescued me. Psalm 13:5

5. When we cry out to the Lord, He will come to us and save us. He will never disappoint us.
You heard their cries for help and saved them. They put their trust in you and were never disappointed. Psalm 22:5

6. When we trust in the Lord, we find our strength in Him and He becomes a shield from any and all danger that may come our way. Trusting Him fills our hearts with joy and we may literally burst forth in songs of praise and thanksgiving.
The LORD is my strength, my shield from every danger. I trust in him with all my heart. He helps me, and my heart is filled with joy. I burst out in songs of thanksgiving. Psalm 22:5

7. When we walk in the way of the wicked we will surely run into many sorrows, but if we trust in God, the Lord, His love surrounds us. And if His love surrounds us, we have complete joy and unsurpassing love.
Many sorrows come to the wicked, but unfailing love surrounds those who trust the LORD. Psalm 32:10

8. There are many rewards for trusting in the Lord.
Taste and see that the LORD is good. Oh, the joys of those who trust in him! Psalm 34:8

9. When we trust God, He will not leave us lacking for nothing. All our needs will be met.
Even strong young lions sometimes go hungry, but those who trust in the LORD will never lack any good thing. Psalm 34:10

10. When we trust God and not the many idols of this world, we will have great joy given to us by God.
Oh, the joys of those who trust the LORD, who have no confidence in the proud, or in those who worship idols. Psalm 40:4
And there are many more instances of trust in the Pslams. I would wager that trust is one of the main themes of the Psalms. Trust is so important in the Christian's life. Without it, we have no relationship with Jesus Christ. Our whole relationship with God is fully dependent on trusting Him in all He does in our lives. In the Old Testament, the people had to trust in a God they had never seen. In the New Testament, they had Jesus as a living breathing person like them that they could see and therefore trust. It was somewhat easier to trust in somebody you could see than somebody you could not.
Proverbs also speaks of trust a great many times. Some Scriptures include:
– We have nothing to fear in human beings and if we do it will only cause us heartache or anger. But to trust in the Lord means that we will be safe in all we do.
Proverbs 29:25 Fearing people is a dangerous trap, but to trust the LORD means safety.

– In the world in which we live, there are many unhappy people. Just imagine how different the world would be if we would only trust in the Lord. Even if it was just the Christians who trusted in the Lord, think of the difference the world would be!
Proverbs 16:20 Those who listen to instruction will prosper; those who trust the LORD will be happy.

– We have nothing to fear when it comes to humans. They may take our physical bodies from us, but when or if they do, we KNOW where we are going; therefore, we should not fear what man can do to us. If we trust in the Lord, we have safety in all we do.
Proverbs 29:25 Fearing people is a dangerous trap, but to trust the LORD means safety.
In the New Testament, there are many instances where trust in Jesus depended on whether or not their prayer requests were answered positively:
People may jeer at us, laugh at us and condemn us for our trust in the Lord, but when we do ignore the world and trust in Jesus, miracles take place. Because Jairus trust Jesus and turned his back on the scoffers, his daughter was raised from the dead.
Mark 5:36 But Jesus ignored their comments and said to Jairus, "Don't be afraid. Just trust me."

Those of us who put our trust in the Lord will experience no judgment like those who fail to put their trust in God.
John 3:18 "There is no judgment awaiting those who trust him. But those who do not trust him have already been judged for not believing in the only Son of God.

By trusting in Jesus, we are trusting in the Father who sent Him. How easy it can be to trust the Lord if we are only willing.
John 12:44 Jesus shouted to the crowds, "If you trust me, you are really trusting God who sent me.

Jesus came into this world as a shining light in the darkness and all who trust Him will come out of darkness and sin and into light and glory.
John 12:46 I have come as a light to shine in this dark world, so that all who put their trust in me will no longer remain in the darkness.

When we trust in God, our sins are taken away from us and are remembered no more, regardless of what we have done. What a promise to hold on to.
Romans 3:22 We are made right in God's sight when we trust in Jesus Christ to take away our sins. And we all can be saved in this same way, no matter who we are or what we have done.

Once again, if we trust in Jesus Christ, we can receive complete and free salvation from the sins of our pasts and have the hope that He will be with us at all times.
Romans 10:8 Salvation that comes from trusting Christ–which is the message we preach–is already within easy reach. In fact, the Scriptures say, "The message is close at hand; it is on your lips and in your heart." [ Deut 30:12-14.]

God is a fair God. If you disobey Him, it is like disobeying your parents as a child. You were disciplined. The same holds true for God – if you trust Him, you will experience His kindness, but if you disobey or stop trusting, you will be cut off from Him and His presence.
Romans 11:22 Notice how God is both kind and severe. He is severe to those who disobeyed, but kind to you as you continue to trust in his kindness. But if you stop trusting, you also will be cut off.

We can be confident in all we do when we trust in the Lord.
2 Corinthians 3:4 We are confident of all this because of our great trust in God through Christ.

We can trust the Lord for other people. When we pray, if we trust, God may win back a soul and if He does, He will punish the one who caused the person to not trust.
Galatians 5:10 I am trusting the Lord to bring you back to believing as I do about these things. God will judge that person, whoever it is, who has been troubling and confusing you.

It is our responsibility to trust in Christ which shows our praise to our glorious King and God.
Ephesians 1:12 God's purpose was that we who were the first to trust in Christ should praise our glorious God.

When we trusted Christ for salvation, we were raised to a new life in Him because of the trust we put in Him. Jesus was raised from the dead and one day, we too will be raised from the dead.
Colossians 2:12 For you were buried with Christ when you were baptized. And with him you were raised to a new life because you trusted the mighty power of God, who raised Christ from the dead.
Putting trust in anything in this world, be it money, jobs, relationships or so on will only cause heartache because anything that is in this world will never enter heaven. Money, jobs and more – none of these will be around forever. But those who trust in God will be richly blessed because He will give us all we need for our enjoyment and our pleasure.
1 Timothy 6:17 Tell those who are rich in this world not to be proud and not to trust in their money, which will soon be gone. But their trust should be in the living God, who richly gives us all we need for our enjoyment.
Even in rough situations when it all seems dark and done in, we can trust that God is guarding us and with us through it all.
2 Timothy 1:12 And that is why I am suffering here in prison. But I am not ashamed of it, for I know the one in whom I trust, and I am sure that he is able to guard what I have entrusted to him [ Or what has been entrusted to me.] until the day of his return.
Anyone who trusts in God is more likely to do good deeds than those who do not trust in Him. We who trust Jesus, are not guilty because of His great kindness.
Titus 3:7-9 He declared us not guilty because of his great kindness. And now we know that we will inherit eternal life. 8 These things I have told you are all true. I want you to insist on them so that everyone who trusts in God will be careful to do good deeds all the time. These things are good and beneficial for everyone.
God can ALWAYS be trusted to keep His word – He cannot lie!!!!
Hebrews 10:23 Without wavering, let us hold tightly to the hope we say we have, for God can be trusted to keep his promise.
Regardless of what you go through, keep your trust in the Lord. For if you do, there is a great reward waiting for you at the end.
Hebrews 10:35 Do not throw away this confident trust in the Lord, no matter what happens. Remember the great reward it brings you!
God's protection is there for all who trust in Him. All of these will be revealed on the day of Judgment for all to see. If you trust, you will be greatly rewarded.
1 Peter 1:5 And God, in his mighty power, will protect you until you receive this salvation, because you are trusting him. It will be revealed on the last day for all to see.
For those who trust in Jesus and have not seen Him, there will be an even greater and inexpressible joy than for those who saw Him face to face. What joy awaits those who trust in Him who have never seen Him face to face.
1 Peter 1:8 You love him even though you have never seen him. Though you do not see him, you trust him; and even now you are happy with a glorious, inexpressible joy.
Once again, by trusting in Jesus, you will receive salvation for your soul. What greater reward is there in all the universe?
1 Peter 1:9 Your reward for trusting him will be the salvation of your souls.
Even during your times of trial and suffering, continue to trust God, for He will not and can not ever fail you.
1 Peter 4:19 So if you are suffering according to God's will, keep on doing what is right, and trust yourself to the God who made you, for he will never fail you.
If you live your life out of love then you are outwardly showing your trust for Him. If you live in love then you live in God.
1 John 4:16We know how much God loves us, and we have put our trust in him.God is love, and all who live in love live in God, and God lives in them.
Christ has already won the victory. This is why the children of God have victory over evil.
1 John 5:4 For every child of God defeats this evil world by trusting Christ to give the victory.
In the end times, the Bible says that Christians will be persecuted. It does not expand on how, but it does reassure us that when we trust Him through these trials, that He will not leave us. We must obey right until the end.
Revelation 14:12 Let this encourage God's holy people to endure persecution patiently and remain firm to the end, obeying his commands and trusting in Jesus."
Anything God says to you is trustworthy. Nothing that comes out of His mouth is a lie for God cannot lie. Soon He will make all things new and we will have no more worries and trials. Trust God and it will happen.
Revelation 21:5 And the one sitting on the throne said, "Look, I am making all things new!" And then he said to me, "Write this down, for what I tell you is trustworthy and true."
So in the end, once you look at all the great reasons for trusting in the Lord, why would you want to do any different? Trusting in men will only lead to failure and heartache. It also stores up no rewards in Heaven.
Trusting Jesus promises protection, joy, salvation, prosperity, provision and so much more. With all that in mind, why would you not want to trust in Him? When you consider the world we live in, I would rather take my chances on a God who has proved Himself over and over than with a world that stumbles and falls at every turn. Earth is a great place to live, but it is only a training ground for when we who trust God for salvation reach the other side of Heaven. Until then, I choose to trust in the Lord.