"…and that's when I became a warrior!"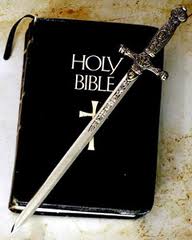 I recently caught this statement trending on social media. It's no surprise why it has caught on. With so much suffering in the world, taking on a fighting perspective can be empowering.
No matter what we've experienced in our lives, God has placed within each of us a warrior spirit. He knows full well of our challenges, setbacks, relapses, pain and loss. He also knows of our mighty purpose as well.
And it is precisely that reason why the warrior emerges. I'm sure you've heard the phrase, "What doesn't kill you makes you stronger." It's that kind of thing which attaches itself to our every breath. It's that thing which does not give up, no matter how many times we feel we cannot go on.
Whatever you have survived in your life – loss, trauma, addiction, abuse, extraordinary pain- God wants you to do something with it, in spite of it.
Open thy mouth for the dumb in the cause of all such as are appointed to destruction.
Open thy mouth, judge righteously, and plead the cause of the poor and needy. Proverbs 31:8-9
He wants to turn those ashes into beauty (Isaiah 61:1-3).
But He doesn't stop there. He doesn't just want you to fight for fighting's sake. He wants to give you the Victory as well!
But thanks be to God, which giveth us the victory through our Lord Jesus Christ. 1 Corinthians 15:57
God wants you to experience overcoming that enemy. He didn't say it would be easy, instant or painless. But He has assured us that Victory is ours.
For whatsoever is born of God overcometh the world: and this is the victory that overcometh the world, even our faith. 1 John 5:4
And that is often what awakens the warrior within us, often, without our own awareness. Some call it "instinct." But again, it's "that thing" which keeps going when everything and everyone else tells us to give up. It's God given.
And because it is God given,

it is also God supported; He is with us. We are not left alone to fight.
…Thus saith the LORD unto you, "Be not afraid nor dismayed by reason of this great multitude; for the battle is not yours, but God's.2 Chronicles 20:15
For thou hast girded me with strength unto the battle: thou hast subdued under me those that rose up against me. Psalms 18:39
He hath delivered my soul in peace
from the battle that was against me:
for there were many with me. Psalm 55:18
I'm not minimizing anything of what you have gone through or are currently experiencing. It's not about downplaying your future challenges either.
Rather, it is to encourage you, even in the midst of whatever defeat you may feel you're living with at this moment. Where you feel- or see- defeat and failure, God sees your development, your potential and your Victory.
The LORD of hosts hath sworn, saying, "Surely as I have thought, so shall it come to pass; and as I have purposed, so shall it stand." Isaiah 14:24
After all, what is Jeremiah 29:11 all about?
"For I know the thoughts that I think toward you," says the Lord, "thoughts of peace and not of evil, to give you a future and a hope."
God has not been caught off guard by the battles, the losses and the painful struggles you've been living. He knows. He understands all of it.
And, through all of it, He desires your victory. He is the greatest champion of anyone this world labels as "underdog" or "loser." He doesn't change His mind when it comes to your victory.
Whatever you're battling right now, please know you are not the first – or the last – to go through it. Likewise, you're not being "punished" by God. Ecclesiastes 9:11 is one of the best reality check scriptures, tackling that very point…
I returned, and saw under the sun, that the race is not to the swift, nor the battle to the strong, neither yet bread to the wise, nor yet riches to men of understanding, nor yet favor to men of skill; but time and chance happeneth to them all.
What are you going to do with YOUR "time and chance?" Will you seize the opportunity to become a warrior concerning it?
Your victory awaits.